ZOSI 720p Wireless Outdoor IP Camera System

,
This IP camera system designed both for indoor and outdoor use incorporates all the essential elements and features of most modern surveillance systems available today. Ideally, you want an IP camera system that meets the security standards for home or office use like night vision, motion sensors, and high resolution video output but not as expensive as popular brands.
Budget IP cameras can get a little tricky because not all of them deliver what they promise. But there are those that are really good ones and gives the best value for every cent you pay. So let's try to look at ZOSI's camera system and see what we can get.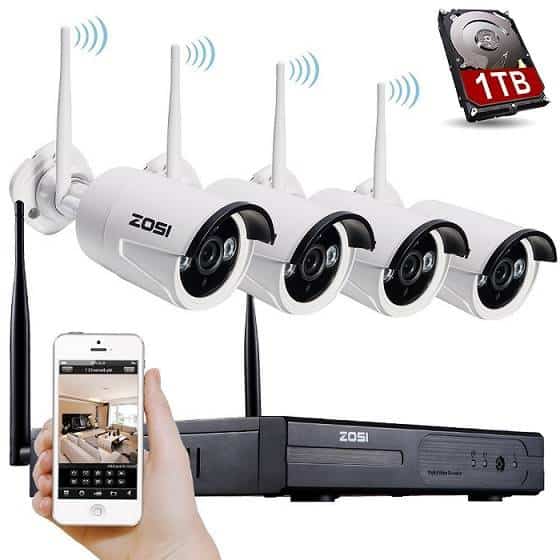 What's inside the box?
The whole package comes with the entire IP camera system consisting of one (1) 4-channel, 960p network video recorder (NVR) with 1 terabyte of storage capacity, four (4) 1.0 megapixel, bullet-type, IP cameras, one (1) network cable, five (5) power supply adapter, one (1) USB mouse, and user manual.
IP Camera input
In terms of video input, the IP camera is a modest 1.0 megapixel, half the size of other high definition cameras which are usually 2MP. It may not look great for capturing at great distances but placed on the right spot, it can produce high quality images with its IR-CUT filter.
This feature greatly enhances picture quality by making color images more accurate and realistic compared to non-filtered cameras. By far, camera systems that employ CMOS technology are far superior compared to any type of camera in today's standard.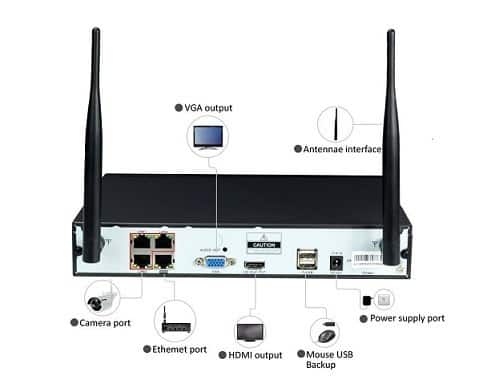 NVR output
Its NVR can render 960p HD video resolution which is significantly better than the conventional 480p. It's sufficient enough for tracking day to day activities or for detecting suspicious movements in specific locations. But if you're looking to use the video later as forensic evidence, a 1080p Full HD NVR IP camera system is more preferred.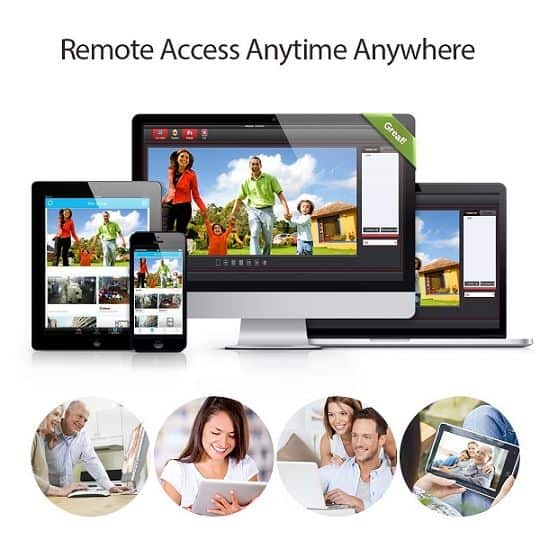 Connectivity
With this camera system, you have two options. You can either link your cameras to your NVR through its built-in WiFi or through its 4-channel Ethernet slot. It can also be accessed remotely through your mobile device. (You would need a stable internet connection and internet router for this function.)
The NVR's WiFi signal can reach up to 350 meters in open spaces or through walls of up to four layers. You're going to need a nearby outlet to power each camera. It also comes with just one (1) Ethernet cable so you need to buy separately for the cameras if you plan to use the wired option for outdoor use.

Other useful features
What you get in today's modern IP camera system can also be found in ZOSI wireless IP camera system but with a lower price tag. These include night vision and motion sensors. Its night vision's effective range is 30 meters and has motions sensors to detect movements at a predetermined area on your monitor. As a bonus, it also has 1 terabyte of space for storing your data. The company also offers cloud service for extra space or if you want to protect your data from theft.
The Verdict
Overall, it's a well-rounded IP camera system that has all the features you would normally want for a decent home security system. It's not really that ultramodern sophisticated IP camera system you would expect from expensive brands. But for the price you pay, it's definitely worth a try.
Check latest price and customer reviews at amazon.com!