Zmodo zp-kb1i04-w Review

,
The Zmodo zp-kb1i04-w Wireless Network Video Recorder Surveillance System gives you the opportunity to view your premises and your surroundings in Full HD 720P viewing and a recording speed of 30fps.  This system gives you the crucial peace of mind you need to concentrate on your day-to-day business operations.
 Click Here for customer reviews…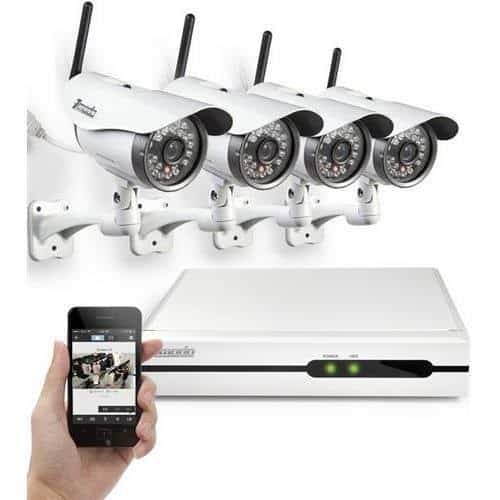 Features and Benefits
These cameras give you distributed intelligence because they can be moved around and installed anywhere because they operate on a wireless network. They also offer secure data transmission through authentication and encryption methods meaning your data will be safe from manipulation.
With remote accessibility, the IP camera inputs give you the option of viewing a live video from any computer in any location as well as from mobile Smartphones.
720P Recording Resolution
A 700 plus recording resolution is excellent especially for monitoring from relatively longer distances. With a 720P recording resolution, this surveillance camera system captures decent video footage. Not as good as a 1080P resolution but still good enoff for most aplications.
In addition, its recording rate of 100fps for the four channels gives the user excellent footage without breaks and bumps in quality. The camera has 4 recording modes which are time scheduled, manual, motion detect and alarm triggered. All the recorded footage can be fast forwarded, slow played or put on rewind for analysis.
 
Surveillance Storage
As a consumer, you need a device that can record and store your footage in high quality digital format. The Zmodo zp-kb1i04-w camera system comes with a hard drive capacity of up to 2 terabytes to give you enough space to record your footage for future review.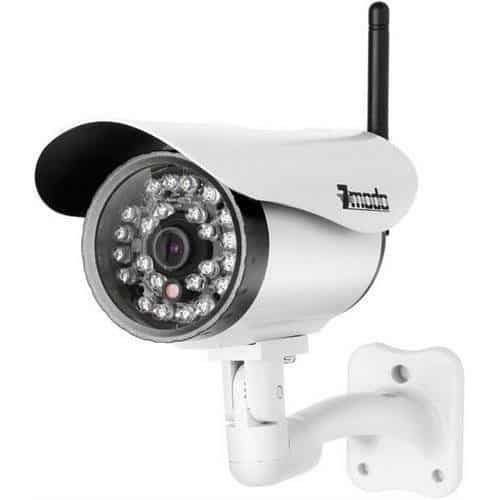 Night Vision Functionality cameras
As much as daylight surveillance is important, the test of a real surveillance camera system is in low-lit conditions and at night. This surveillance system has video cameras that automatically switch to black and white mode when darkness sets in.
This allows them to capture clearer images even in less light. The infrared distance of this surveillance system is 20 meters giving them a unique capacity to record the surrounding activities even when its pitch dark to the naked eye.
Wide Lens and Excellent Angle of View
The lens of the Zmodo zp-kb1i04-w surveillance system has a width of 3.6 mm which enables it to see up to between 100 and 300 ft in length. With a 62 degree angle of view, these lens can scan the entire room right from the corner on which they are installed.
Image and Video Compression
Video compression determines the storage space used up by the system. Currently, H.264 is the most efficient compression form and offers up to 40 percent more of your storage space compared to an MPEG4 compression. These cameras use far less storage space because they analyze the frames of the recorded videos and retain only the useful portions of the image.
Verdict
If you looking for a cheap but still decent video recorder surveillance system then the Zmodo zp-kb1i04-w is a great model because it has weatherproof cameras that can withstand any weather extremities and a manufacturer's warranty of one year. It is great value for money! << Click here for latest price!!