Zmodo Snap Security Camera System Review

,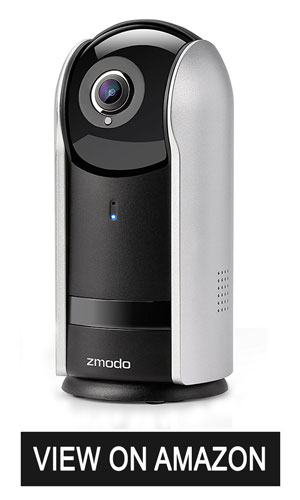 Zmodo produces a range of quality smart devices and home security cameras that are driven by a powerful, intuitive and user-friendly app. The snap system comes with a true wire-free solution that could be wired if you prefer.
The 1080p camera offers a 360° view with full tilt, pan and zoom functionality. The kit includes the Smart Hub and two door or window sensors.
It gives you amazing control and versatility and with the rotating feature, the 151° wide-angle delivers a full 360°view, allowing you to avoid blind spots.
This makes it extremely flexible and the fact that is wireless means that it can be repositioned from area to area to room to room as needed. One camera will give you total control and allow you to view the full picture with ease.
Setup is quick and easy, especially if you go the wireless route. Position the camera in a suitable position and pop the door or window sensors in place. The sensors will alert you to any activity where they are installed and the PIR on the camera features a wide motion sensor to let you know when there is movement or activity in the area where it is positioned.

The door and window sensors can be set up in such a way that the camera will automatically rotate to the relevant area if they detect something, allowing you to quickly view the reason for the alert. The alert will push a short video of the activity to your smartphone.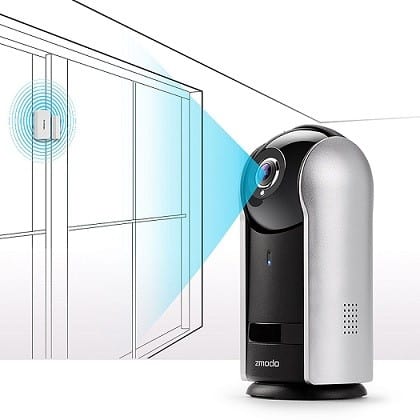 The control hub forms part of the Zmodo camera and all accessories and options can be controlled from there. The facial recognition feature means that it will not send you unnecessary alerts from faces familiar to the smart device. Two-way communication is an added benefit if you need to speak to someone in the house.
All captured video footage is automatically stored on a cloud-based platform (US based). It can store continuous data all day, every day. Retrieval is quick and easy and you remotely view, download and even share instantly no matter where you are.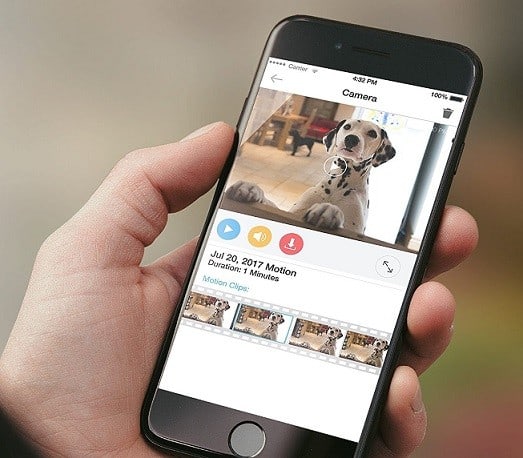 Without the cloud service, you will still receive the pushed video clip of activity which is stored for 36-hours. Data is highly secured by TLS (Transport Layer Security) and AES 256-bit encryption (bank-level).
The Zmodo app is available for Android and iOS and is easy to navigate and provides full functionality. It is secured by a password and uses WPA/WPA2 encryption. The kit has a great 3-year warranty (US only) as well as exception after-sales support for life. Tech support is available through a range of options including live chat.
Key Features:
PIR Motion Sensor with 1080p Full HD camera:
Image and video quality is exceptional. The PIR motion sensor works over a wide-angle, will detect motion to a maximum of 26 feet and the pan, tilt and zoom functionality enables you to get quality, accurate footage of any activity. It is intelligent enough to minimize false notifications caused by vehicles or trees blowing in the wind.
Facial Recognition (coming soon)
The system will soon be able to recognize friendly faces so it can determine and save data on faces known to the system. It will be able to determine the gender, approximate age and race. This will reduce unnecessary alerts and you will only receive an alert notification and video clip when the face is not known to the Snap PT.
Integrates with Zmodo Sensors
As the camera functions as the hub, the 2 included door or window sensors can easily be added to the system. These will alert you to any opening of the points you install them on and the camera can be set up to automatically pan to the location of the sensors when triggered.
Full 360° Rotation
The camera has a 151° wide-angle lens. Combined with the rotate and tilt functionality, this allows you a full 360° view of the area form a single camera. With the powerful app, you can easily control the camera to view and capture the exact view you require.
Two-Way Audio
The system incorporates a noise-reducing microphone and a Bluetooth speaker. This allows you instant two-communication with anyone in the house. It will even allow you remotely play soothing music for a baby if necessary.
Integrates with Alexa (coming soon)
The Zmodo will soon talk to the popular Amazon smart-home devices as they are part of the Works with Amazon project. This will give you even more control and convenience as these smart devices work together.
Safe and secure cloud service
A nominal monthly subscription gives you access to the secure and well-encrypted cloud service. This allows you to view or share any footage remotely at all times from a connected mobile device.
Feature summary:
Fully wireless or cabled

Full 360° view

1080p Full HD camera

151-degree PIR motion sensor and view

Tilt, pan and zoom

Rechargeable batteries

Two door or window sensors included

Two-Way Audio

Bluetooth Speaker

Facial Recognition

Good warranty and tech support

Secure cloud storage




Requirements:

Zmodo app avail for Android 4.0 and higher or iOS 7.0 and higher
Verdict:
The Zmodo is a powerful, versatile and user-friendly home security camera. The wireless setup makes it extremely flexible, allowing you to easily change the setup if required.
The 360° view and zoom functionality will allow you to capture exactly what is needed. The two-way communication, 2 door or window sensors and facial recognition just make it more convenient and useful. It is a good buy.
Check customer reviews and latest price on amazon.com!