Zmodo 4CH H.264 Surveillance System Review

,
Zmodo's 4-Channel security surveillance system is packed with some great features. It comes with the storage capacity of 500 GB to store thousands of hours in videos and the video compression in H.264 further helps to save the space and still provides the high quality picture. For back-up it supports USB 2.0 making things easier! The standalone DVR supports PC Monitor with VGA output and TV Monitor with BNC output to view high quality videos.
Click Here to buy from amazon.com.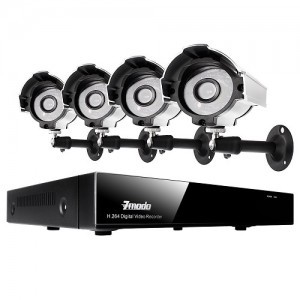 It is based on Linux which is an embedded OS and comes with a remote for easy setup and use and supports PTZ as well. You can remotely access the DVR on any device with internet access. All smartphones and 3G mobile technologies are supported to monitor and control the surveillance on the go. Ranging from Android to iPhone, Windows Mobile to Blackberry and Symbian as well as the popular PC Tablets you can get notifications for any suspicious activity, loss in video and so on along with the snapshots.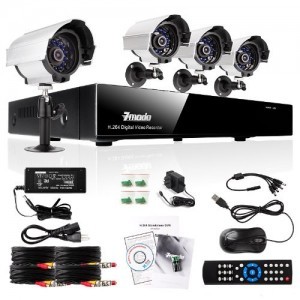 The included 4 cameras are equipped with 1/4″ Color CMOS Image Sensor and 420 TV Lines to bring you clear crisp and high quality pictures. All the cameras are weather-resistant making them more flexible and can be mounted on walls or ceilings. The image quality remains high even in complete darkness, specifically during night time and ranges up to 30'. Each camera comes with its own 60 ft cables to be connected with the DVR.
Out of the box users get 1 Standalone 4-CH DVR with 500 GB HDD, an IR remote control, a 12V/1500mA 4 Port Power Supply for CCTV Camera, 4 60 ft extendable cables one for each camera, 4 color IR security cameras and a user's manual to guide through installation and make it operational. Considering the prices and the package along with all the features this unit is perfect for all sort of commercial as well as residential properties.
Click Here for a closer look.