Which is the best baby monitor 2014?

,
Having a good baby monitor will bring you peace of mind. We´ve  made a list of 5 baby monitors that we think are the best on the market right now. They are not listed in any particular order.
Lorex BB2411 Sweet Peek Video Baby Monitor Review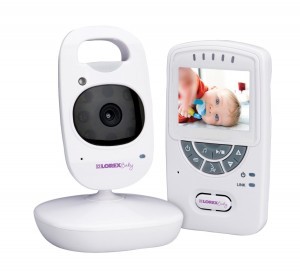 This is a portable baby monitor manufactured by Lorex that allows you to digitally zoom the image on the 2.4-inch LCD screen, to see exactly what your baby is doing – if something is going on in your child's room, you can take a closer look at it only by simply pressing a button.
Another notable feature is the "Crisp Sound" which basically tunes the device on every breath your baby takes – if you suspect there might be something wrong with your child's breathing, this state-of-the-art monitor will help you figure that out for sure.
Designed to offer concerned parents the peace of mind they need, this baby monitor comes with a wealth of useful features and functions: it has a accurate high-definition night vision, a night light that is embedded in the device as well as a maximum wireless range of up to 450 feet.
Moreover, the monitor can easily accommodate up to four cameras and it has a two-way talk function as well – in other words, if your little one starts crying in the middle of the night, you can calm him down by talking to him through the high-sensitivity microphone that is built in the baby monitor. On the other hand, you can also opt for one of the numerous soothing lullabies that come with the package.
For more info and current price of Lorex BB2411 Click Here!
MobiCam DXR Touch Baby Monitor Review
Designed and manufactured by MobiCam, the MobiCam DXR Touch Baby Monitor is actually more than just the traditional baby monitor – this can also be used as a high-quality and high-definition surveillance camera that will help you monitor your entire home while you are away.
Some of the most notable features of this baby monitor include the night vision that can cover a range of up to 40 feet, the day vision with a maximum range of 800 feet or the touch screen display that also comes with a digital pan and tilt function. Just like most baby monitors nowadays, the DXR Touch by MobiCam can also be expanded to up to four cameras, thus allowing you to place them in key areas around your home.
Overall, the MobiCam DXR Touch Baby Monitor is a feature-rich device that includes access to Skype as well as video recording features and a snapshot capability, the latter being particularly important for parents who want to get peace of mind, knowing that both their child and their home are safe. The videos can easily be recorded on an SD card and you can later download them to your personal computer of laptop.
For more info and current price of MobiCam DXR Click Here!

Motorola MBP26 Baby Monitor Review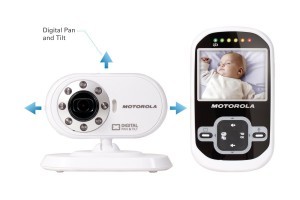 Designed by Motorola, the MBP26 is basically a wireless, 2.4 GHz baby monitor that comes with a series of useful features, from the remote camera pan and tilt function to the infrared-based night vision, the LED sound level indicators or the color 2.4-inch LCD screen. Regarding the video recording abilities of the baby monitor, it must be said that it can efficiently display real-time sound and video at a quality of up to 25 frames per second.
In addition to this, this baby monitor has a maximum range alert of up to 520 feet and it can also be paired with four baby units or cameras (the current package only includes one parent unit and one baby unit).
Another important advantage for parents who are particularly concerned is the fact that the Motorola MBP26 uses what is known as the FHSS technology (frequency hopping spread spectrum), a technology of transmitting radio signals by quickly switching the carrier between different frequency channels, to prevent unauthorized persons from interfering with the system. Also, this video baby monitor is designed to prevent interference with other wireless electronic devices, and the quality of the sound and video is crystal clear.
For more info and current price of Motorola MBP26 Click Here!
Samsung SEW-3037W Baby Monitor Review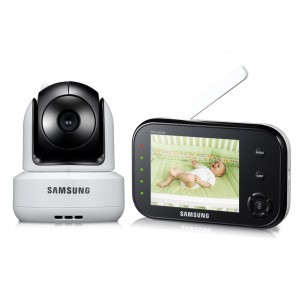 Manufactured by Samsung, the SEW-3037W SafeView Baby Monitor is a simple, easy to use and straightforward monitoring system that has a user-friendly interface along with a useful night vision. Also, it uses wireless technology to connect the parent unit with the baby unit, along with a generous 3.5-inch LCD monitor that will display color video.
The system is free of interfering with other wireless devices and it can cover a total area of up to 900 feet. Additional features include the two-way talk or the remote night light, which allows you to easily light up the room during night time.
Regarding the video recording capacity of the baby monitor, it uses a VGA camera with a resolution of 640 X 480 to deliver crystal clear images, while the built-in microphone and speaker allows you to constantly keep in touch with your little one. Also, the monitor (the parent unit) features an LED in the front panel that indicates the level of sound perceived by the baby monitor. You can easily pan and tilt the camera with a button located on the monitor, so you can remotely view what is happening in your child's room.
For more info and current price of Samsung SEW-3037W Click Here!

Infant Optics DXR-8 Video Baby Monitor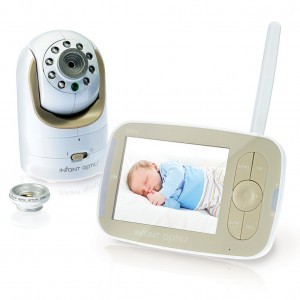 The DXR-8 video baby monitor provided by Infant Optics is known to be the first one of its kind to feature interchangeable optical lens capability, thus allowing you to customize the zoom and the viewing angle quickly and without the hassles. This baby monitor also allows you to remotely zoom, tilt and pan the camera, it comes with a generous full color LCD display with a diameter of 3.5 inches and it has a retractable antenna as well.
Moreover, its LED display is sound-activated and it has a long battery life of up to 10 hours, when used on the power saving mode (and up to six hours when the screen is turned on). The baby monitor streams video in real time by relying on the 2.4 GHz FHSS technology.
The package also includes one Optical Zoom Lens, but you can purchase the other ones separately as well. For instance, you can use the Aluminum Lens Hood for a crystal clear image if you want to get a mid-range coverage, or you can use the wide angle lens if you want to use the baby monitor as a surveillance camera and capture a 170-degree panoramic view of the entire room.
For more info and current price of Infant Optics DXR-8 Click Here!