We Compared The 4 Best IP Bullet Cameras 2014

,
We compared 4 of the best IP bullet security cameras on the market 2014. You will find full product descriptions of all the cameras at the end of this page.

Camera Name
 

Resolution

 

Night Vision Range
  Frames Per Second
 Compatible
 POE


Q-See QCN8002B

1080P

Up to 100FT

 

30FPS

 Mac and PC

 YES 

Grandstream GXV3672

 1080P
 Estimated 50FT
 

30FPS

Mac and PC
 

YES

Vivotek IP8372

 1080P
 

Up to 100FT

 

30FPS

 Mac and PC

YES

TriVision NC-336PW

 1080P
 Estimated 50FT

15FPS

 Mac and PC
 

YES
1. The Q-See QCN8002B IP Bullet Camera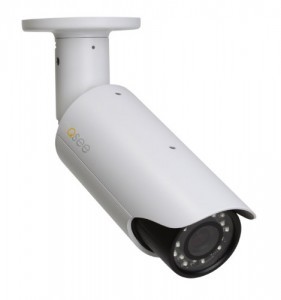 The Q-See QCN8002B IP Bullet Camera is a highly functional and versatile camera that comes with a 1080p high definition resolution and a night vision that can span over a distance of 100 feet. This camera is perfect for those who want to keep an eye on their property, as it is weatherproof and it can be used both indoors and outdoors.
The camera is fully compatible with Windows and MAC computers, it can be used either as a standalone camera or with a NVR and, most importantly, it enabled mobile phone surveillance so you can monitor your residence regardless of your position.
If you are always on the go with business trips and you are concerned about the safety of your home, then you should know that the Q-See QCN8002B IP Bullet Camera is compatible with Blackberry, Windows Phone, Android smart phones as well as iPhone and iPad.
The standard BNC connections and the external alarm connections also add to the security of the camera, not to mention that the HD feature is designed to redefine the way you experience home surveillance – the blurred, rusty images are now crystal clear and lively colored, so that you can see even the smallest detail.
Click Here for current price of Q-See QCN8002B!
2. The Grandstream GXV3672_FHD IP Camera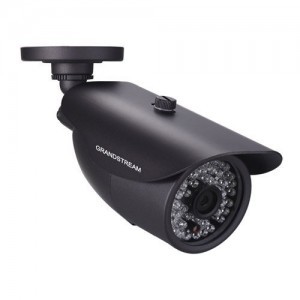 This is a powerful infrared high-definition IP surveillance system that can be used outdoors and indoors, it comes with HD lens and a top-notch 3.1 megapixel camera that will carefully reproduce images of the highest quality.
The camera also comes with an advanced CMOS sensor embedded in it, along with a useful support motion detection feature that will let you know whenever the surveillance system detects movement around the perimeter. The high-performance streaming server allows up to four simultaneous viewers and the full frame rate resolutions are of 720p and 1080s, respectively.
The GXV3672 is a state-of-the-art, weatherproof camera that also has an advanced image sensor processor to deliver the best video quality possible. Additional features and functions include video analytics coupled with the SIP and VoIP support, the integrated POE system (Power Over Ethernet) as well as pre and post event recording buffer.
Overall, this camera is perfect for those who want to grant other users access to the surveillance system, as well as to benefit from high-quality, high-definition video recording on a 24/7 hour basis.
Click here for current price of Grandstream GXV3672!
3. Vivotek IP8372 Bullet Camera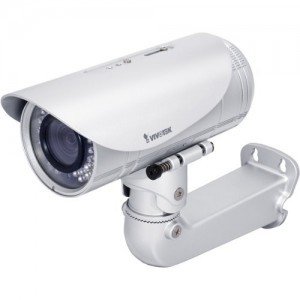 The Vivotek IP8372 is an innovative camera from several different points of view: firstly, it comes with an outstanding 5 MP camera that records perfectly clear images, at a rate of no less than 30 frames per second. Secondly, the camera comes with an ePTZ function that is especially designed to allow the user to zoom in and to focus on a specific area while recording a video – this aspect is particularly important for pointing out small details.
The camera comes with an embedded IR cut filter as well (which is removable), along with a 30 meter IR illuminator designed to deliver the best images possible. Additional features of the camera include the PFA or the precise focus adjustment, the veri-focal camera lens and the high, 1080p high-quality and high-definition resolution.
However, what makes the Vivotek IP8372 different than the cameras mentioned above is the fact that this one has a two-way audio system embedded in it and it also comes with a mounting bracket designed to conceal all the cables, thus being the perfect choice for indoor and outdoor surveillance.
The final and perhaps most important feature of this surveillance camera is the WDR function which is designed to deliver the utmost visibility in either very dark or very bright environments – this way, you will never miss a thing!
Click here for current price of Vivotek IP8372!
4. The TriVision NC-336PW With POE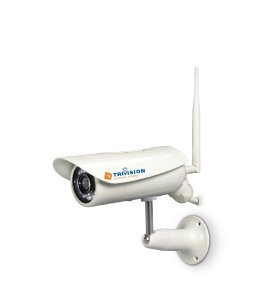 Last, but not least the Trivision NC-336PW, this is a HD, Wi-Fi IP security camera that comes with a unique three-step setup system designed for a fast and hassle-free installation. The camera is fully compatible with Apple devices (iPhones and iPads) and Android devices, and it also comes with a free application that allows you to keep an eye on your home from anywhere in the world.
Also, the camera is compatible with Windows and MAC computers, it comes with a rustproof, waterproof and dustproof metal casing, a built-in DVR function and a multi-zone motion sensor coupled with email alerts that will notify you whenever somebody is trespassing.
The Wi-Fi is one of the most notable features of the camera, and this certainly adds to the 1080p, High-Definition resolution. The Infrared night vision is designed to help the camera record crisp images even during the night (it can record images to a distance of up to 15 meters), and the built-in SD card can be expanded to no less than 128 GB.
Also, the wide viewing angle provides a detailed and comprehensive coverage, which makes this camera perfect for backyard surveillance and not only.
In addition to the free mobile phone application, users will also get a free multi-cam viewing software available for computers – the software is called CameraLive and it is functional right after installation.