Top 16 Best Video Baby Monitors 2017

,
Baby monitors are every mom's best friend. Having the right baby monitor to keep an eye on your little angel means you can do a lot more things around the house without being too preoccupied about your child. Working moms who have to leave their little ones at home with their nannies will also benefit from baby monitors.
Being able to see them from time to time and give directions whenever necessary is quite reassuring. Nannies will most likely be more thoughtful about the child when they are aware that they're being watched.

There are dozens of baby monitors out in the market today ranging from less than 60 to more than a hundred dollars. Different types made by various companies offer specific functions to meet whatever the needs are in certain situations. Some people tend to favor ones that have all the features they can possibly have even with their hefty price tags. After all, parents only want what's best for their children. On the other hand, there are also parents who would settle for less without due regard to the products' durability and reliability.
In this article, we'll help you choose the right baby monitor to suit your individual needs. We'll guide you through the process so that you can make informed decisions based on the products' specifications and where they can be used with the greatest advantage. But before we get into the nitty-gritty part, let's take a look into some considerations for buying (or not buying) a baby monitor.
Why Do I Need One?
If you don't have other work besides taking care of your child (and you're living in quite a small house or apartment unit), then baby monitors may not do so much for you. You're better off attending to your child personally without requiring any sort of intervention. But for the rest of us who have to work eight hours a day, or deal with housekeeping and plenty of other chores every single day, baby monitors are an absolute must for a couple of reasons.
1. Managing daily chores. Moms who do the upkeep without any assistance from another person would have to personally visit the nursery time and again just to check if her baby is doing okay. Frequent visits can cost her time and energy and cause needless delays in her daily tasks.
2. Monitoring child from a distant location. Most couples living in the urban centers usually have to work to make ends meet, which leaves them no other option but to have other people look after their child. It can be nerve-racking at times especially if the babysitter is not very known to you or still new to her job.
3. Checking the baby during nighttime. One of the old ways to know if your baby is in distress is to listen to his cries through the bedroom wall. Some parents would even go as far as taking a trip to the nursery room every once in a while just to see if their little one is doing just fine. Aside from being a needless chore (which also results in sleep deprivation), you may end up waking the child up and lose more sleep just to put him back to sleep.
Things to Look for
If you find yourself in any of these situations, you might consider getting a baby monitor. For those who are new to this product, here are some basic features to look for. A good baby monitor should excel on at least three basic functions:
1. Two-way communication. This is the standard for baby monitors. It's essentially a two-way communication device equipped with cameras and sensors which allows you to talk to your baby or to his babysitter. This can either be done through radio signals for short range monitors and receivers or through wireless IP for most high-tech baby monitors and mobile devices.
Children who are used to hearing their moms' calming voice can be put sleep without having to go near the baby's crib. It's also reassuring for the child to know that his mom is just around the house. Dedicated baby monitors that rely on radio signal must also have a "low power" indicator, "out of range" warning, and power-saving feature.
2. Mobile app support. The latest generation of baby monitors are now equipped with Wi-Fi and internet connectivity which allows users to view and remotely control baby monitors through any handheld or portable device. Earlier versions use radio signals and dedicated servers, but today's modern baby monitors use wireless technology and has a much more friendly-user interface.
However, this feature may also come at a price since you need to have unlimited internet access to make full use of this capability. Talk to your internet service provider on how to you can save on data usage through internet packages, promos, or discounts.
3. Night Vision. Baby monitors with nighttime capabilities should definitely be among the list of features to look for when buying your first baby monitor since most of the sleeping hours happen during the night. There are two types of nighttime capabilities for baby monitors. Those that work in low light conditions need ambient light which can be amplified electronically in order to see during the night.
Infrared baby monitors are considered as true night vision cameras since it allows you to see in total darkness by converting digital signals into clear monochrome image. Low light baby monitors are not true night vision cameras but they are not as pricey as the real ones. Be sure to check the product specification whether your baby monitor has 'low light' or night vision camera.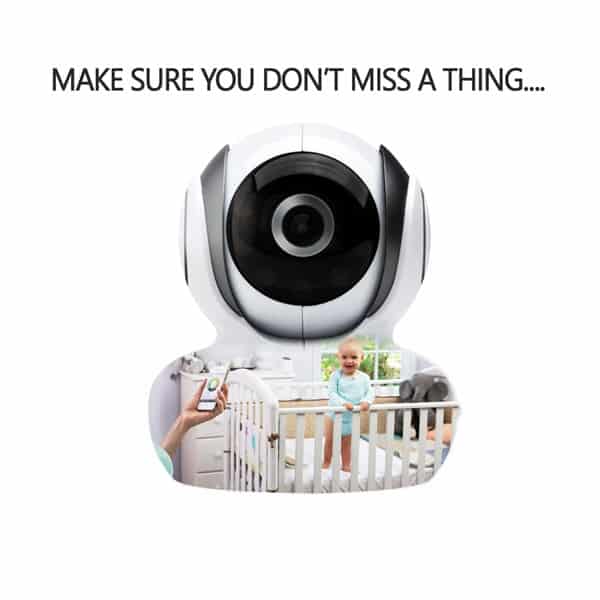 Other Useful Features and Tips
Some baby monitors come with extra features to better enhance its effectiveness and provide you with added comfort and convenience. Here are some things that could help improve your experience with baby monitors.
1. Extended battery life. Baby monitors are usually cordless for safety purposes. It requires charging from time to time, so consider buying baby monitors that can last for up to 8 hours or more after a full recharge. Another useful feature is the power-saving mode which extends battery life up to 12 hours.
2. Wider coverage. Typically, most baby monitors can reach distances of up to a hundred feet or more, with some brands capable of 800 to 1000 feet. If you have quite a large area or have several floors, this feature will come in handy. Just bear in mind that ranges will actually vary since thick concrete walls, metal frames, and running microwave ovens can impede radio signals, even at close range.
3. Temperature Sensors. This feature is sometimes included in baby monitors to help maintain ideal room temperature for your baby, usually around 65 to 70 degrees during sleep. You can set this baby monitor to send you an alert if temperature drops below a pre-determined level. Babies sleep better in cooler temperature so it might be a good option to have this one for air conditioned rooms.
4. Pan-tilt-zoom function. Some baby monitors has the functionality of modern IP cameras. This allows for better viewing in different angles and zooming in on specific areas around the room. As your baby grows, you can expect him to do a lot of moving. If you're child likes playing around the room and you want to keep an eye on him, you might consider having one that has a pan-tilt-zoom function.
Perhaps now, you're already thinking what kind of baby monitor suits best for you and your baby. Just keep in mind that each type is designed for specific purposes and that some features and functionalities are best suited in certain situations. Here's a low-down of the best baby monitors for 2017.

Under $100
1. Infant Optics DXR-5 Portable Video Baby Monitor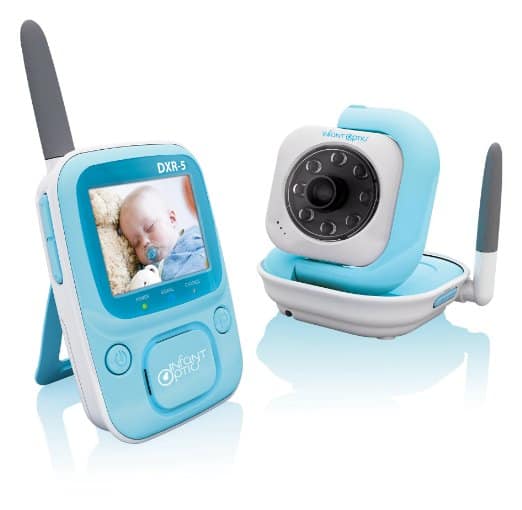 This baby monitor maintains its status as one of the best-selling, cost efficient baby monitor in the market today, and for a good number of reasons. First of all, it's very affordable and gives the best value for your money. DXR-5 uses a 2.4GHz digital wireless FHSS for ultra-clear reception and AHSS to eliminate static and background noise, and can cover distances of up to 150 feet in closed spaces or 800 feet in open spaces.
Its 2.4" TFT screen and built-in microphone is outstanding. Camera is also equipped with infrared night vision to see in total darkness when your baby is sound asleep during the night. Easy to set up and operate even for first-time users.
Check customer reviews and latest price on amazon!

2. LeFun Baby Monitor Wireless WiFi IP Camera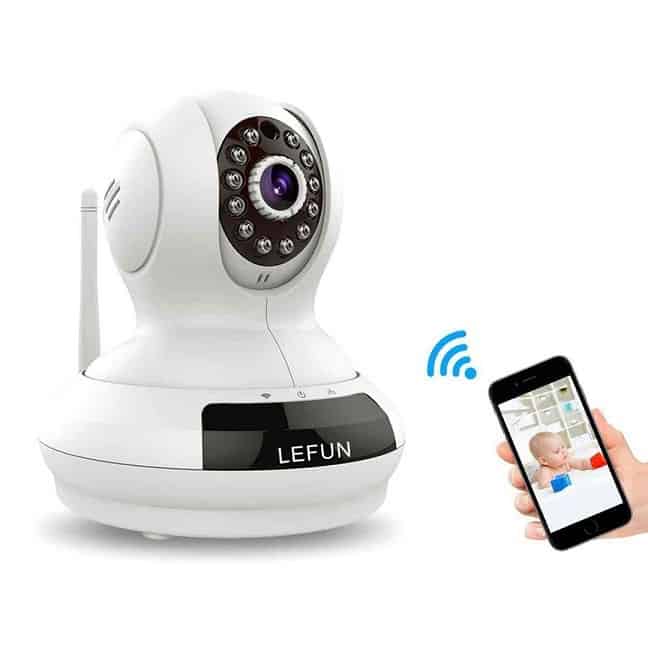 It's essentially a wireless IP camera loaded with cool features specialized for your baby and nanny. Like most IP cameras, it can be accessed and remotely controlled through smartphones, tablets and other portable device using WiFi internet or data. 720p high resolution camera allows you to watch and capture images in full HD.
Pan-tilt-zoom makes it easier for you to look around in any direction, suitable for covering large spaces, plus infrared night vision to see your baby in the dark up to 32 feet away. Two-way audio is superb. It has intelligent motion alert feature and capable of recording and storing video.
Check customer reviews and latest price on amazon!

3. Hello Baby – Wireless Video Baby Monitor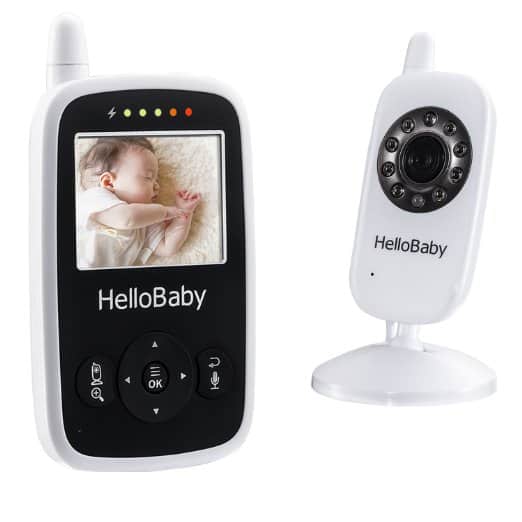 If you're looking for a baby monitor that can do a lot more things than typical ones, Hello Baby has it for you. Its 2.4Ghz FHSS can transmit and receive signals from up 960 feet away and has an out of range warning. Full color 2.4 inch screen provides smooth, real-time video and can run for up to 8 hours on battery.
Pan-tilt-zoom camera lets you see from different angles and is equipped with infrared night vision for round-the-clock viewing, heat sensors for monitoring room temperature, and built-in lullabies to keep your baby in bed during sleeping hours. As a power-saving feature, it also has VOX mode that turns screen off when no sound is detected for 1 minute and sound activated 2-way talkback.
Check customer reviews and latest price on amazon!

4. Summer Infant In View Video Baby Monitor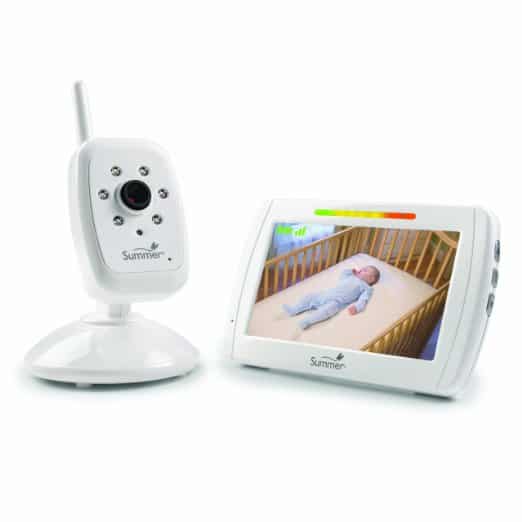 For moms who want an expandable baby monitor with a large receiver screen display, Summer Infant has a 5-inch high resolution LCD display and has an expandable option of up to 3 additional cameras which can be viewed on a split-screen. It can reach you up to a distance of 600 feet with its 2.4GHz wireless transmission and keeps you in touch with its out of range indicators.
It's fully capable of night vision for nighttime security. You can extend operating hours with its sound activated receiver screen that turns on and off through noise detection. Easy to set up and use, plus expandable camera system, this baby monitor sits well with moms with plenty of kids to look after.
Check customer reviews and latest price on amazon!

5. Vtech VM312-2 Safe & Sound Video Baby Monitor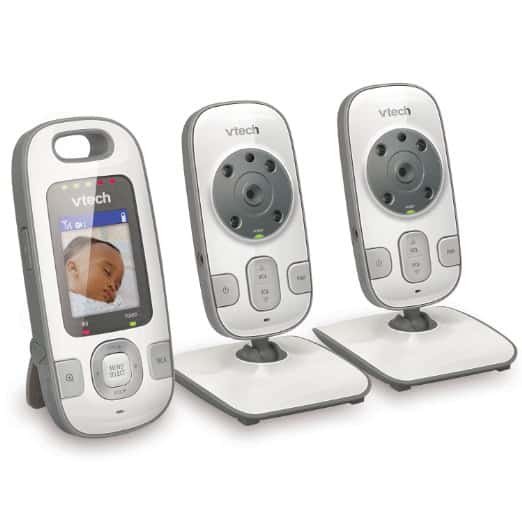 This savvy expandable baby monitor comes with 2 cameras which can be viewed on a 2-inch, high-resolution receiver LCD screen. It can capture full motion video of up to 25 frames per second and has a patrol mode for viewing multiple cameras (supports up to 4 cameras) by cycling on each camera for 7 seconds. Automatic infrared night vision can detect low light and provide you with high-resolution monochrome video even in the dark.
It's also equipped with two-way talk-back intercom which saves you time doing nursery visits as well as power-saving feature which turns on the receiver screen only when it detects noise like the baby crying, etc. Because of its extended range of up to 1,000 feet, mom's can spend time outdoors and go about their day.
Check customer reviews and latest price on amazon!

6. Foscam FBM2307 Digital Video Baby Monitor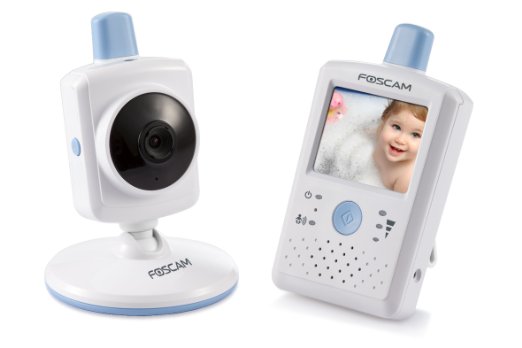 Just like most high-end baby monitors, the FBM2307 utilizes 2.4GHz wireless technology at capable of transmission at a rate of 4Mbps and can reach up to a thousand feet in open spaces. FHSS technology allows for clear, bright reception free from interference. Setting up is a breeze and can be paired immediately. You can add up to 8 cameras for multiple viewing.
The 2.4-inch touchscreen receiver uses VOX technology to help extend battery life by turning on the screen only when it detects noise above the decibel threshold set by the user. It has a built-in night light which can be used manually or automatically.
Check customer reviews and latest price on amazon!

7. Huan Monitor Digital Video Baby Monitor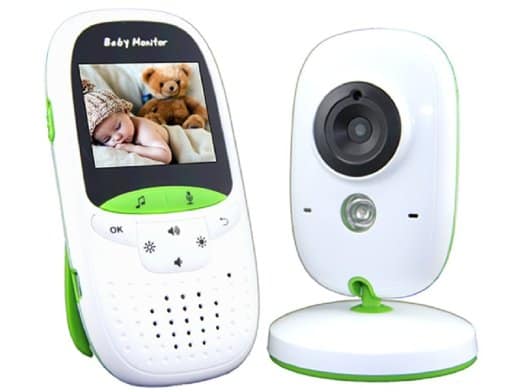 Parents who need extended hours monitoring their baby, Huan Digital Monitor is an ideal choice. Turning on the VOX mode enables it to stay up for 20 hours and with its built-in lullabies, your baby will be fast asleep nicely and comfortably. To maintain ideal sleeping temperature, this monitor also has temperature sensors for uninterrupted sleeping hours for your baby.
It has night vision which can be activated automatically, so you can watch your baby even with the lights out. The 2-inch LCD receiver also comes with 2-way talk back for added convenience. No need to rush to your baby's room. Its 2.4GHz digital wireless transmission has an effective range of up to 850 feet unobstructed or 160 feet in closed space.
Check customer reviews and latest price on amazon!

8. Facelake FL602 Video Baby Monitor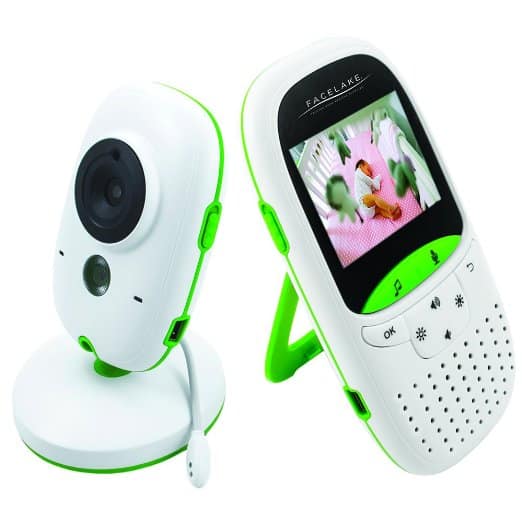 Also good for overnight monitoring is Facelake's FL602. It can also stay up for 20 hours in VOX mode and has night vision capability for round-the-clock monitoring. Baby monitor uses the standard 2.4GHz wireless transmission which can cover distances of 160 to 850 feet.
Heat sensors keeps you track of your baby's room temperature for optimal sleeping conditions and it has 8 built-in lullabies to help your baby sleep faster and longer. As a standard feature for baby monitors, it's also equipped with 2-way talk back system to instantly soothe your baby in the comfort of your own room.
Check customer reviews and latest price on amazon!


Over $100
1. Infant Optics DXR-8 Video Baby Monitor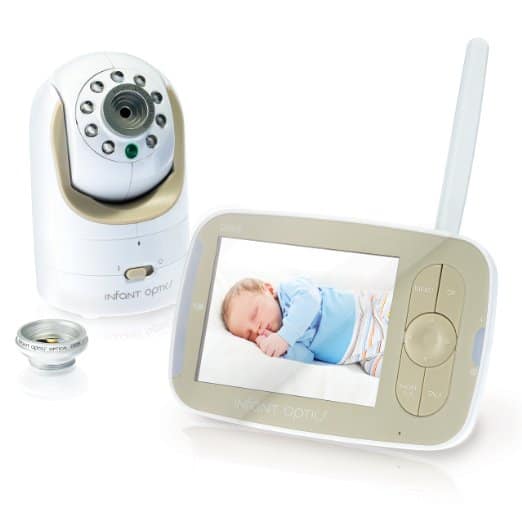 Perhaps the most innovative baby monitoring system available, the DXR-8 is quite special in so many ways. First up, its lenses are completely interchangeable for different viewing angles and focal length – normal, zoom, and wide. It's a first in baby monitoring systems. Pan and tilt capability affords you full view of the room in many different angles (270 degrees horizontal, 120 degrees vertical).
Viewing is much better experience with its high resolution 3.5 inch receiver screen, which also shines in terms of clarity with its night vision capability. Among other cool features include temperature sensors, 2-way talk, out of range alarm and long batter life that can last up to 8 hours.
Check customer reviews and latest price on amazon!
2. Samsung SEW-3043W BrightVIEW HD Baby Monitor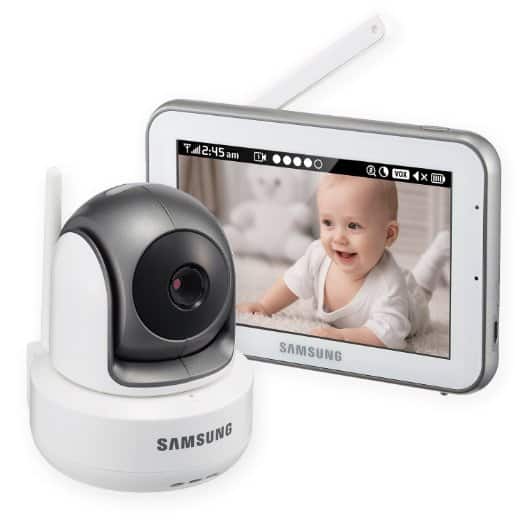 This state-of-the-art baby monitor is among the best in the market with its remarkable features. It's capable of viewing the entire room with its pan-tilt-zoom, high definition camera equipped with invisible infrared night vision for superb viewing even in complete darkness with the distracting LED lights. It has an impressive 5 inch touch screen monitor which allows you to control the camera by just tapping on the screen.
And, as an energy-saving feature, you can also turn on the VOX mode and adjust the sensitivity as needed. This, along with other features such as built-in lullabies, feed time alerts, two-way talk, and range of up 900 feet, makes this baby monitor an easy pick.
Check customer reviews and latest price on amazon!
3. Motorola Digital Video Baby Monitor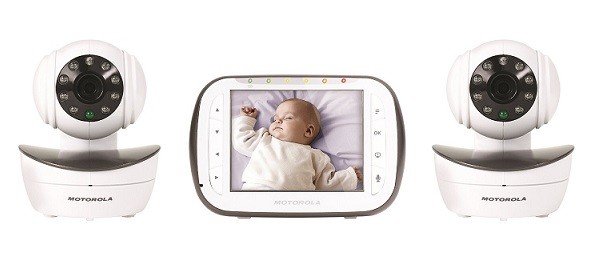 Keeping track of your baby is much easier with Motorola's digital video monitor, featuring its 2.4GHz FHSS secure wireless transmission technology and expandable monitor design capable of up to 3 cameras suitable for multiple viewing. It comes with 2 Pan-tilt-zoom camera with infrared night vision can be viewed nice and easy on a 3.5 inch full color LCD receiver screen.
Sensitive microphone can detect even the slightest sound and has an excellent two-way communication system. To maximize its dependability, it has an out of range warning, low battery alert, secure signal, and night vision for low light conditions so you can have peace of mind all day and all night.
Check customer reviews and latest price on amazon!
4. Levana Ayden 3.5″ Digital Video Baby Monitor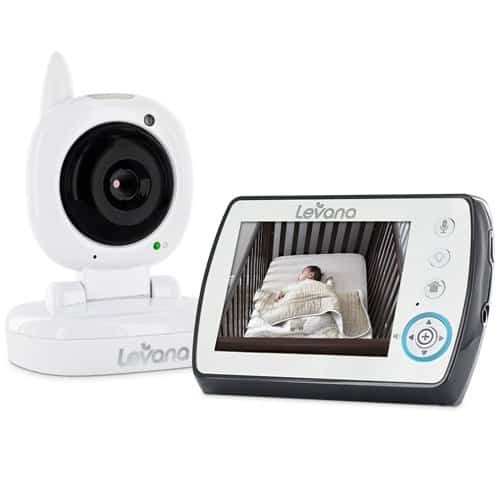 Levana takes power-saving to the next level with its Power-on/off Energy Efficient Picture (PEEP) mode which enables it to run on battery for up to 48 hours. It has a handy 3.5 inch receiver screen with an impressive video image quality even in night vision mode. Its proprietary Private ClearVu digital signal is unparalleled in terms of precision, clarity, and secure signal with an effective range of 750 feet.
Invisible infrared night vision camera allows you to see clearly in the dark without the baby getting distracted with LED lights which is a familiar sight in most conventional baby monitors. Parents also love its talk to Baby two-way intercom to calm their babies and let them know help is on the way. Other useful features include soothing built-in lullabies, night lights, smart LED indicator and an expansion option of up to 4 cameras for multiple viewing.
Check customer reviews and latest price on amazon!
5. Philips Avent Digital Video Baby Monitor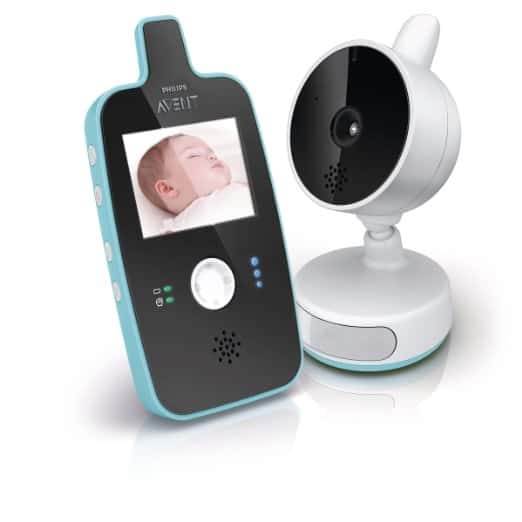 This baby monitor stands out in terms of picture and sound quality. Its 100% secure connection can reach you up to a distance of 500 feet and gives you peace of mind that no one else but you keeps an eye on your baby. Built-in light sensors activates its infrared night vision automatically so you can keep watch of your baby even with the lights off. It also features soft nightlight to calm and soothe your baby with lullabies to make him sleep better.
To extend battery life, it can be set to activate the receiver screen only when it detects noise on a predetermined level such as when the baby starts crying, etc.
Check customer reviews and latest price on amazon!
6. Motorola MBP33 Wireless Video Baby Monitor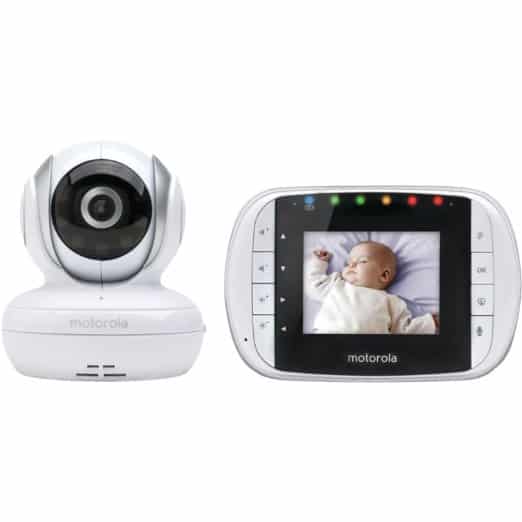 If you want a baby monitor that specializes in night vision capability, MBP33 is the answer. Its large 3.5 inch LCD screen allows you to view the camera in night vision mode with crystal clear video image quality. And you don't have to worry about interference and security issues with its FHSS wireless technology which automatically switch frequencies when it detects similar ones.
Its ultra-sensitive audio allows you to hear even the softest whimper and can be adjusted according to your needs. You will also find other interesting features which may come in handy such as two-way communication, built-in lullabies, temperature sensors, 8-10 hours battery life and expansion option of up 4 cameras and 2 parent units.
Check customer reviews and latest price on amazon!
7. Summer Infant Baby Zoom Wi-Fi Video Monitor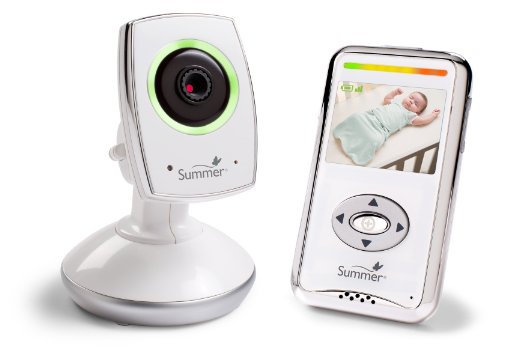 For tech-savvy moms, you will find this baby monitor pretty useful. It does not restrict you to a certain location like non-WiFi baby monitors and allows you to watch and take control of your baby monitor from smartphones and portable devices far from home, this, in addition to its sleek 2.5 inch color in-home receiver that comes with the video monitor. Simply install the free app for Apple and Android devices and link it to the baby monitor unit.
It's safe to use with its built-in digital chip for secure transmission. As you would expect with high-end baby monitors, it has a remote pan-zoom-tilt capability for excellent viewing, two-way communication, and expandable system for adding more than one camera.
Check customer reviews and latest price on amazon!
8. Levana Alexa LCD Baby Monitor, 5 Inch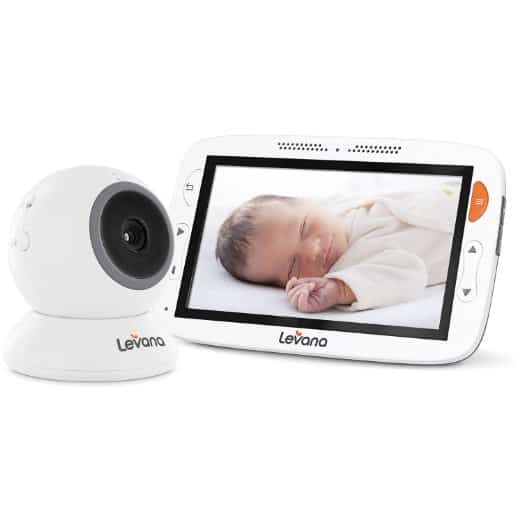 First up, it has a sturdy, ultra-thin 5 inch LCD screen which renders excellent image quality up close or at a distance, and fits comfortable in the palm of your hand. Large screen monitors such as this can use up some battery life, but with its 12-hour capacity, this is one baby monitor that you can always count on. You can also add up to 4 cameras for multiple viewing as your family grows.
Because it uses encrypted private digital signal, you're pretty sure no one else is watching over your baby except you. It can reach you as far as 500 feet so you'll be able to go about your day as usual. Night vision is also impressive and with no distracting LED lights. Of course, your baby monitor won't be complete without its two-way Talk to Baby communication feature.
Check customer reviews and latest price on amazon!