Swann SWPRO-751CAM-US PTZ Security Camera Review

,
Looking for a reliable PTZ security camera at a reasonable price? If so, then it may be worth looking into what the Swann SWPRO-751CAM-US PTZ Camera with 12x Optical Zoom has to offer. This product comes with 12 x optical zoom and offers a clear view of images with its 360-degree horizontal rotation.
Adjusting the camera's settings or focusing on your desired location is also a breeze since you can simply do all these by using the remote control (included in the package). With 16 programmed viewing points, 700 TV lines, easy-viewing on smartphones, this camera is indeed a real deal. Read along this review to learn more about its features, benefits, and some drawbacks to help you decide if this item is for you.
Click Here for customer reviews…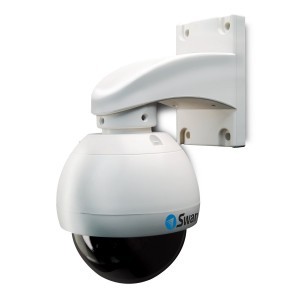 Outstanding Product Features
At first glance you may think that this camera performs sub-par other products within its price range. For less than $400, this PTZ camera seems like a sweet deal, granted that it offers basic features and options to meet your security needs.
It comes with a PTZ controller that lets you direct the camera according to your preferred location. The camera also has superb technology with Sony components that enhance the overall function of the device including smart programming, 700 TLV, and an advanced CCD – video image sensor.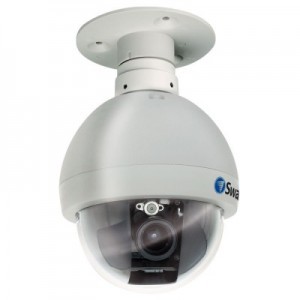 Viewing small details is also possible with the camera's 12 x optical zoom lens. This impressive zoom capability is what you need to easily recognize people's faces and other trivial details that would otherwise appear blurry in poor-quality cameras.
When used with the SwannView app and networking DVR, smartphone viewing is made possible. Just use the remote control and select from 16 different preset viewing points or move the camera based on your preferred spot. You can also expect to have a great view of surroundings with the camera's 360-degree rotation. This means, there are no blind spots or blurry images on key locations.
Minor Drawbacks to Consider
The pan, tilt and zoom features can be set according to your desired speed. While the unit can refocus automatically after zooming in on a subject, the movement is reasonably fast but not that impressive.
The focus can even lag occasionally, although this can be fixed with some adjustments. For others, this may be tolerable, but it would be better if the pan speed and focus work seamlessly even without your intervention.
The Verdict
With its cheap price, decent features and solid components, you will realize that this product is worthy of your investment. However, you are better off with another PTZ security camera if you prefer something more sophisticated for the image quality (specifically night time image) and settings.
Nevertheless, this item can be a good addition to your home or business when you are after low-cost options with satisfactory performance.
Check latest price of this camera Here!

Good 700TVL PTZ Camera From Swann