Swann SWDVK-849808 Super HD 5MP Security System Review

,
If you are looking for a security system that will capture vivid detail of all relevant movement the Swann Super HD 5MP DVR Security System is a top choice.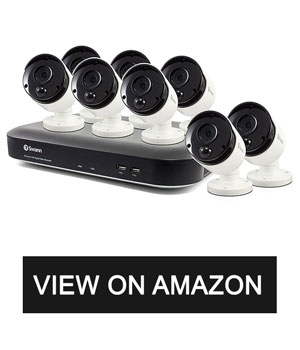 The four powerful 5 Megapixel cameras will record super high definition footage with clarity and detail that is hard to beat. The full HD and powerful zoom feature on the 5 Megapixel cameras are 2.4 times better than 1080P Full HD and will allow you to see license plates, clothing and facial details.
The cutting-edge True Detect PIR motion sensors are intelligent, making them highly efficient and effective. What makes it so accurate and dependable is Swann's True Detect PIR Thermal Sensing.
This technology allows the system to detect vehicles, humans and large animals while ignoring insects, rain, leaves blow by or other false triggers. This reduces false alarms and save disk space.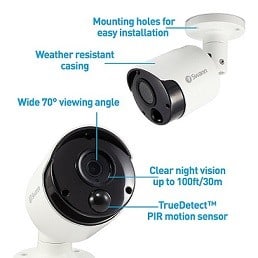 The 2 TB hard drive will allow you to set up to 8 cameras and should give you over a year of hassle-free recording. The tough robust cameras can be used indoors or outdoors and provide up to 30m infrared night vision.
You can view footage remotely with the user-friendly SwannView Plus app. All you need is a connection and you can view current or recorded footage on a tablet or mobile device wherever you are. The app is quick to set up by simply scanning the QR code on the DVR.
Smart Search is a handy feature that allows you to quickly and effortlessly find footage from a particular area if an incident is suspected. You can also set the motion detection to focus on specific areas of interest in order to reduce irrelevant recordings and triggers.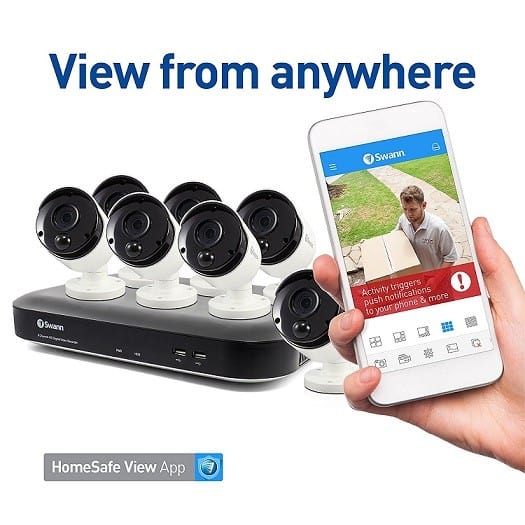 The Intrusion Detection will automatically record and alert you of any suspicious activity such as someone loitering near an entrance or a vehicle. The system also has Tampering Detection that will instantly alert you if there is any tampering with the system, signal or cameras. That makes the system proactive rather than reactive, allowing you to prevent crimes before they happen.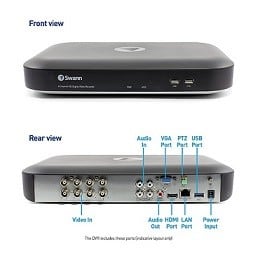 Another feature is line crossing detection that lets you determine specific areas and times that are of particular concern. The system will automatically alert you of any incidents in these areas.
The system and app are intuitive and simple to use but should you experience any issues, Swann provide full instructional videos online that cover all aspects of setup and operation.
Features:
Recorder: 5MP 8 Channel

Cameras: 5MP

Resolution: 5MP

IR Night Vision Distance: 100ft/30m

Viewing Angle: 70°

Outdoor Camera Rating: IP67, Weatherproof -30° C ~ 50° C

DVR HD Size: 2TB

Audio Input/output: RCA

Cable Type: BNC

USB Interface USB 2.0 x 1, USB 3.0 x 1

Computer Operating Systems: Windows, Mac OS

App: SwannView Plus, View 24/7

Warranty: 12 Months
The Swann Super HD 5MP DVR Security System is ideal for large homes and small to medium business for hassle-free 24/7 detection and recording.
Check customer reviews and latest price at amazon.com!