SVAT CV502-4CH-002 Review

,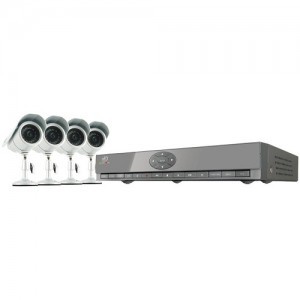 Safety is an important issue for many homeowners and small business owners today, and that is why SVAT provides its customers with efficient security systems to help keep an eye on their homes, businesses and surroundings. The CV502-4CH-002 is one such security system that serves many users today.
It comes with four professional grade, weather-proof, high resolution cameras equipped with night vision and a DVR with 500 GB of storage space. These and many other features provide quality surveillance and provide the users peace of mind, especially when they are away or gone somewhere to attend any function, meeting or a conference.
Click Here to see what others are saying…
This system consists of four cameras which can be mounted at different vantage points to increase the range of surveillance. The DVR has 500GB of storage capacity and H.264 compression technology, which allows for smaller file sizes while still delivering clear pictures.
Thus, up to one month of continuous recording is possible. In addition, the DVR has a USB port where an external hard drive can be connected to increase storage capacity. The cameras' weather-proof quality is very notable. The cameras are known to work in places where the temperatures range from 5 to 100 degrees, in rain or in snow. They also come with decent quality night vision.
The system is compatible with smartphones such as the iPhone, the Blackberry and the Android, and with many computers, from which the user can view live footage from remote locations via the internet.
It comes with an iMenu which offers easy-to-follow instructions for the assembling process. The plug and play set up makes installation simple: once the cameras are plugged in and the DVR is powered up, the system begins recording. The equipment comes with a VGA cable which can be used to connect the DVR to any monitor or TV screen. It also comes with 4 extra 60-foot extension cables to allow for flexible installation.
SVAT CV502-4CH-002 is affordable, with prices starting from $236. This is a low price compared to the amount saved by deterring theft and vandalism. In addition, the installation of a security system such as this one has been known to attract discounts on home insurance by some insurance companies.
Moreover, SVAT offers customer service 7 days a week. Once the system is up and running, the user is ready to monitor his or her home and protect him or herself against theft, vandalism and other property crimes.
Check out SVAT CV502-4CH-002 Web Ready 4 Channel H.264 500GB HDD DVR Security System at amazon.com.