Sharx SCNC3705 IP Camera Review

,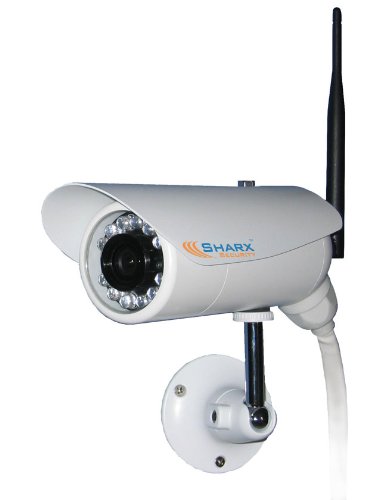 With the Sharx SCNC3705 security camera, all you need is a wireless (or wired) internet connection, to protect your home from anywhere. It has a number of features, including infrared night vision, a built in DVR, camera and photo capabilities. And, with the ability to record for up to 2 weeks (with expandable memory), even if you are out of town, you can check in on your home on your iPhone, iPad, or Mac or PC system.
Click Here for customer reviews…
How it works –
The outdoor night vision camera works on a 10/100 ethernet connection, on a wireless, secured network. Multiple viewers can monitor the home as well, from various devices, and from various quality videos and images, at any time. The system works with Windows and Mac, and records both video and audio, so you can monitor your home, when you are away. 3 separate choices of video quality can be seen at once, via multiple streaming sources.
Video quality –
You can adjust from near DVD quality, down to 240 p resolution. And, with a built in 8 GB memory card, up to 32 GB expandable memory, it functions as a stand alone DVR, for full motion detection, at all times. Uploaded video files can automatically be seen through FTP connection, and an indoor and outdoor connection box, allows you to connect the system anywhere it is convenient, for optimal video capabilities and recording capabilities.
Powerful monitoring –
The camera on the Sharx SCNC3705 can see up to 45 ft in absolute darkness, with the powerful LEDs which are installed in the system. And, with wireless capabilities, you can receive streaming video from anywhere, with an outdoor LAN connection, for video recording capabilities. It works with nearly any wireless system, meaning you can view your home's monitoring and image updates, from anywhere, at any time, as long as you have a wireless signal.
The motion detection system has a built in microphone, for viewing and recording. With no monthly home monitoring fee, you can't ask for much better than you will receive with this system. Simply connect it to your home's wireless or wired internet connection 802.11 b/g/n, and you are ready to go. It is also weatherproof for outdoor use, meaning it won't go down due to rain, cloudy, or other inclement weather.
If you want an affordable way to monitor your home, from anywhere, even when you are away for a few days, the Sharx SCNC3705 is a great quality system, with built in night vision capabilities, to keep your home safe at any time.
Click here for latest price!