Ring Floodlight Camera Review

,
You get floodlights and you get outdoor cameras and then you get the Ring Floodlight Camera. If home security is important, and sadly it needs to be, the Ring solution is one of the most effective options available.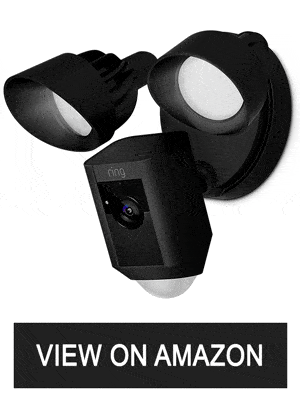 Floodlights are important security features but even if motion-activated, they are still passive and do little to deter criminals. Unless you see it come on, you have no idea it has been activated. Cameras are also great and can alert you to the presence of motion which you can then view remotely and take action. Although some have a remote alarm one can activate, they still tend to do little to deter criminals.
This innovative product combines a quality camera with two 3K kelvin floodlights and a 110-decibel alarm. The combination should be enough to send all but the most hardened criminal rushing off, looking for a more vulnerable property. All of this is connected via Wi-Fi and you can view and control the Ring from wherever you are. It is compatible with Android, iOS and Windows apps. The apps are powerful, intuitive and user-friendly.
It is a smart device that works with Amazon Alexa so integrates well into a smart home environment. You can view live streaming and listen to audio remotely from a mobile device. As with Alexa products, you have the option of operating it with voice control. Ring has advised that imminent upgrades will allow it to also integrate with Apple HomeKit, Wink, Samsung SmartThings and IFTTT.

Key features:
Quick and easy to install, connect and setup

Quality 1080HD wide-angle video – 270° field-of-view

Zoom and pan facility

Two-way communication from the built-in microphone and speakers

Two powerful 3K kelvin floodlights

Ability to create specific motion zones

Advanced motion sensors with object and facial detection

Alerts sent when motion sensors are activated

Remotely activated 110-decibel alarm

Infrared night vision

Robust weatherproof design

On-demand video and audio

Lifetime purchase protection

Lifetime theft protection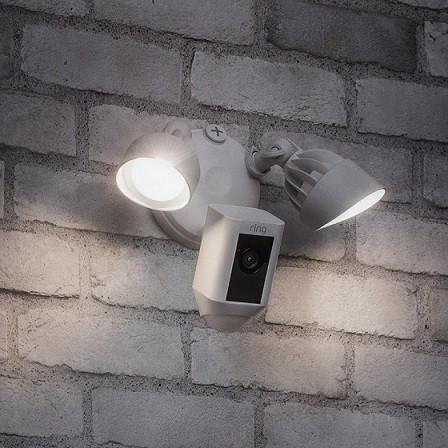 The benefit is that you can view and hear activity on your property on your mobile device from wherever you are. The super-bright floodlights will light up the area and if you suspect there is a problem you can activate the 110-decibel alarm.
You also have the option of clear two-way communication and you can view the action via live streaming. The infrared night vision will ensure you capture all activity even out of the floodlight range. Footage is stored to the cloud
The ability to setup motion zones means you will not be disturbed by pets or other non-suspicious activity. The system can be expanded as required and additional Ring Floodlight Cameras can be installed for improved security. The Ring Floodlight Camera is easy to install and can simply replace an existing outdoor light. The app is a breeze, easy to setup and extremely user-friendly.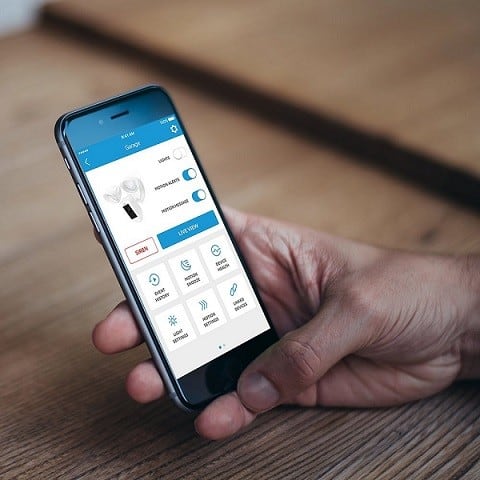 There are 3 plans to choose from, the first one being free and then 2 other very affordable options with additional benefits
Ring sell a range of quality security products for all-round protection and peace of mind. I am sure other manufacturers will soon make similar products but for now, the Ring Floodlight Camera is the only one of its kind with the range of features it offers. As technology improves, more features will be added and it can only get better.
Final thoughts
Security is something that has to be taken seriously. Technology offers a range of good devices that will improve the safety and security of your home, office or property. There are a number of great products on the market and the Ring Floodlight Camera is one of the better ones. It can be used on its own or in conjunction with other options for additional security.
If you are away from home for short periods or extended trips, the Ring will give you peace of mind knowing that you can see what is going on in real time and activate the loud high-pitched alarm to scare the would-be thieves away.
The Ring is popular and a big seller. Feedback from people that have bought and used is extremely positive and the product is highly rated.
It is simple to install and very easy to operate. The robust build quality means it is durable and will last for many years. For the safety of your home and your family, the Ring Floodlight Camera is a worthy investment.
Click Here for customer reviews and latest price!