Revo R84D3GB3GM18-1T Surveillance System Review

,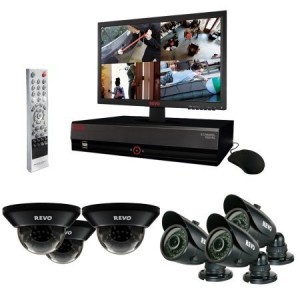 The Revo R84D3GB3GM18-1T 8 Channel 1TB DVR Surveillance System has been selling like hotcakes online, and so you might be wondering if it is all just hype or if this model is simply the next best thing since sliced bread, as far as surveillance cameras are concerned. Let us now look at the specs and some of the features of this particular model so you could see for yourself if it would suit your needs.
Click Here to read customer reviews…

Revo R84D3GB3GM18-1T  Surveillance System is designed for efficiency.
May it be for indoor or outdoor use, this professional set of 8-channel DVR security surveillance system has four cameras and a LED monitor that are just perfect for effective monitoring activities. The cameras are meant to be hung hidden somewhere and come with mounting brackets which makes them easy to install.
Its compatibility with many user platforms is what's often hailed as one of its stronger characteristics, making sure that the system does not offer just efficiency but also ease when it comes to remote access. As long as you are connected to the internet, you could view the video stream live.
If you are the type, however, who would prefer to be on top of things and working in a fixed location, then the LED monitor would prove to be very valuable for you. Large enough to fit in four different video feeds, the monitor comes with 8 RJ12 channels, 1 RCA and 1 VGA video output, as well as 700 TV lines as far as resolution is concerned.

The Revo R84D3GB3GM18-1T  is equipped with useful features.
Each camera has a built in microphone for audio monitoring. The hard drive that comes with the package could handle up to 1TB of information, which is roughly equivalent to a month's worth of video footage.
When it comes to installation, the Revo surveillance system takes advantage of a pass-thru mounting mechanism rendering the cables invisible. These cables could extend up to 60ft. The quick connect cables and easy plug and play setup of the Revo DVR makes this particular model relatively easier to use.
The cameras are also equipped with infrared and a powerful illumination system which enable enhanced visibility of up to 100 feet in total darkness.
Summary: Should you buy the Revo R84D3GB3GM18-1T 8 Channel 1TB DVR Surveillance System?
The downside of every sophisticated system like this one would always have something to do with the price. The Revo R84D3GB3GM18-1T  does not come cheap, but not without reason.
While the typical set usually sells north of USD1000, it is that peace of mind that comes with an efficient surveillance monitoring system which you are actually paying for, which would eventually pay for whatever financial damage every potential break-in your establishment or your home could be subjected to in the long run.
Click Here for latest price and shipping details.