Revo R84D2FB4F-1T Review

,
Revo is well-known for its complete security system packages which includes innovative and high quality products. Its new surveillance system Revo R84D2FB4F is packed withone the best features you can find in such security systems.
It is ideal for surveillance of medium to small areas.  The system is equipped with a fully functional 8-Channel DVR system and comes with a pre-installed hard drive of 1TB which can save months of videos depending upon your settings and if you are able to fill the storage completely then you can also plug-in a USB or external hard-drive and transfer any important data before you clean it up.
Click Here to hear what others are saying…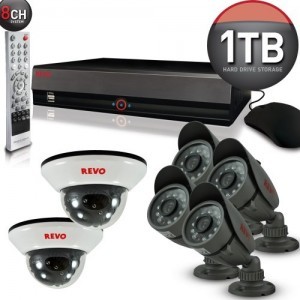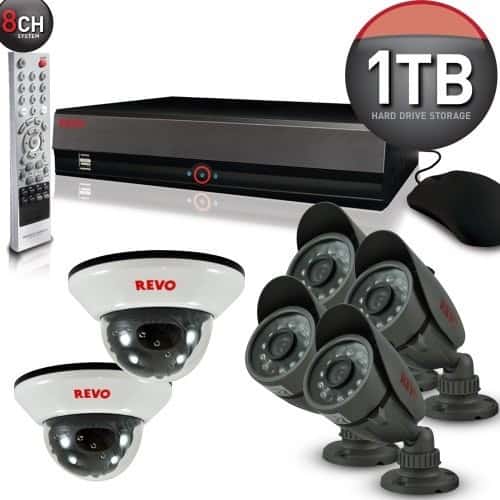 The DVR records videos in H.264 compressed format which takes less size but the quality of videos is not compromised in any way. The package brings you two different types of cameras with super high-resolution. You get 4 bullet cameras which can be used for indoor as well as outdoor purposes and 2 dome cameras for indoor usage.
Both the types of cameras provide clear crisp picture quality because of 600 TV lines resolution. All 4 of the bullet cameras are weather resistant and work perfectly in any weather and users also get a mounting bracket to fit them on any surface easily.
The sunshield on bullet cameras provide uninterrupted videos and the 12 IR LEDs on the bullet as well as the indoor cameras provide you with clear pictures in complete darkness and have a range of 33 ft. All the cameras are equipped with 3.6mm lens for viewing larger area and an all-in-one data/video/audio/power cable and with REVO's plug-and-play security system you can easily connect the cameras with the DVR and it will be up and running.
Controlling and monitoring you cameras remotely is also a great feature which can be done over the internet on your Pc, Mac, Smartphone and Tablet Pc or any other device with REVO's free mobile app.
You can also get picture emails to see the current view of the camera and can also receive email notifications as well as push notifications to your smartphone if or when there is any suspicious activity, loss in video or the storage gets full.
You can also control your DVR with the included Infrared remote control and can remotely search and playback the videos on any device with access to internet. You will never regret purchasing the Revo's R84D2FB4F Security System.
Click Here for a closer look!