Revo R165T10G-4T Review

,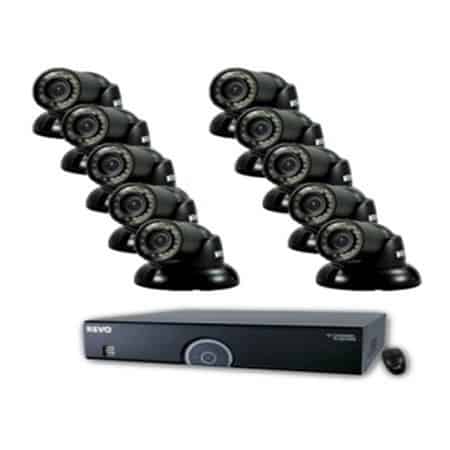 Not quite satisfied with your current security surveillance system? Looking to find a reliable device that can enhance the security of your home or business? If what you look for is an excellent way to manage your property even when you are miles away, then you should consider installing a brilliant security system that makes this possible.
The Revo R165T10G-4T might be just what fits the bill because of its superb functionality and impressive features that will meet your needs and standards.
Click Here for customer reviews…
Excellent Image Quality
This surveillance system by Revo boasts of its high-quality features at reasonable rates. For instance, it comes with 10 night vision security cameras, which enable you to see images that are up to 100 feet away. Even when images are captured in complete darkness, you can count on their superb clarity with the camera's 700TVL high-res features.
It even has a powerful LED lighting for better viewing of images, as well as a built-in microphone that enables clear audio monitoring.
Hassle-Free Connection
All Revo cameras are equipped with a 60-feet quick connect cable for easy installation. With just one click, you can count on this cable to manage the system's audio, video and power functions. What's more, this product has a unique pass-through component that adds greater security and connectivity without any wires mounted on your ceiling.
Durable and Robust Features
Revo's cameras are suitable for outdoor or indoor applications, and they come with weather-resistant components that enhance their durability. With a stylish housing made of metal and well-designed exterior, you can expect these cameras to last for months with minimal maintenance required. In addition, this surveillance system is packed with a robust 4TB hard drive for more storage space to handle all your files.

Easy Access – Anytime, Anywhere
By installing Revo's free app called the Mobile, you can quickly access your recorded files via mobile devices such as your smartphone. Searching your recorded video files is a breeze, and you may even opt for email notifications to enhance the convenience in staying updated with new recorded data.
The Verdict
Revo is known for its industry-standard features and components at inexpensive prices, which makes it a popular choice among economical shoppers. With this reliable and modest-priced surveillance system, you will realize that keeping your properties safe does not need to come with a high price.
Overall, this product is a great buy that adds extra security to your home or business as you manage and monitor your property even when you are situated elsewhere.
Check the latest price here!