Reolink RLK8-410B4 Security Camera System Review

,
People who are looking for a more affordable surveillance system that rivals high-end expensive models in terms of quality and reliability could gain the upper hand with Reolink's security package. We'll delve into the details and see if it is within expected standards.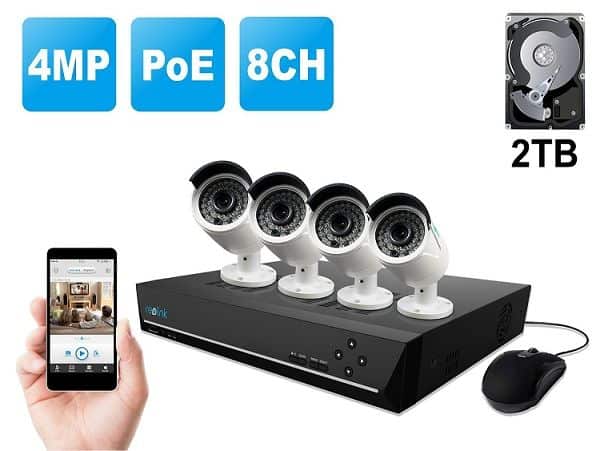 This system includes:
One (1) 8-channel PoE NVR with 2 TB pre-installed HDD
Four (4) bullet type 4 MP CMOS night vision cameras
Four (4) network cables (approximately 59 ft long)
One (1) NVR power adapter
Cost-effective system
Compared to other high end models, it's nearly half the price. Including the add-ons such as the extra set of cameras (4) and huge storage capacity (2 TB) the difference in terms of pricing becomes more apparent. However, Reolink does not compromise on quality in order to compete in the market. As a matter of fact, they are constantly updating its firmware as well as patching up some security issues with its P2P service to better improve its service.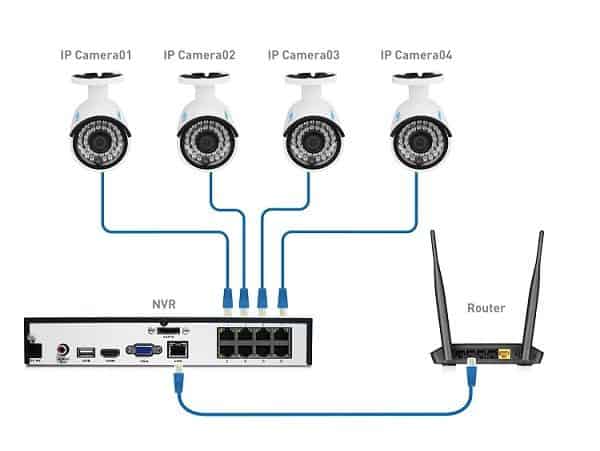 PoE compliant
Both the NVR and the cameras are linked via PoE, or "power over the Ethernet". Ideally, it is more advisable to run the surveillance system via PoE for outdoor use; otherwise it would need a nearby power source just to make them work.
Huge data storage
Reolink is also generous enough to provide a hefty 2 TB of HDD storage installed in the NVR unit. It's more than enough for daily recording, but that added space would also come in handy during a weeklong vacation. The NVR can handle as much as 4 TB of memory capacity.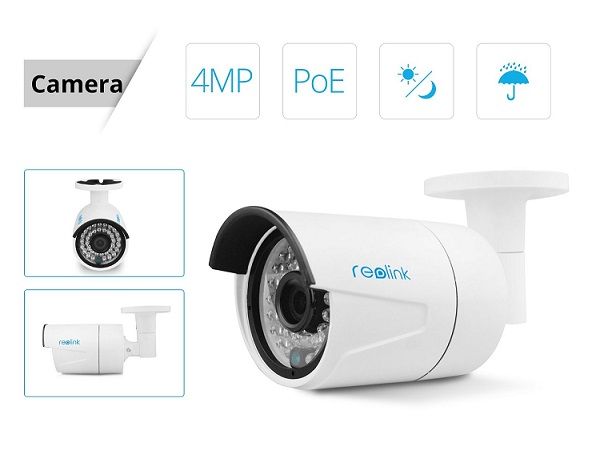 High resolution video output
Its video output is quite large with its 2560 x 1440 resolution, viewable from both PC monitor and TV. However, note that some TV screens have lower resolutions so users have to match it with the NVR's by lowering the latter's video output. The NVR can be interfaced both from a VGA socket and HDMI and has 8 PoE slots for the cameras.
Connectivity
Linking the iPad or tablet with this device is just the same with any other system. Scanning the QR code (square shaped bar code on the NVR) completes the linkup process which then allows the user to see through the cameras linked to the NVR.
High quality video input
The package comes with 4 bullet-type cameras but users can have as much as 8. The 4MP cameras look great within 35 feet which you can see on our hands-on review of Reolink RLC-410WS. Small details like license plate numbers are quite discernable.
But when it gets past the 35-feet distance, things start to get a little blurry. In this case, it would need additional camera units with zooming capability or possibly a whole set with zooming capability instead of the original set. Night vision renders monochrome image which is very good on stationary or slow-moving objects. Fast-moving objects tend to get blurry, but that's not uncommon as most cameras have slower "shutter" speeds on night mode.
To sum it all up, it's fair to say that this system is at par with more expensive brands in terms of quality and value. However users might still encounter some occasional glitches like false alarms and firmware issues. It's not a perfect system but Reolink does its best to improve their system through firmware updates.
Check latest price and customer reviews on amazon.com!