Q-See QC808-461-1 Review

,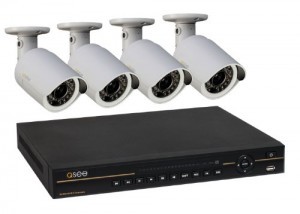 Q-See is back again with yet another innovative and a great surveillance system which makes monitoring easier and provides improved security. It comes with 8 channel digital NVR which supports 8 cameras, but it comes with 4 IP cameras with HD video recording at 720p with 4 pieces 100' Cat5 cables for these cameras are also equipped with 30 Infrared LEDs which can cover an area of 100 ft.
Click Here for customer reviews…
The quality of picture and colors these cameras provide cannot be questioned and is simply amazing. Users can also add 4 additional 720p cameras or update the existing ones with 1080p cameras to get more vivid pictures. These cameras don't require separate power supply and can be simply connected to the NVR with supplied 100-foot RJ-45 Ethernet cables.
 
Remote monitoring with QC808-461-1 is simply amazing. Users can monitor and get updates when the storage capacity is full, snapshots when motion is detected or if any sort of loss in video happens. All you need is any device with access to internet, which means you don't need computer to do so and all the popular smartphones, tablets and different operating systems are supported.
Mobile phones with OS such as Blackberry, Iphone, Android and Windows are all supported. This is not it, remote monitoring is made simpler with different mobile apps from Q-See.

Its 1TB hard-drive is great to save 1000 hours of videos and you can also transfer any important videos to your pc as it supports USB connectivity and free up the space. You cannot ignore the fact that it can be connected to 19" or larger LCD monitors to view the videos and images in high quality as it comes with HDMI support.
What more? It comes with 4 Power Over Ethernet (POE) ports so you don't require any extra power supply and also supports PTZ Controls, however PTZ cameras are not included in the package. It is simply a complete and amazing package and users get 1-year warranty with user manuals and a software disc.
You can get this from HERE!