Q-See 4K (8MP) IP Cameras (QCN8090B) with NVR (QC826-4) surveillance system review

,
Security is becoming an important consideration for many, be it for the home, office or any other area you need extra protection.
Fortunately, the technology is advancing at a rapid rate and the quality of surveillance security cameras and recording systems keeps getting better while the prices come down. This is great for the consumer.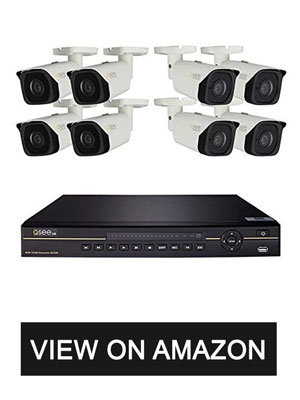 One of the better systems available is the Q-See 4K (8MP) Eight Camera IP Ultra-HD H.265. This comes with a NVR 16-Channel with 4TB HDD.
The system is also available in a 4, 12 or 16 camera configuration, depending on your needs. The cameras can also be bought separately as can the NVR. 8 Cameras is ideal for most homes, office building or storage units and it offers excellent value for many.
The system delivers outstanding video quality with the rugged durable cameras. Enjoy quality night vision and remote viewing from the free app.
Features:
Eight Outdoor-Rated 4K (8MP) Ultra HD IP Bullet Cameras

Weather proof with a IP67 rating

16-Channel 4TB IP NVR Digital Recorder

16 ports of POE

ULTRA HIGH DEFINITION image sensor (with 4 x resolution of 1080P cameras)

Free app for remote viewing (Web Browser, QC View, Windows/Mac, Apple and Android devices)

Smart Search – allows you to view the days footage in a short preview video showing activity for the period

Push email alerts with snapshot attachments

Eight x 100' UL-Compliant Cat5e Camera Cable Included

NVR and Cameras capable of near full motion footage at 15 FPS (Frames Per Second) at4 K resolution

Advanced H.265 video compression and encoding allows for greater speeds and uses half the amount of data. (H.264 also supported). This allows more date storage on the NVR and also enhances video quality.

Records in 4K at 15 Frames per Second (FPS), 3MP at 25 FPS, 2MP/1080p at 30 FPS

Total Recording Bitrate: 320 Mbps

Durable and reliable 4 TB Surveillance Rated Hard Drive. Expandable by 2 SATA HDD's maximum 6 TB each

PoE (Power over Ethernet) ports (16) for direct camera connection

Camera connection option over Network/Internet

Also works with IP PTZ Cameras (not included)

Powerful LEDs for superior long-range night vision. Infrared illumination is used with LEDs to prevent common LED problems such as images that are dark at the edge and over-exposed in the center.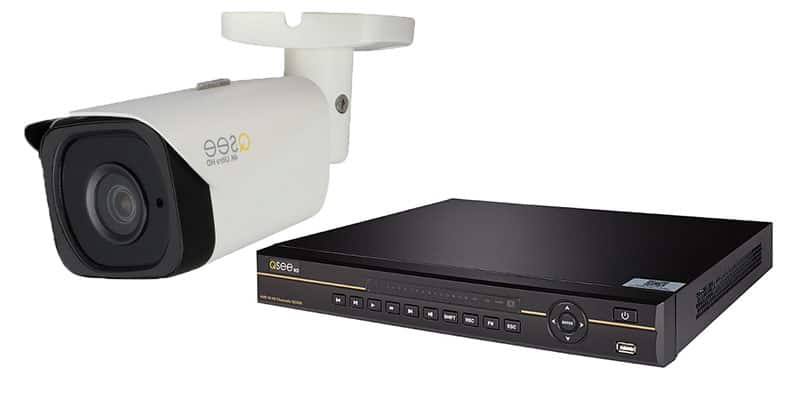 Q-see have a range of innovative highly rated security products that are user-friendly and provide top quality, crisp clear footage. This system will give you peace of mind day and night with a range of features and the convenience of remote viewing and email alerts.
It has everything needed, is relatively easy to install and set up and is user-friendly. It is also flexible enough to expand if necessary. It is also built tough so the cameras will stand up outdoors. The system is covered by a 2-year warranty.
The Q-See 4K Eight Camera system is the ideal security surveillance system for your home, office or remote areas you wish to secure.
Check out this system on amazon.com!
Great IP Camera System with 4K