Night Owl Security PRO-881TB Professional Review

,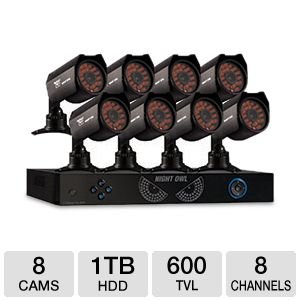 The Night Owl PRO-881TB is the ultimate surveillance system for those who want to have full control over their homes and offices. With no less than eight high resolution cameras with no less than 600 TV lines (two of the cameras are also audio enabled), this system will surely help you keep intruders away.
Click Here to read customer reviews…
Unlike many other static surveillance system that affect your mobility, this one allows you to travel and move around freely while you still have control over the system: you can access the cameras remotely using your Smartphone, and you can also adjust the settings to receive motion activated e-mail alerts to your mobile phone.
In this Night Owl Security PRO-881TB Professional review you will find the most notable functions, specifications and features as well as the main benefits of this surveillance system:
Most Important Features And Functions
The system has a recording capability of no less than 960 hours, due to its pre-installed 1 terabyte hard drive that allows easy and efficient data storage. Moreover, the system comes with a comprehensive HDMI output that allows you to connect it to any large TV or monitor, if you want to see live footage at high resolution.
The high resolution cameras come with a 50-feet night vision capacity and they are suitable both for indoor and outdoor use. The cameras are easy to set up and use, and the fact that cameras come with 600 TV lines allows you to record crystal clear images that will be displayed at a resolution of 960 X 480.
The Benefits Of Night Owl PRO-881TB
The remote access is a great benefit, as you do not need a desktop or a laptop to control the system: you can use your Smartphone or tablet to playback, view and configure the recorded video and audio files.
At the same time, you can easily configure your DVR using your Smartphone, and the surveillance system comes with a multi-gesture technology that allows you to switch the channel views (there are 8 different channels to choose from). Nonetheless, if you cannot handle the system you can benefit from efficient and professional 24/7 support via Internet or phone, in English and Spanish.
The icon-based interface of the DVR also makes it very easy to use, and you can rely either on remote control or on a USB mouse to configure and use the system. Moreover, if you feel like 1 TB is not enough you can upgrade to 2 TB at any time, which will double the storage space for the audio and video files.
Conclusion
In conclusion, this is a powerful and efficient surveillance system that is perfect for small and medium-sized areas. The Night Owl PRO-881TB professional will keep you informed in real-time, so you can prevent thefts and other unpleasant situations.
Check out Night Owl PRO-881TB at amazon.com for current price and shipping!