Night Owl Security CAM-PT-SH420-24 CCD Review

,
Night Owl's security systems are well-known all over the world because of their quality and reasonable prices. Recently Night Owl introduced a new Pan and Tilt indoor security camera, CAM-PT-SH420-24 CCD. This surveillance system can be attached to any DVR system provided by Night Owl.
The camera has a nice and stylish design with chipset technology of CCD which plays an important role to provide high quality pictures and also has a feature of facial recognition which has a range of up to 40 feet during the daytime.
Click Here to see what others are saying…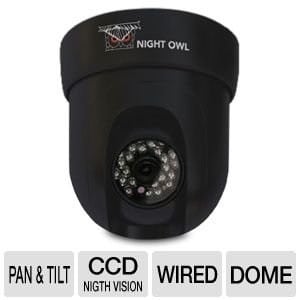 Once you connect the camera to a DVR you will also have the option to control and monitor the surveillance videos remotely over the internet on your PC, Mac, Smartphone or tablet PC. Since the camera comes with an internal motor it can Pan and Tilt and provide you flexibility to view images in 360⁰ from left to right and you can tilt it up to 90⁰ up and/or down.
Once it is attached to a DVR, you can also control the pan and tilt functions of the camera from your phone or any other device. This way, when you're away from your home then you can view different places of your house by simply panning or tilting it.
The camera also allows you to take a snapshot of any intruder or a suspected person by controlling your camera and moving it into different directions and you can also save that snapshot in your device to access it later on. In complete darkness or at night the cameras' 24 LEDs provide you with clear pictures and have range of up to 50 ft. You also get a 100 feet easy connect cable from Night Owl which can be used for multiple purposes such as  the PT controls and power/video and you also get an easy to install ceiling mounting bracket.
So Night Owl's this security camera provides you clear crisp images and the 420 TV lines resolution further enhances the image quality. The package includes a Pan & Tilt CCD camera, 1 100ft easy connect cable, 3 mounting hardware and screws, 1 BNC to RCA adapter, 1 camera power adapter and 3 security stickers of Night Owl.
Like all other Night Owl security products, this camera also comes with free life-time 24/7 customer support and the camera is protected by 1 year warranty so your investment is quite safe and you get a complete package at very reasonable price.
Click Here for latest price and shipping.