Netatmo Presence - An Outdoor Security Camera with a Difference

,
Netatmo Presence, the new outdoor security camera from Netatmo, will soon be in the market. The camera, which was showcased during CES 2016, has evoked keen interest due to its unique features. Unlike most outdoor cameras, Netatmo's latest offering can distinguish between animals, vehicles and people.
It can also be set to monitor or ignore events or objects in specific zones within its field of view. If the product works as expected, it will put this camera in a class above other security cameras in the market.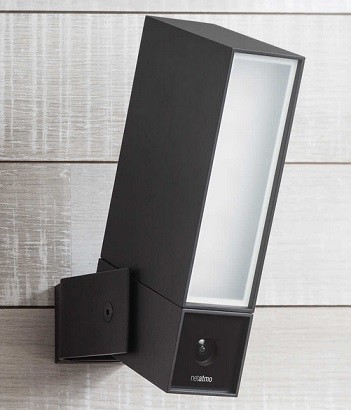 Presence knows what to look for and where:
Motion detection cameras are not new, but to use them for real-time security alerts and selective monitoring was always difficult. If the camera is facing a street, every passing car or pedestrian will trigger it. Even when it is pointed at a private space like a lawn or garden path, it gets triggered by animals and birds. Standard outdoor cameras are useful for finding out what happened after an incident has occurred, but don't work well for real-time alerts. This is where Netatmo Presence makes a big difference.
Besides being able to detect movement, the Presence can distinguish between vehicles, animals and people. It also allows you to divide its field of vision into zones and take action when some activity or event takes place in a particular zone. This allows it to distinguish for example, between a harmless passerby and someone who is stepping closer to take a look at your fence. You can thus set up the camera to send alerts or record footage when something special happens.

Product features:
The Presence is a camera and a large floodlight integrated into one product. The product is shaped like a tall box with the floodlight placed above the camera. The body is made of aluminum, which according to the company, makes it very durable. The product confirms with IP66 standard and is weatherproof.
It's HD camera with infrared night vision has a 100 degree field of view. The floodlight is switched on automatically when needed. It provides footage in full HD quality and you can zoom into the image to see the details. The camera can detect subjects up to 20m away. This distance can be adjusted if required.
The Presence stores footage on a micro-SD card and it is also Wi-Fi enabled. It can send videos to your personal server using FTP. Video is recorded only when needed thus saving storage space and reducing review time.
The field of view can be divided into zones and alerts can be set for specific activity in these zones. A computer application as well as apps for Android and iOS allows clips to be viewed on a variety of devices. You can control the device, view the live feed and browse through or download videos.
According to the manufacturer, installation is just a DIY job if you know how to install outdoor lighting fixtures. It may also be possible to simply replace an existing floodlight with the Presence.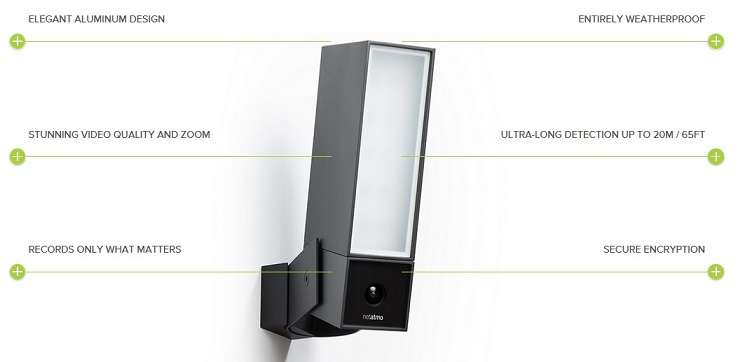 Benefits:
1. The Netatmo Presence serves the function of two products: a camera and a floodlight. Installing it near the garage door or a vantage point on your property will serve two important functions: lighting and security.
2. The floodlight is switched on by the system as needed and this saves electricity. You can switch it on when a vehicle arrives in your driveway or someone walks through the entrance gate. The light is not switched on just because an animal is moving about in the dark. The intelligent operation ensures that light comes on when needed and this has the added benefit of discouraging intruders.
3. The ability to distinguish between different objects and activities in specific zones ensures that alerts are kept to a minimum and occur only when something worth checking is happening. The footage is stored with time and date for easy review. The default storage is enough for about 100 clips after which older clips are automatically deleted. If longer data preservation is required, the storage can be expanded or data can be automatically sent to a server using FTP.
4. Due to local storage of recordings, there is no need to buy a subscription service for storage and retrieval of videos. The product does not force you to incur recurring charges.
5. According to the company, installation is easy and the services of an electrician may not be necessary. This will allow you to have the security system up and running within minutes.

The Netatmo Presence will be an effective security system if it works as specified. The ability to divide the field of view into zones and the ability to distinguish between animals, vehicles and people is indeed a great advantage. The camera is expected in the market soon, but the price is not yet announced.