Nest Cam NC2100ES Outdoor Security Camera Review

,
The latest innovation in Nest Cam's range of home security products is like a breath of fresh air for homeowners in terms of ease of installation, product design, and outdoor capabilities. Nest Cam's latest offering sports an avant-garde futuristic design with the ruggedness of an outdoor camera. It's the same old Nest Cam people know and love, this time more reliable and better than ever.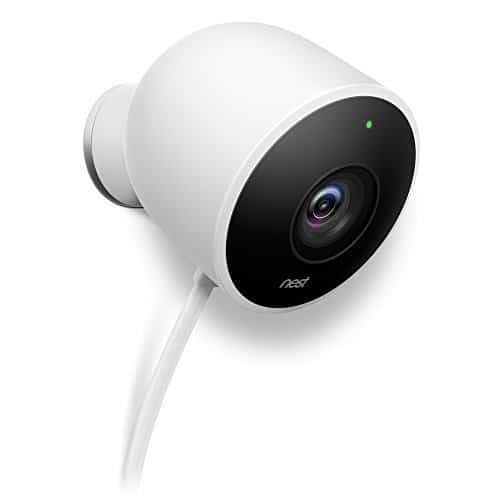 The outdoor version is a step further from its predecessor. Although it looks strikingly similar to the original indoor cam, a closer look reveals there's something more to it than just a facelift.
We'll break down this review into three key areas in home security systems, outdoor IP cams in particular.
Click here for customer reviews…
Camera Design
Instead of the conventional tilt and swivel mechanism, the camera's domed-shaped back fits nice and tight into its rock solid magnetic base and is capable of being turned or tilted in any direction. It's a first in camera design, a quantum leap from the conventional bullet type or pan-tilt mechanism of today's IP surveillance cams.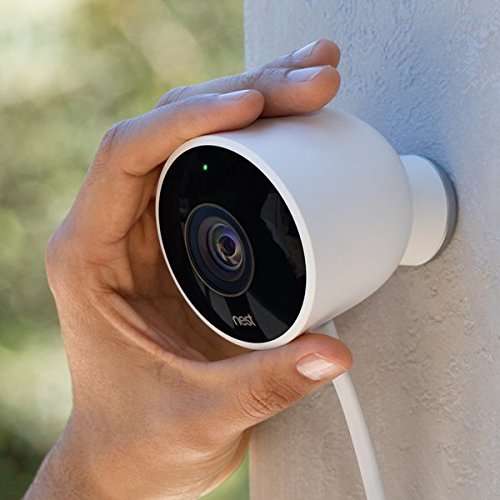 This revolutionary design may have been inspired by the company's push for a completely wireless, weatherproof, compact solution for outdoor IP cams that run solely on batteries. However, the demand for continuous 24/7 surveillance and uninterrupted power supply eventually scrapped the initial battery-operated design. This leaves us with a very compact outdoor WiFi camera that can withstand the elements, powered through a fixed USB cable.
The entire system can be installed on any surface with relative ease. The camera is powered up for the first time for pairing with any handheld device (tablet, iPhone, android) prior to installation. Pairing only takes few minutes to complete.
Camera Features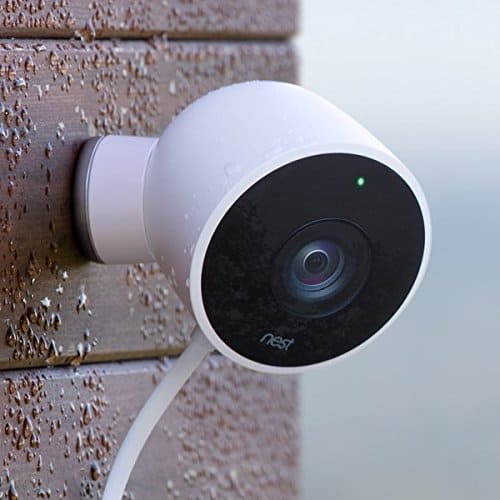 Comparable to its original indoor counterpart, Nest Cam Outdoor also shines in terms of picture clarity. The camera renders an impressive 1080p resolution and has a 130-degree wide angle lens for maximum coverage. Its night vision capabilities allows for non-stop 27/4 surveillance with its powerful IR sensors while two-way radio installed beneath the lens allows you to listen for any unusual activity off-cam. Or, you can use the two-way radio to scare off unauthorized persons around your property.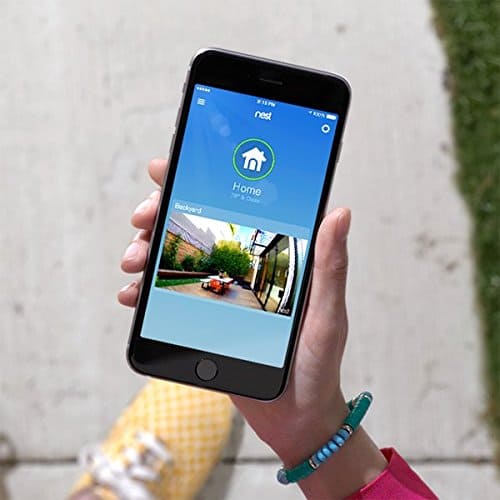 The camera unit and its peripherals are completely sealed off from the elements. The housing itself is made of durable material and can withstand harsh weather conditions, making this camera 100% weatherproof. However, due to its detachable camera and exposed cables, it's not a vandal-proof system.
Some users recommend mounting the camera indoors behind a window while pointing the camera outside. This could limit the camera's ability to capture a large area. A better way would be to set the camera outdoors in hard to reach areas. A visible camera can itself become a deterrent for would-be intruders. Even then, it's not 100% safe from theft or vandalism.
Real-time Alerts, Online Storage, and Facial Recognition
Whatever shortcomings this camera has in terms of theft and vandal-proofing, they're all completely wiped away by its cutting edge technology in motion detection, facial recognition, and online storage. The indoor version also has the same capability after the recent update.
Even after the loss or damaged camera, your recordings are safely stored away for forensic analysis and can be used as evidence. The online app will instantly notify you for any suspicious activity within its field of view giving you precious time to react, while its facial recognition technology weeds out false alarms by sifting through the data and cleverly distinguishes human faces from moving objects or animals. Check latest price and shipping details on amazon.com!