Lorex LDC7081 Dome camera Review

,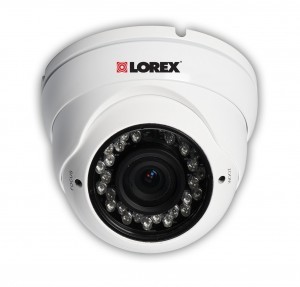 The Lorex LDC7081 is an advanced security camera that can be used for industrial, commercial and residential purposes due to its high-quality technology designed to produce crystal-clear images both during the day and during the night. This review will point out the key benefits and feature of this security camera:
For customer reviews Click Here!
What Are Its Most Notable Benefits?
The camera is known for its innovative ClearNight imaging technology which is designed to boost the efficiency of night-time video recording by up to one third. At the same time, the night vision can reach up to 95 feet in distance, and the camera is weatherproof thanks to its durable and lightweight aluminum housing.
This Lorex model also comes with 4-9 mm manual zoom lens that allow you to easily focus on one particular spot, for the best control of the smallest details. Also, the camera has a built-in image sensor designed to improve the clarity of the camera and to make it compatible with the 960H resolution standard that is known to be superior to the D1 standard.
This dome security camera delivers up to 700 TV lines of state-of-the-art resolution for the highest video recording performance possible – you can adjust the viewing angle with the touch of a button and you decide how deep the field of view is (the viewing angle is very flexible and it comes with a 36-73º diagonal). Also, the base of the camera only measures 4.1-in, which makes the entire device very discrete.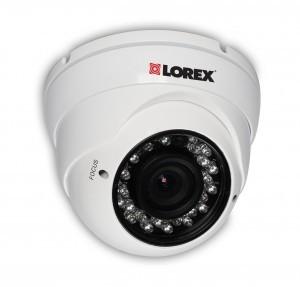 What Are The Most Important Benefits Of This Dome Security Camera?
One of the main benefits of the camera, in addition to its very high quality, is the fact that it is waterproof and weatherproof, which makes it suitable for indoor and outdoor installation.
Thanks to its wide lenses and embedded Bright Night system coupled with the built-in light filter to prevent infrared lights, the camera is designed to reproduce the colors very vividly, so you will see even the smallest detail exactly how it is in real life.
Another aspect that contributes to the irreproachable quality of the images is the advanced anti-glare technology – like the name involves, this particular technology is designed to prevent light from producing the bothersome glare that can interfere with the quality of the images, especially during the sunny days.
Conclusion
Those who want a cost-effective yet high-performance dome security camera can take this one into consideration, as it is a wise investment from all points of view.
You can buy it from amazon!

Great Dome Camera From Lorex