LaView 4-Megapixel Cameras with 8 Channel PoE 4K NVR Surveillance System Review

,
Security cameras have come a long way from the old, grainy black and white images and fuzzy video they used to produce not that long ago.
Quality modern IP cameras offer crystal clear footage, day and night. Activity will be sent to your mobile derive for an immediate alert of any potential threats and you can view these remotely to decide on a course of action.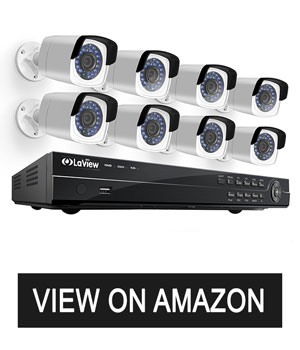 Statistics show that the majority of security issues, be it at a workplace or home, are perpetrated by people known to the victims. Good security camera systems are a major deterrent and help reduce crime. The instant alert allows you to summon help immediately in the case of a breach of security and the video footage will help you identify the criminals later if they do manage to get away with it.
Another major benefit is that while the quality and sophistication of these systems improve, the cost has been steadily declining. A good camera system is affordable and no home or workplace should be without one.
There are a number of good systems on the market but a few really standout in terms of quality, value for money and reliability. One such system is the LaView 4-Megapixel 8 Channel 4K NVR 8 Camera Security Camera System. LaView makes a range of quality security cameras systems with a range of camera configurations. They are very popular and highly rated in the market.

This system boasts 8 top quality 4-Megapixel (2688 x 1520) Bullet IP Surveillance Cameras with 100ft Night Vision thanks to IR functionality. The NVR gives you 4MB onboard storage with slots to add an additional 6TB if necessary. Areas of concern can be customized and an instant email alert will be pushed to your smart device when activity is detected.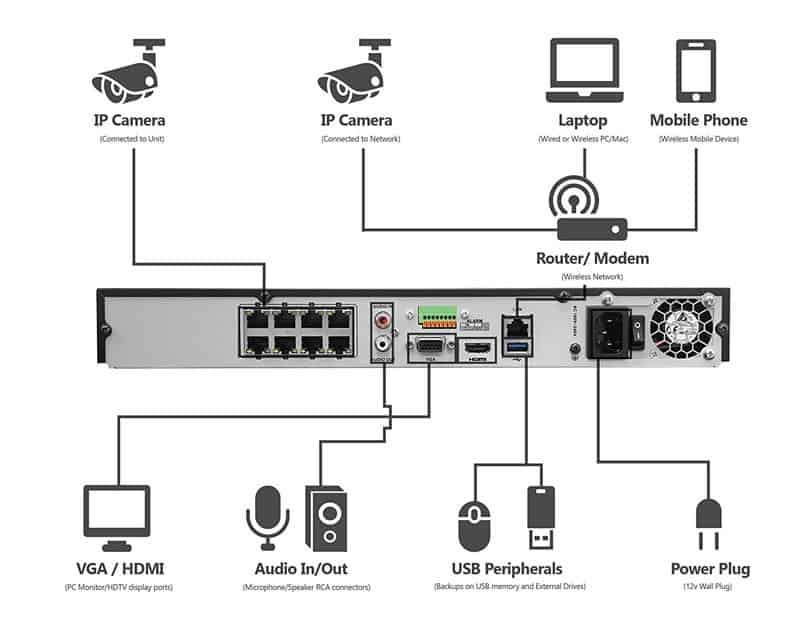 The LaView user-friendly app will allow you to view from anywhere where you have a connection on an Android or iOS device or any PC or Mac. The entire system is super-easy to install and setup and even allows you to scan the barcode on the NVR using the app.
Key Features:
Robust. Durable weatherproof cameras with an IP66 rating. Perfect for indoor or outdoor use. Can handle temperatures of -22°F – 140°F

Excellent 4MP cameras that provide crystal-clear resolution

Zoom functionality with no loss in image clarity

Cameras feature a 4MM lens, image sensor: 1/3″ and ONVIF (Profile S,G), PSIA, CGI, ISAPI

Recording Resolution: 2688X1520

Video Compression:H.264 Zip+/H.264/MJPEG

Intelligent motion detection and smart search – enables you to specify areas and pre-select times for motion detection. Smart search makes it easy into hone in on the area of concern

8CH IP PoE NVR Specifications

HDMI Output: 4K(3820×2160)/30Hz/60Hz/

2 Year warranty
What is included?
The kit comes with everything you need to get up and running. It includes the 8 Channel 4K HDMI Full HD IP NVR, 2 x Pre-Installed 2TB Hard Drive, 8 x Full HD 4MP Bullet Indoor/Outdoor Cameras, 8 x Premade CAT5 Network 100ft cables, Mouse and User Manual
Verdict:
This is a quality system with a host of practical features. The remote viewing app is intuitive and user-friendly. It is built to last and easy to set up an install. It offers good value for money and has excellent image quality. It is a highly recommended system for any area or property to wish to secure.
Click here for latest price and customer reviews at amazon.com!