How to Secure Your Baby Monitor

,
Baby monitors were meant to give us peace of mind that our little one is always safe and sound. But what if that same gadget we used to keep watch over our children ends up being used by other people? It's a little bit unnerving, to say the least.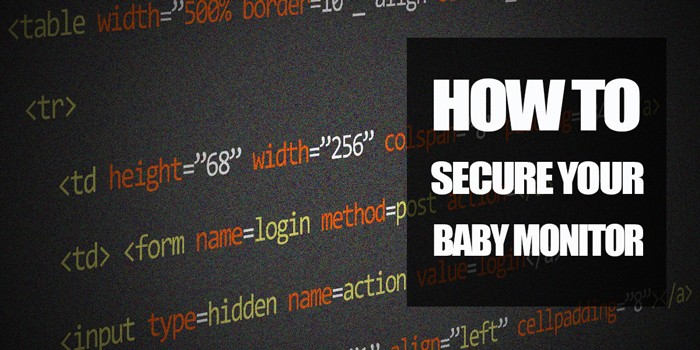 A lot of parents raised some concern about the safety of using baby monitors after reading the news about unknown people talking to baby cams of unsuspecting children. The biggest problem with baby monitors has to do with security and privacy issues such as unauthorized access to the baby monitor's camera, hacking, etc. But don't freak out just yet. It's not something new, and certainly not something that you can do nothing about.

Why baby monitors get hacked
First of all, we need to understand why these sorts of thing happen. Baby monitors works in much the same way as TVs, radios and other devices that use wireless communication, e.g. IP or WiFi.
Standalone baby monitors transmit and receive signal over the air on a set frequency. When both the camera unit and the receiver are in the same frequency, they can reach each other and establish communication. But what happens if another piece of equipment nearby runs at the same frequency with your baby monitor? It would be a disaster. Fortunately, standalone baby monitors are now equipped with FHSS technology which randomly skips frequencies and runs at 2.4 Ghz to prevent other devices from interfering.
Most of the problems that occur with baby monitors that use wireless technology such as WiFi and the Internet have to do with unauthorized access due to weak passwords or not being able to change their default passwords. Another thing is that their device lack security features such as WPA2 (much like your home routers), or locking down accounts if someone attempts to guess the password by making multiple tries. This is true with baby monitors which can be accessed via the internet on the parents' user account.
You Could Become the Next Victim IF You Don't Do This
Baby monitors can be hacked much like any other device or user account if you're paying too little attention on your security and privacy settings. You should also look for some features and product specifications of your baby monitors that make them virtually impenetrable to outside attacks. Here are some of tips to keep unwanted eyes away from your baby:
1. Always check the security features before buying. This is one important feature you don't want to miss out. Without this feature, you and your baby are potentially exposed to hackers. When looking for a standalone baby monitor, always check if it has the latest FHSS features. If you'd rather have a WiFi or IP wireless baby monitor, see to it that it has a strong wireless security protocol like WPA2.
Some baby monitors allow you to watch your baby cam over the Internet. Just remember that some protocols don't require password authentication like the Real Time Streaming Protocol (RTSP, port 554), and can be tracked down using search engines like Shodan. Stick to baby monitors that use standard encryption protocols such as Secure Sockets Layer (SSL) and Transport Layer Security (TLS). SSID masking can help you as well.
2. Make use of your baby monitor's security features. Don't leave anything to chance. It's not remotely possible that your baby monitor would be next, so take the time to learn about your baby monitor's security features and use them right away. Change the default password and replace it with a strong one.
Birthdays, names of people, places, or things are the most commonly used passwords because they can be memorized pretty easily. But they won't offer you any security. Even novice hackers can easily get past them. Use passwords that combines upper and lowercase letters, numbers, and symbols, and change them regularly or when you see fit.
3. Update your baby monitor's security features. Hackers are constantly devising new ways to breach your baby monitor's security features. As a countermeasure, manufacturers are also providing updates to their customers so that they are always one step ahead. Make it a point to check your app for updates from time to time or simply turn on your auto-update. Password-protect your mobile or portable device as well so no one can use it when you're not around.
4. Don't use your baby monitor if you don't have to. This will reduce your visibility on the internet and become less prone to hackers. If you're using a standalone baby monitor that uses radio frequency, it also reduces the chance of being intercepted. Even if you have a strong password or secured connection, your baby monitor may still show up in search engines like Shodan and reveal your own location if you have left some privacy settings on.
5. Use baby monitor apps from trusted sources. Do some background checks before using any third party baby monitor app. Check their websites and read user feedbacks. Does it have some security or privacy issues? Is it going to collect personal information from you or gain some access into your folders and stuff?
If you're quite sure that this app is safe, you may use it at your own risk. However, it is best to just stick to your baby monitor's own app that comes with the package. Make sure it has one; otherwise you'd be left with using third party apps.
With the use of baby monitors comes the responsibility of maintaining an airtight security when it comes to people who can access your device. There's no real cause for concern if you have taken the time learning and applying these security measures.
Among other things, baby monitors are also susceptible to unauthorized access if you've left some doors open. Keep these things in mind when buying your new baby monitor. Don't get too fixated about the monitor's cool and awesome features until you get this thing straight, first and foremost.