Hikvision Adds A New Device to Its Line-up - The New Hikvision DS-2CD4065F-(A)

,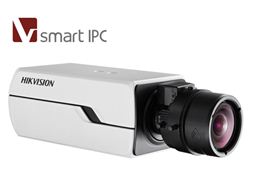 Hikvision's line up of smart IP Camera devices has been boosted with the recent launch of its ultra high resolution DS-SCD4065F-(A) Network Box Camera. This new addition boosts of a large, high-power resolution, 6 megapixel sensors that give Razor Sharp 3072 by 2048 images at 25Fps. Hikvision DS-2CD4065F-(A) delivers real times HD 1080P videos streams at 60 fps and can sustain up to 20 concurrent live views channels.
During its launch, Hikvision International marketing director, Keen Yao, said, "The introduction of Hikvision DS-2CD4065F-(A) will definitely take picture imaging to another level. We are the very first to bring this breakthrough in HD Video security to the world. This device will enhance user's experience and Image quality."
Yao said that the device will be most suitable for;
Taking Real-time high-Resolution Images
With its 6.0 megapixel video at 25 fps, this camera is particularly suited for use in applications that need high detailed surveillance. For example, rather than fitting a parking lot with numerous low resolution VGA cameras, just one DS-2CD4065F-(A) would be sufficient to cover the entire area.
Its quality lenses and high-resolution power means it can clearly capture license plate details, faces, clothing details, and all the information law enforcement agencies would require in case of a crisis. In addition, its 1/1.8 progress scan CMOS aids to ensure true color production of images captured both during the day and night.
 Smart features
This latest addition to Hikvision range of high-end cameras shares a number of features with its existing Smart IP Cameras, including Super WDR, Noise Reduction, Electronic Image Stabilization and Auto-Switching ICR. It advanced encoding formula streams top quality images.
In fact, it enhances image quality by more than 30% while simultaneously reducing the system's load and storage requirements. DS-2CD4065F-(A) also gives enhanced functionalities such as Audio Detection, Face Detection, Video Quality Detection, and Crossing Detection. These capabilities trigger the alarm to go on, in case of any odd event.
The A version also features enhanced reliability, cost effectiveness and performance. The extra Auto Back Focus (ABF) automatically adjusts its CMOS position to focus the device to maintain sharp images and to compensate when changing from b/w mode to color or when switching in or out the IR cut filter.
Clearly, Hikvision has set the stage for high-end cameras with its DS-2CD4065F-(A)