Geovision GV-MDR120 Dome IP Camera Review

,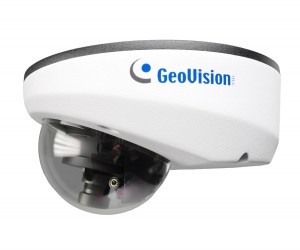 Manufactured by the reputable Geovision company, the GV-MDR120 is a fixed dome IP camera that is perfect for a larger CCTV monitoring circuit for a larger house or for a commercial building.
The camera features a progressive scan CMOS image sensor as well as 1.3 megapixel lens and it can easily support up to 30 frames per second. This GV-MDR120 review will put emphasis on the features and specifications of this dome IP security camera.
Click Here to read customer reviews…
Features And Functions
The camera is known for its generous picture resolution of no less than 1280 X 1024, and it is also very versatile thanks to its three axis mechanism that allows you to install it either on the surface or on the ceiling, depending on what viewing angle you are aiming for. This advanced mounting mechanism allows you to easily pan, tilt and rotate the camera as well.
The durable and steady camera housing allows you to use it outdoors, as it can efficiently withstand extreme temperatures (the camera can efficiently face temperatures that range anywhere from -22 to +122 degrees Fahrenheit). The metal casing is also especially designed to withstand vandal attacks, and it comes with ingress protection as well (IP67).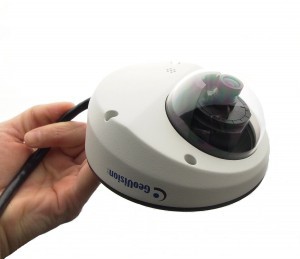 Also, there is a two-way audio system as well – you can both detect and record audio files with the help of the microphone that is embedded in the system. The camera is also known for its dual video streams, as you can opt for the MJPEG video format, the MPEG4 format or simply the H.264 format depending on your needs and on the available storage space.
The camera also has a built in microSD card slot and it comes with a WDR feature (wide dynamic range) as well as a defog feature to prevent fog from affecting the quality of the footage.
The motion detection coupled with the tempering alarm make this camera very reliable and suitable for those who are concerned about their safety – also, the camera has an IP address filtering system as well as a privacy mask that both add to its security.
Also, this dome IP camera is fully conformant with the Open Network Video Interface Forum (the ONVIF), the software is available on 31 different international languages and it can even be coupled with Android and Apple smart phones: the system is compatible with 3GPP, Android devices, iPads as well as iPhone devices. Elegant and stylish, this camera has all the features a cost-effective IP camera should have.
Check latest price here!

Great IP dome Camera From Geovision