Foscam FI9803P V2 Review

,
As far as security cameras go the Foscam F19803P V2 is a considerable option for video surveillance. It has many quality features you would expect to see from a security camera leaving little to be desired in comparison to similar models. Let's take a closer look at some of these features and the overall quality this Foscam security camera has to offer.
Click Here for customer reviews…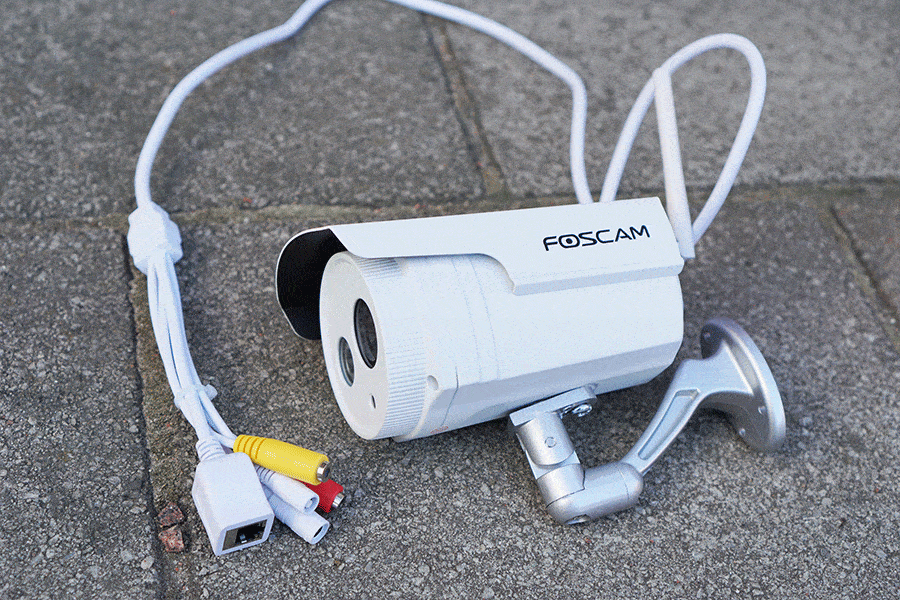 About Foscam F19803 V2
The security camera is a 720 pixel high definition resolution camera with an IP66 waterproof rating. Included is a WiFi antennae for wireless connection, an Ethernet cable, a DC power supply 12v, a user manual and installation CD, and mounting bracket. The mounting bracket comes with the screws to attach it outdoors and set it up.
As you can see in the picture below, the camera has Ethernet, Power, Audio input, Audio output and reset button connections.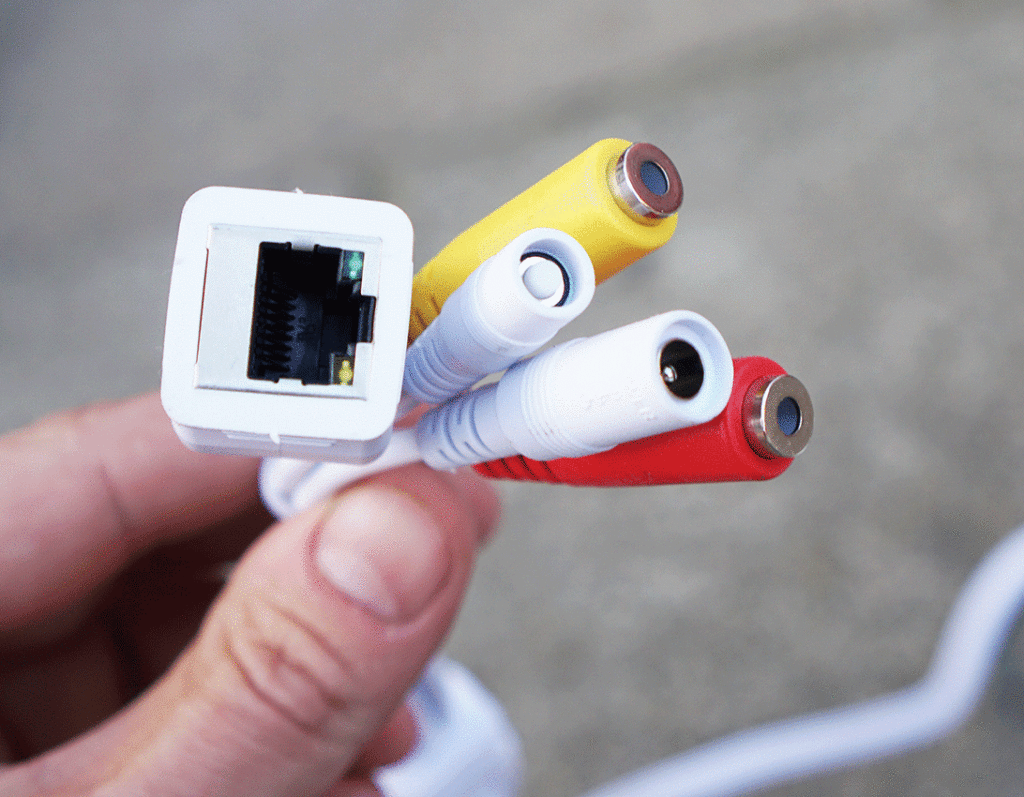 With the installation guide it also comes with a warranty card from the manufacturer which covers replacement and repair for up to 1 year. It has its own network video recording system built-in which is supportive of most Internet web browsers including Internet Explorer and Firefox. It is compatible for viewing on a PC or Mac, and the Safari browser for iPhones.
In order to use the wireless capability for viewing the camera from your smart phone or mobile device you will need to download the Foscam viewer app. This is a free app that is available in the App store and Google Play for iPhone and Android smart phones. You can also sync it with an iPad.
Features:
Moving on to the features this camera offers, there are some that really stand out while others just seem pretty standard for a basic camera.
Motion Detection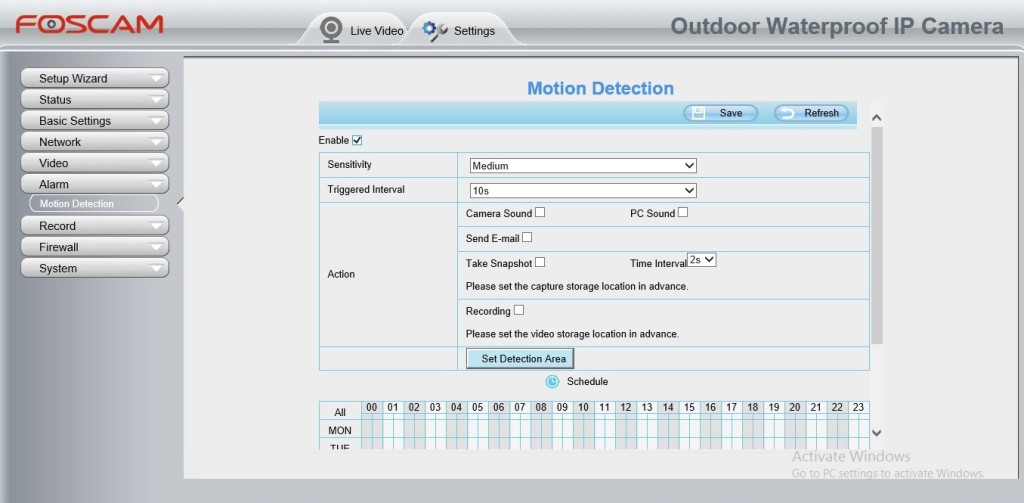 The Infrared motion detection featured on this camera will automatically record any motion that is picked up. It has a 1280 x 720 resolution with a 2.8mm fitted lens. It also features infrared lamp array illumination so it can perform day or night recording even in low-light conditions up to a little over 20 yards away. You can manually schedule the night vision setting or just leave it to automatic and it will switch over.
Settings
There are multiple settings that can be used for viewing and recording video. A privacy setting features allows you to block out specific areas you don't wish to surveillance. You can also play around with the quality and light settings like color saturation, brightness, etc.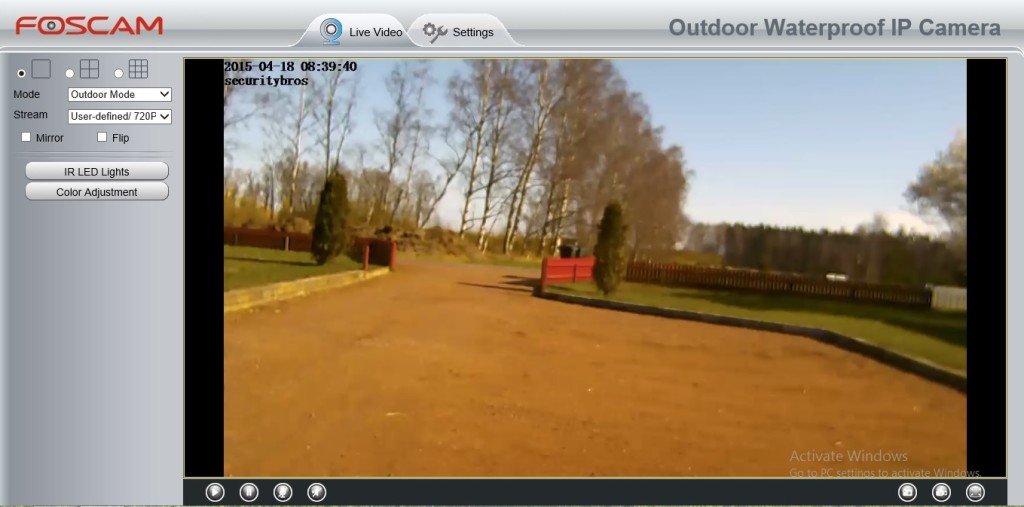 When you are viewing the video you can also choose multiple functions such as your basic functions like play and stop. Additionally, you have the option to snapshot a picture. You can also right click on your viewing screen from a computer to zoom up and choose full screen. These functions are not available on MAC operating systems.
Smartphone Compatible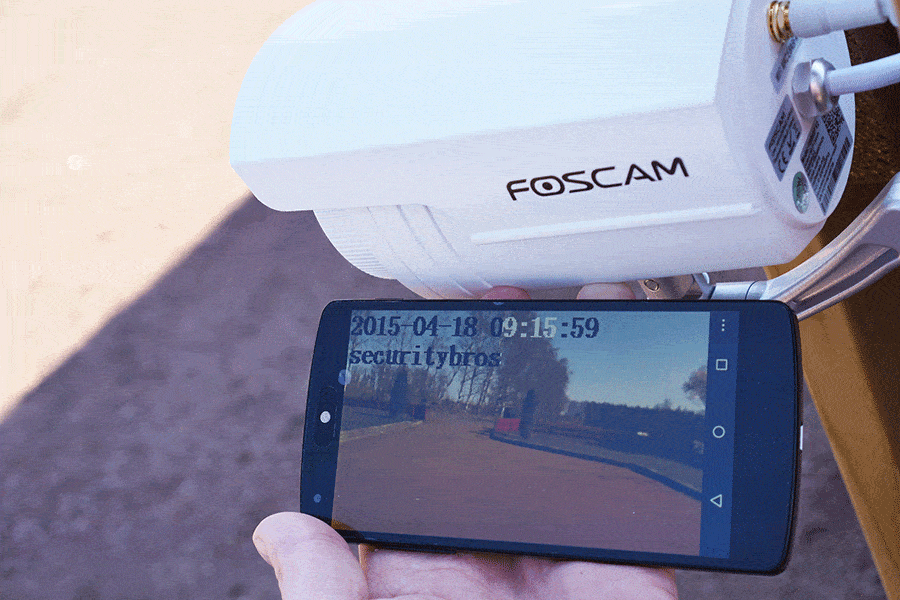 Once installed and you've downloaded the app the camera's video can be viewed remotely using your smart phone or over the Internet network.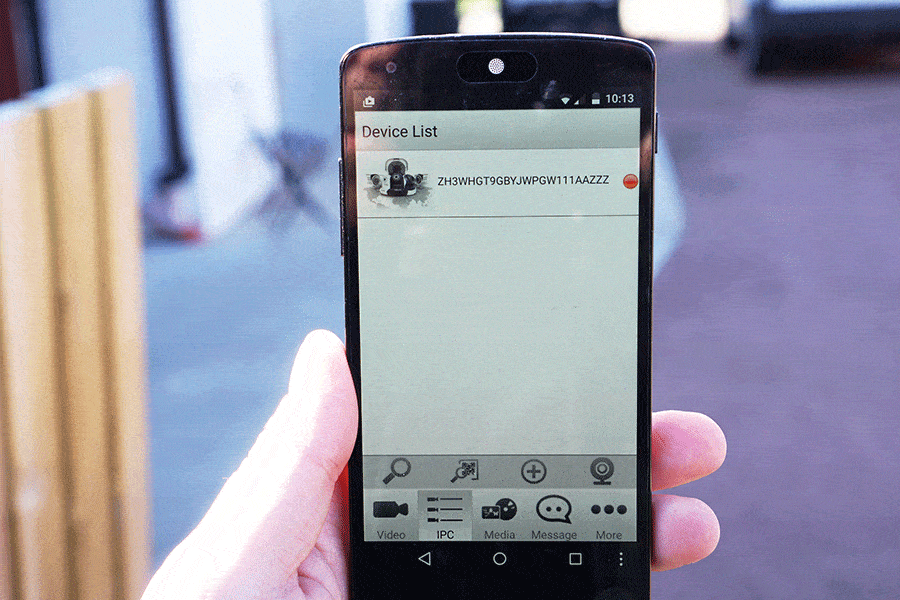 Multi-User Access
The software offers password protection and allows for multiple levels of user management. It can be accessed and viewed by more than one user for up to 9 cameras simultaneously.
The Good
There are some good notable qualities in this camera that make it a decent value for the price. The first thing you notice when taking it out of the box is that it is made with a durable metal material. It is designed for outdoor use so there is good quality there to hold up in the elements.
Likewise, it has a thick antenna equipped on it. This gives an agreeable wireless connection; although it does come with an Ethernet cable as well so you can stream both ways. It has an easy to use graphical interface so setting it up and monitoring is pretty straightforward.
Among some of these features, you can have live streaming or recording if you want to playback the video. On that note, the H.264 video compression generates small file sizes which can save a significant amount of hard drive space for recording.
The motion detection also features settings to send you alerts via email or on an FTP server when motion is picked up. If someone were attempting to destroy or steal something on your property you could catch it right away for better security. You can adjust the sensitivity of the motion detection as well which is pretty sharp.
One bonus to this camera that some other surveillance cameras do not offer is the audio jack. There is an audio input and output jack that you can plug an external sound device to in order to record sound.
The Bad
It is not a PTZ camera so it doesn't support features like pan and tilt. The lens offers a 70-degree viewing angle and the bracket mount offers a good range of adjustments, but what you see is what you get. The motion detection only picks up what is detected within the viewing angle so if you were looking to expand your viewing area you would need to purchase multiple cameras.
You can add multiple cameras; though, keep in mind the system web interface that is provided only supports up to 4. Setting up multiple cameras on this system gets a little tricky as each camera you set up on your LAN will be issued a different IP address.
Here's a short video recorded with the Foscam FI9803P V2:

Final Thoughts
Overall, this is a decent HD quality IP camera for the price. For someone who is looking for a basic security system to monitor their property, this would be a considerable option to suit those needs.
The image quality is decent even when streaming from a smart phone as well as in night vision mode. It can be used for indoor or outdoor use, though it would be more suitable for outdoors for areas like front/backyards, parking lots or apartment complex buildings as it was designed for.
It has your pretty basic features you need in a security camera making it suitable for residential use or even for an office building surveillance system. If you're in need of a camera with advanced features and image quality you can expect to pay much more.
For customer reviews and latest price click here!