Foscam FI9802W Review

,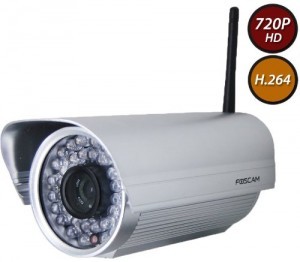 The Foscam FI9802w is a way to help keep an eye on your home, business and the surrounding areas in order to tackle the issues of burglaries and other properly related crimes.
The camera's numerous features, including audio capabilities provide homeowners and small business owners with quality surveillance to put them at ease whether they are present at the location or not.
Click Here for more info and reviews.
The Foscam FI9802W has a high performance media processor, single SOC chip or System-on-a-chip (built-in ARM+DSP) and high speed video protocol processor. It comes with H.264 compression technology which allows for smoother video feed, with minimal bandwidth consumption and small file sizes.
Small file sizes are a plus because that enables more footage to be saved before the hard drive gets full during manual recording. The camera has a 1280 X 720 resolution which allows for crisp, clear HD quality images during the day. When it gets dark, its 36 IR light beam takes over to provide clear black and white pictures sharp enough to distinguish a person's face from up to 30 feet away.
It also has an automatic IR cut filter that retracts in order to capture clear images in the pitch darkness. The camera is also fitted with a 4mm lens for a 54 degree viewing angle which allows for a wide field of view. With an audio jack, the audio output can be transferred to a speaker.
The FI9802w can be easily integrated into an already existing video surveillance system. It comes with a Sony color CMOS image sensor, updated web interface with all the features and options included in MJPEG cameras like the FI8905W/FI8904W. In addition, it has enhanced MAC as well as Safari, Chrome, and Firefox compatibility.
It also has a "multiple device viewing" feature that is compatible with FI8905W/FI8904W and all other Foscam MJPEG cameras. The FI9802w comes with free bounded DDNS service from MyFoscam.org.
The FI9802w has Wireless-N capability and remote internet viewing. This means that it can be monitored from anywhere on a desktop using a standard browser or smartphone (such as an iPhone, Android or Blackberry) via an Internet connection.
In addition, it has motion detection features, a vertical and horizontal mirror image flip, WEP, WPA, and WPA2 Encryption and dual-streaming capability and multi-level user management. It is also very easy to install. In addition to all these features, the customer services provided by Foscam to purchasers who encounter difficulty, is of high quality.
Check out Foscam FI9802w H.264 Megapixel Outdoor Wireless IP Camera at amazon.com for current price and shipping.