EZVIZ Video Security System

,
Protect your most valuable assets with only the best analog security system for home and office use. EZVIZ Video Security System is an all-weather, vandal-proof, state of the art indoor/outdoor surveillance package that has all the features and functionalities of top-rated surveillance systems available in the market today.
Its sturdy, rugged design also makes this an ideal choice for outdoor use and as a 24-hour perimeter surveillance system.
Click Here for customer reviews…
Impressive video quality
EZVIZ 4-camera, 4-channel DVR outshines other commercial grade security systems in terms of video quality with its 1080p, crystal clear, Full HD resolution. Compared to low-res, grainy output of cheap models, its CMOS type image sensors allows you to see every nook and cranny with amazing clarity even in low light conditions.
This feature makes EZVIZ extremely valuable in recording important details – facial features, skin color, license plate, and other forensic information about the subject. The package comes with 4 high definition cameras which you can install on strategic locations to ensure nothing goes undetected.
Rock solid, bullet-type construction
Rated at IP66 by IEC standards, EZVIZ 4-camera system can withstand harsh conditions from outside elements such as rain, heat, dust, as well as some level of vandal-proofing against intruders and trespassers. Cameras that break easily are pretty useless no matter how highly advanced the technology is.
Security cams can't protect you if it's not fully protected in the first place. With this system, you are assured of long-term, reliable service for a good number of years.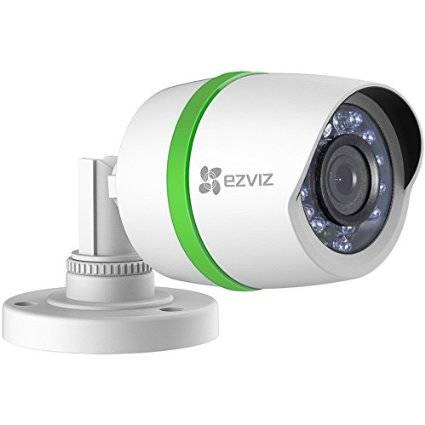 Long range, wide angle night vision cameras
EZVIZ Security System has four set of eyes that can see through pitch dark. In low light, it can render vivid images up to a distance of 100 feet while its infrared night vision camera allows you to see distinctly in total darkness up to a distance of 65 feet. This feature is fairly common in almost every high-end security camera.
Wide-angled lens (2.8 mm. focal length) makes up for the Pan-Tilt-Zoom (not available with this model) by covering the largest area possible at a stationary angle. Paired with its night vision capabilities, you now have an airtight 24/7 security system to keep watch on your precious belongings even when you're sound asleep.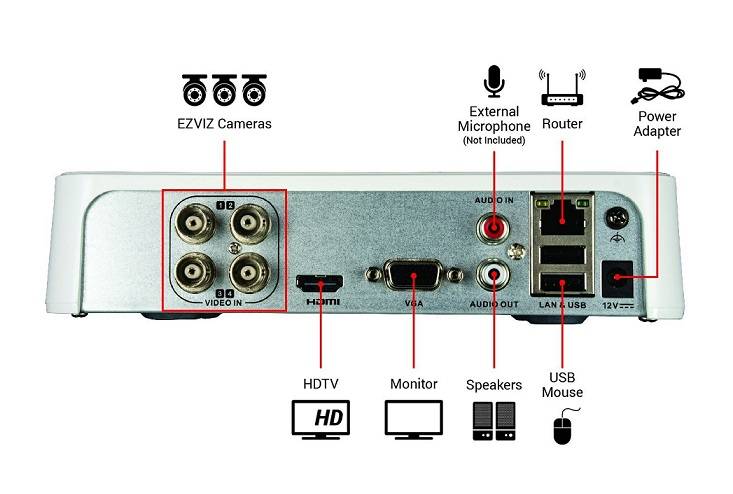 User-friendly mobile app
People who have to go to work every single day will find EZVIZ Security System's mobile app extremely useful. This allows them to keep an eye of their home front while they're out there doing their business. Installing the app on you mobile device and linking up with the security system's DVR unit involves few easy steps and can only take a few minutes (refer to the service manual that comes with the package for more details).
Once you have it done, you can now set your smartphone to receive notifications in real time to let you know if something suspicious is going on at home.
Sophisticated detection capabilities and mammoth-sized storage capacity
To put the cherry on top of the ice cream, the EZVIZ Security System is equipped with cutting edge motion detection sensors and an airtight bank-level encryption for secure access on your mobile device or PC. EZVIZ allows you to access your security cams online anywhere on the planet.
You can also avail of their cloud service to secure your recorded data even if the hardware gets damaged, lost or stolen. And if this is not enough, the system also comes with a whopping 1 terabyte of storage space for your video recordings, so you can stay out for a while on a weeklong vacation.
Check latest price and customer reviews at amazon.com!