Defender PX301-011 Review

,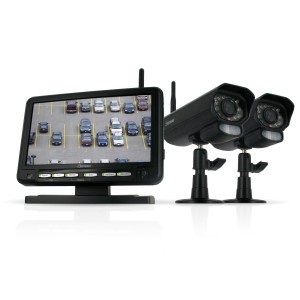 How much are you willing to pay to be able to sleep well at night, or to not worry about your family's safety while you are away?  With the influx of advanced security systems in the market, you don't actually have to shell out a lot of money just to have peace of mind at any time of the day.
Majority of these security systems are equipped with impressive features like digital wireless technology, powerful cameras, and LCD monitors, among others.  Take for instance, the Defender PX301-011 Digital Wireless DVR Security System.  Priced at around $300, it is one of the more affordable but advanced security systems available today.
Click Here to read customer reviews…

Features of the Device
This security system records and monitors everything that's going on in your property. It is equipped with digital wireless technology which means you don't have to deal with messy wires when setting up the system.  With a 2GB SD card included in the package, it allows you to record as much as 350 minutes of non-stop audio and video.
There are two wireless cameras suitable for indoor and outdoor use incorporated in this system, which can be expanded to accommodate up to four cameras.  These cameras can monitor and record clear pictures even in the dark with its long range night vision feature.
If you have security personnel manning your property, you will find the system's two-way intercom feature very useful. With microphones integrated in the cameras and monitor, you can communicate with the security personnel guarding your building.
Speaking of the monitor, it is a seven-inch LCD type with functional design that allows it to be placed on a table, or mounted on the wall.  The system has motion detection settings, so the unit can start recording only when it detects movement in your place. Finally, it features 24-hour scheduled recording, meaning you can select the appropriate time to monitor the activites in your house or office.
Praise for the Security System
Most of the people who have been able to use this system at home or in their offices agree that it is very easy to set up. Because it makes use of wireless digital technology, you can actually finish the set up within minutes and without having to worry about troublesome wires.
The absence of wires also means you can place the cameras anywhere you like. The cameras are also very impressive, especially with the night vision feature that facilitates monitoring and recording of movement even in the dark.
Drawbacks of the Security System 
However, there are also numerous complaints about this product. One of the more common criticisms is that the system does not allow simultaneous recording of the cameras. Thus, only one camera can record movement in a certain spot, while the other cameras are simply for viewing. Likewise, many of those who have bought it complain that the video signal suffers when the cameras are separated by more than 30 feet from the monitor.
But although it has its share of flaws, it cannot be denied that the Defender PX301-011 Digital Wireless DVR Security System is an affordable solution for people who value their privacy and safety.
Click Here for latest price of Defender PX301-011!