DEFENDER 21030 Review

,
Another great product from Defender security.Comes with a 8-channel DVR and 4 high resolution cameras.
Click Here for more customer reviews…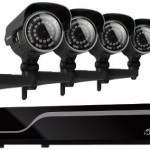 Defender's 21030 SENTINEL is not just like every other surveillance system out there. It is a complete package loaded with great features. It comes with a 500 GB hard drive, so saving up to 2 years' worth of high quality videos is really good.
If the storage is filled completely then you'll receive a notification and an option to over-write the old videos or stop the recording for the time being. The USB support is a relaxation as you can not only take out the important data but can also transfer the videos to an external hard drive.

Moreover, to save up the storage you can go for the option to record the videos only if any motion is detected and the H.264 video compression provides great quality of picture while also saves a lot of space. This easy to install unit can be controlled and the videos can be watched virtually from anywhere in the world with the access to any device with internet.
You can watch the videos on Mac or PC or even on the go on any smartphone ranging from Android to iPhone, Windows Mobile to Blackberry and Symbian, even the iPad and other tablets.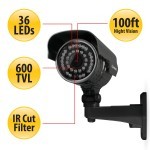 With DEFENDER 21030 SENTINEL you can receive the notifications through emails or on your phone, if any activity is detected by motion sensors, any damage or loss happens to videos along with the snapshot. The 4 cameras' 600 TVL and IR Cut filter provides great clarity in picture and the DVR further enhances the quality by recording the videos in DVD quality in its D1 resolution.
Moreover the cameras are equipped with 36 ClearVu LEDs to provide clear picture quality in the night mode with the range of up to 100 ft.
 
This is not it the cameras are weather-resistant, so whatever the weather conditions may be they keep on protecting you and your property.
Each camera comes along with 65 ft cable which can be fitted through cable mount making the wiring invisible and more secure. You can choose to monitor with up to 8 cameras, so it's a complete package at really affordable prices for everyone!