Cisco-Linksys Wireless Camera Review

,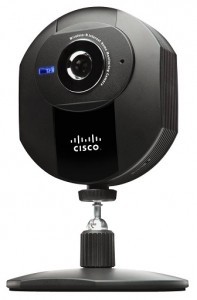 This camera from Cisco-Linksys is a great way to monitor the home, whether it's simply keeping an eye on the house when you're away, or making sure that everything is ok with the baby in the nursery. Being able to monitor the goings-on at home provides you with peace of mind. There are several features that make this camera system a good investment.
Click Here to see what others are saying….
The home monitoring camera works well with either a wireless or Ethernet connection. It also works with Blue Iris operational software. Moreover, it is inexpensive (can be purchased for as low as $108) and it is convenient, as there is only one piece of equipment to install – no computer is needed.
The Wireless-N Internet Camera is a stand-alone Central Processing Unit and web server with multiple video format compatibility. It comes with direct writing to an NAS drive to record the video. The instruction manual provides clear, step-by-step instructions on how to set up and operate the camera. All of the port forwarding and port selection are done automatically.
The camera is a multifunctional surveillance system with high quality video and audio. The image quality of the video is 640 X 480 resolution at up to 30 frames per second. It also performs adequately with low level lighting. Changing the settings requires an authentication process, that is, a username and password provided by the camera's administrator.
Several people, such as different members of the same family can have accounts on the same system. They can also have access to the footage from remote locations on their smartphones via the Internet, and two users can log in to from remote locations simultaneously without distorting the recording process.
The camera comes with a fully customizable option of sending emails with snapshots or short, 5-second videos every time there is a change in the camera's environment. In addition, the video can be time stamped with the current date and time. Text that is entered can also be displayed on the video. The camera comes with integrated infrared lens, which means that outdoor images will have correct colors.
The camera also comes with a TZO set-up, which is especially useful if the user has a dynamic and needs to log in to the camera from a remote location. Also, if the user's router has dual band capacity, the camera does not interfere with other equipment that requires Wi-Fi.  This home monitoring camera runs on only 5.5 volts at 1amp.
Check out Cisco-Linksys Wireless-N Internet Home Monitoring Camera at amazon.com for latest price and shipping.