Best Surveillance Systems Reviews

,
Video surveillance systems isn't just for the wealthy in the society. Anyone looking to guard their home, family and property should consider installing home surveillance systems. The systems give you a peace of mind by giving you an opportunity to monitor your home as well as the inventory in your business. These equipment were initially costly, but their prices have become considerably lower. This has enabled many homeowners to acquire them.
However, there are several factors you ought to consider when determining which surveillance system best suits your needs.

Factors to Consider When Selecting a Video Surveillance System
1. Number of Cameras Needed: The number of cameras is determined by the size of the property, coverage area and the number of placement points. The good news is that it is possible to add more cameras to your surveillance system at any given time. Adding more cameras means more costs to be incurred. Even after adding more cameras to an already installed system, you will be able to manage all of them over the same network.

2. Indoor vs. Outdoor Camera: Outdoor home surveillance cameras are crucial in keeping burglars from breaking and entering your house, car thieves from breaking into your car as well as trespassers from loitering on your property. An outdoor camera will record any suspicious, unusual or criminal activity that occur on your property. Indoor cameras are crucial especially in cases where burglars break into your house. It is advisable that you purchase a network camera with both indoor and outdoor functionality.
 
3. Day vs. Night Camera: There are some cameras that have true day/night visibility. Night cameras are ideal especially in instances where you want to monitor vehicles parked in driveways during the night. Day cameras work best during the day. Therefore, you should consider whether or not a surveillance camera's day/night performance is an important feature to you.
 
4: Style of Camera: Dome cameras are designed in such a way that they are more inconspicuous and also blend pretty well with the environment. Other models have smoked enclosures that makes their appearance even more discreet. Bullet cameras can easily be spotted by passersby and intruders. Therefore, in case you want your surveillance to be discreet, it is better to choose dome cameras.
 
5. Wireless vs. Wired Cameras: Wireless camera setups are often used in homes and give you the flexibility of changing camera locations without the need of running new wires. These cameras are also easier to install. Businesses and larger homes need more complex solution and can choose wired camera setups. Wired cameras require cable being run from the camera to DVR via low voltage lines.
 
6. Kind of DVR: It is possible for a surveillance system to come with just a few cameras. However, your needs might force you to add more for maximum coverage. The limiting factor here is the DVR. Each DVR has a maximum number of channels from which it can accept video feeds. Therefore, consider how many channels you will require to identify the most suitable surveillance system.
 
7. Analog vs. IP Digital Cameras: Analog cameras send images through an analog signal to the DVR. The images can be transmitted by the DVR over the Internet as a single IP (Internet Protocol) address stream. This costs less per camera as well as making good use of the bandwidth. On the other hand, IP digital cameras broadcast each camera stream separately with its IP address.
IP digital cameras have higher resolution than analog cameras. Therefore, if motion capture and image clarity is a top priority to you, choosing IP digital cameras is the best option. Additionally, IP digital cameras are not as susceptible to interference especially from other wireless devices compared to analog cameras.
 
8. Enable Remote Access: In case you would like to use your smartphone, tablet or laptop to monitor the video footage while you are on the move, then it is advisable to choose a surveillance system with remote access capabilities. Such a system enables you to receive text and email alerts wherever you go.
 
9. Recorder Capacity: You should consider the size of footage that you need recorded and archived. Video quality is also another aspect to keep in mind. These factors determine the size of hard drive on your DVR. There are systems that provide video compression option. This can increase the memory capacity even further. Additionally, you can look for surveillance system that uses motion sensors in that you can set the cameras to record only when motion is detected.
 
10. Field of View: You should consider whether you will need a camera that can be fixed on one particular location or one that can scan a wider area. Choose a camera with wide angle lens if the field of view is wide. Alternatively, you can go for a camera with adjustable lens that allows you to make adjustments that suit your field of view.
All these factors can play a role in determining the kind of video surveillance system you choose. However, one factor can stand out based on your needs. Whichever the case, these are factors are worth putting into consideration when selecting a home video surveillance system.
 
After focusing at the factors you ought to consider when selecting a home surveillance system, below are five of the best surveillance systems reviews of 2016 that will help you identify a few systems you can choose from.
1. Swann 8 Channel 960H Digital Video Recorder & 4 X PRO-735 Cameras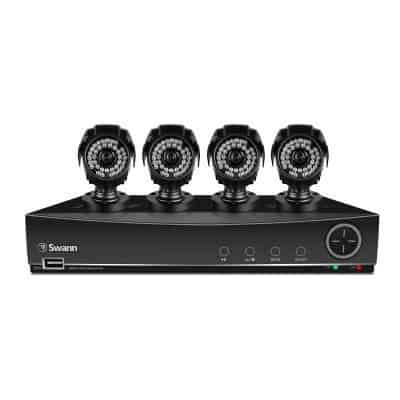 This is an eight-channel surveillance system that allows you to comfortably record in the 960H. It also allows you to remotely view, playback as well as backup videos from eight different cameras.
The DVR provides larger, clearer and full screen high resolution video in real-time. It has multiple recording models such as continuous, schedule and motion-triggered that help you configure recording parameters to accommodate your surveillance needs and also conserve space on the DVR's hard drive. The DVR's HDMI and VGA outputs allows your to connect the system to a monitor or HDMI TV while the adjustable frame rate settings make it possible for you to optimize storage space by reducing frame rate, resolution and other image variables.
The PRO-735 cameras also have built-in CMOS sensors that capture high-quality 720 TVL video. The cameras capture color video during the day, but as light decreases they switch to capture black and white video only. The switching from color to black and white happens automatically. They are suitable for both indoor and outdoor use, and their housings have IP67 weatherproof rating. This means it can withstand rain and dust.

2. Defender Sentinel Pro 960H 8CH Security DVR with 2TB HDD Including 8 800TVL Cameras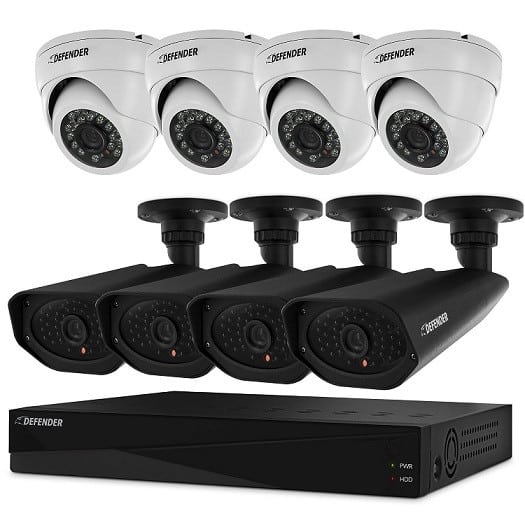 This 8-channel surveillance system can capture virtually anything indoors and outdoors. It enables you to capture the video in real-time. It also provides many angles of view and has a 34% more surface visibility compared to other standard security cameras.
The widescreen lenses offer 800 TVL surveillance as well as a clear resolution and sharp pictures. It gives you a choice to view live as well as pre-recorded video. The cameras are also weather resistant and has long and safe 65-foot FT4 cables fire-rated with an IP66 code. The cameras have a 150ft night vision range with 24 Dome cameras and 48 Bullet cameras that allows you to have a clear view of what is happening, even during the night. The high resolution of 960 x 480 means whatever is recorded during the night will still be clear.
Their set-up and installation is quite easy and the instruction on how to view both live and pre-recorded videos are easy to understand. Its 2TB hard drive allows you to store many videos for long periods, you being the only one with direct assess. This means you footage will always be safe. All the cameras are equipped with 65′ of fire-rated FT4 cabling, meaning your in-wall wiring will always meet regional building codes. It has a heavy duty and vandal-resistant hardware that allows you to fix the camera to different types of door surfaces.
It is also possible to custom name each channel to make it easy while identifying where the activity is taking place. The camera system also has a masking feature that allows you to block out a portion so that it cannot be captured by the camera. Other viewing options include sequence switching, full screen, picture-in-full, channel view, quad screen and digital zoom. In case you would like to search a specific footage, specifying the date and time will give you exactly what you are looking for.

3. Q-See QC908-8U7-2 8 Channel AnalogHD DVR 2TB Hard Drive and 8 HD 720p AnalogHD Cameras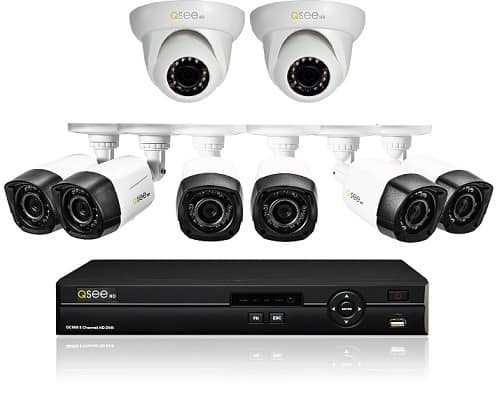 The 8-channel DVR has eight cameras and uses standard BNC cables to delivers clear and high-definition 720p images. The 720p resolution images translates to HD images.
This means you can easily differentiate between objects and people. The Q-See DVR has an automatic integrated wizard that provides step-by-step startup instructions. Its remote monitoring capabilities means you have access and control of your surveillance system from anywhere using your smartphone or tablet. The remote access capabilities allows you to receive instant email alerts as well as mobile notifications.
The cameras can also be customized to record events at specific moments. Additionally, the high-quality LEDs have up to 80ft of night vision, with each camera encased in a sturdy metal housing ensuring that it is protected from harsh outdoor conditions.

4. Q-See QT5682-8E3-1 8 Channel 960H/720p DVR with 900TVL High Resolution Cameras and Pre installed 1 TB HDD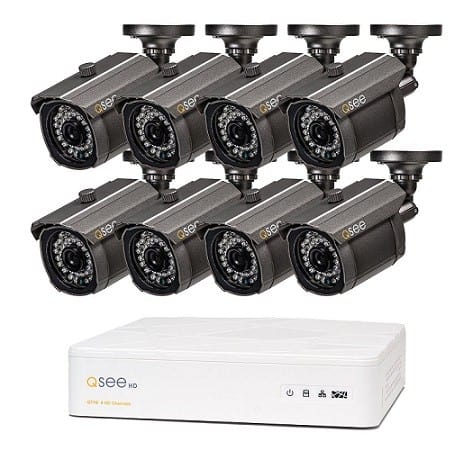 This Q-See QT5682-8E3-1 with eight channels produces large and high resolution images (960H resolution). Its 960H/720p and 900TVL means the system offers true 960H resolution. The cameras are also weatherproof and has sturdy metal housing hence can withstand harsh weather conditions.
The night vision cameras ensures that what happens at night is also clearly and accurately captured. An image size of 960 x 480 pixels means the video captured will have clear images hence possible to differentiate people from stationary objects. Q-See WT uses Scan N' View technology that allows you to install Q-See QT View app so that you can connect to your DVR easily for instant live viewing from your tablet or smartphone. Q-See QT5682-8E3-1 also has remote monitoring features that allow you to keep an eye on your house/home from anywhere. You can also access both live and previously recorded video from your smartphone.
Additionally, you can get instant snapshot images whenever motion is detected. The remote monitoring capabilities of Q-See QT5682-8E3-1 allows you to get email notifications wherever you are. It also allows up to a maximum of 10 simultaneous users. The dual-stream technology is designed for reduced-bandwidth connections. In terms of compatibility, there are free Q-See apps for iPhone, iPod, Android as well as Windows 7.5/8 phones.
It is also compatible with different Operating Systems such as Windows XP, Vista, 7, 8 as well as Mac OSX 10.7, 10.8 and 10.9. Browsers such as Safari (for Mac), Internet Explorer, Chrome (with IE plugin) and Firefox (with IE plugin) are also compatible with this surveillance system. Q-See's Start-Up Wizard is easy to use and has an on-screen step-by-step guide. You can also customize recordings by choosing from the customizing options such as record continuously, schedule and motion.

5. Amcrest AMDV10808-8B Surveillance System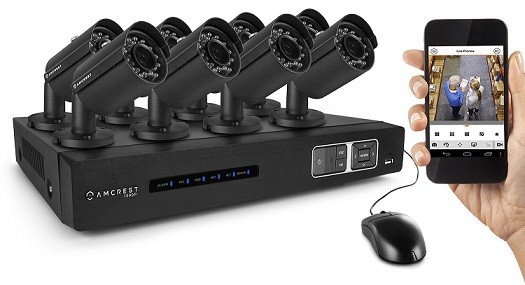 The system comes with 8 surveillance cameras each with a resolution of 2.1MP. There is also a 1080p 8-channel HD-CVI DVR with 4TB hard drive. Its resolution of 1920 x 1080p means the cameras capture images in HD. Secondly, with the cameras being tied to your coaxial setup, the images won't be sent through your IP hence saving you additional expenses.
The cameras also film at 30 frames/second. The wide-angle 3.6 lens captures everything within the view of the camera. You can check your recordings from your PC or from your tablet or smartphone in case you are on the move. The app is compatible with both Apple and Android systems and is easy to operate. The 4TB hard drive is enough space that can allow continuous recordings for approximately 360 hours with all the eight channels recording at the same time. Its set up is easy as it comes with a plug and play setup together with simple instructions that can be followed pretty easily.
It is worth noting that all these video surveillance systems can be found in various online eCommerce sites, including amazon. Your choice depends on your needs as well as your budget. However, the bottom line is that home security is an important aspect that should never be overlooked.