Best Indoor PTZ Security Cameras

,
PTZ cameras or Pan, Tilt, Zoom are amongst the most effective and efficient security cameras available. They provide an excellent field of view and are able to capture all necessary activity by moving left, right, up and down as well as having a powerful zoom functionality.
They are versatile and generally more productive than a stationary camera that can only capture the view it has set up to monitor.

While certain situations and applications call for a fixed camera, there are a number of advantages provided by PTZ cameras.
Advantages of a PTZ Camera
Large Field of Vision
Most PTZ cameras will give you a 360-degree view, or very close to that, depending on how and where they are mounted. The camera movement can be programmed in advance. The large field of vision offers great protection while also reducing the number of cameras required meaning less cost and less hassle.
Quality Zoom
Most good PTZ cameras have a powerful zoom that will allow you to capture fine details with clarity and definition.
Motion detection, tracking and alerts
Quality PTZ cameras will capture all relevant footage through motion detection. Due to the design and features of the camera, they can track the person or activity ensuring you do not miss any details. The alerts will allow you to take immediate action of any suspicious activity and possibly prevent or stop any security issues.
Autofocus
This feature means that the image will remain clear and precise, despite the movement of the camera and the subject.
Two-way communication
Many PTZ cameras feature two-way if you need to interact remotely with anyone on the premises where the cameras are installed.
Night Vision
A number of these cameras have good night vision making them function in dark or low light conditions.
Top 5 Indoor PTZ Cameras 2018
There are a number of quality indoor PTZ cameras on the market. After extensive research and comparing the specifications and features as well as reading numerous customers reviews, there were 5 that really stood out.
We illuminated all those that did not make the grade for any reason and narrowed it down to the top performers that have all the necessary features offer quality and reliability.
Reolink C1 Pro 4MP Wireless IP Camera
Reolink is a popular and trusted name in security cameras and the 4 Megapixel C1 Pro is their latest indoor PTC camera. It does not disappoint and is a great option for a number of applications and is particularly suited to those that want to go the DIY route with their camera installation.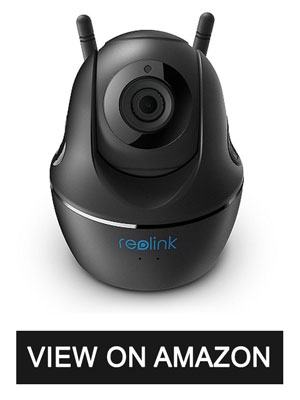 It is super easy to install and setup even if you have never used a security camera before. If you have any questions, the quick start guide will point you in the right direction and have you up and running in no time. Set the system up on your mobile device or PC/laptop after getting the user-friendly app from the app store or Google Play. Onboard storage is via a micro SD card.
Wireless performance is excellent thanks to the 2T2R MIMO dual antennas that operate on both 2.4 GHz and 5 GHz. Power is supplied by a convenient USB connection and it offers good night vision up to 20m in darkened rooms. Alerts are pushed to your mobile device with good speed and you can set up how and when you want to receive alerts.
The 4-Megapixel camera and video at 30 fps gives you clear, accurate footage and images. It also offers good two-way communication should you need it.
It works well as a hassle-free security camera, baby monitor, pet or nanny cam.
Pros:
Silent movement

Great value for money

Good image/video quality

Great wireless connectivity

Good field of vision
Cons:
Zmodo Snap Security Camera System
Another well-liked top-selling name in security cameras is Zmondo and they are onto a real winner with the easy to use Snap Camera. It offers a full 360-degree view and runs off a wired or reliable wireless system. Using it unwired gives you freedom and flexibility to reposition and adjust the camera as required.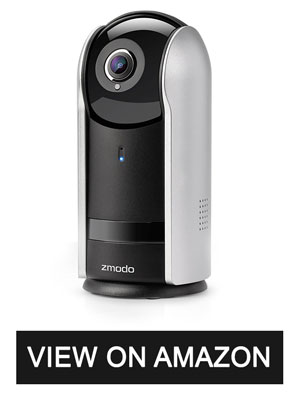 For added peace of mind and improved security, a door and window sensor are included. The camera can be set up to focus on the area that has been triggered and record while sending an immediate alert to your smart device.
Two-way communication is included should you wish to talk to someone remotely. The camera also features facial recognition which will avoid unnecessary notifications from people the camera has been told to ignore.
Footage is stored on a US-based cloud server for quick retrieval, viewing and sharing from a remote source. Even without the cloud storage, you will still receive a push notification including a video clip of the incident and 36 hours of storage. Data is extremely secure and uses top encryption and password protection.
The meShare app is easy to use and provides powerful features for remote viewing from the 1080p Full HD camera. The wide PIR motion sensor will ensure that no activity is missed.
Pros:
The wireless option makes the system versatile and flexible

The door and window sensors provide additional security

User-friendly

Good technical support

Facial recognition will reduce false notifications
Cons:
Some users would prefer to have had additional cameras to cover different areas
Foscam R2 1080P Wireless IP Camera
The Foscam R2 is a powerful, compact modern indoor camera that performs exceptionally well. Available in black or white, it is easy to use and has all the features you would expect from a top security camera.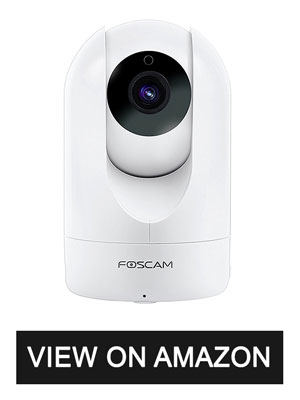 The Foscam R2 1080P Wireless IP Camera has 13 IR-LEDs for up to 8 meters vision in dark environments. The PTZ functionality provides 100-degree vertical and 330-degree horizontal viewing. All of this can be controlled remotely via the user-friendly app. Two-way audio is available and the intelligent motion detectors will immediately alert you to any movement or noise with a push message to your mobile device.
The 8 x zoom is powerful enough to capture great detail with top clarity while the WDR 2.0 Technology corrects and balances the lighting to eliminate dark spots or glare.
Footage can be stored on a Micro SD card, up to 128GB, Forscam Cloud Service or use a Foscam NVR to record onto a hard drive. You can obviously view directly through the app when necessary.
Pros:
Good value for money

Full HD 1080p video capture at 25fps

8 x Zoom

2 way talk communication

Motion detection technology

User-friendly app

WDR 2.0 Technology
Cons:
Cloud-based storage option is only free for 30day trial

Only supports 2G wireless frequency
EZVIZ Mini 360 Plus 1080p HD Indoor Home Security Camera
EZVIZ specialize in quality security cameras that offer great value for money and are ideal for those wanting to do a hassle-free installation and set up themselves. The EZVIZ Mini 360 Plus 1080p HD Indoor Home Security Camera is a versatile powerful option that provides all the features you will need while coming in at a very reasonable price.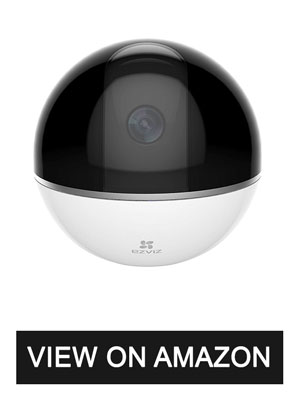 The design allows for a range of mounting options to suit your needs. You will get 340-degree panning and 80-degree tilting. The 92-degree field is not an issue thanks to the motion tracking feature that will follow the subject or any movement in order to capture all relevant footage.
The night vision allows for about 10 meters in a dark area and the camera has two-way audio. A great forward-looking feature is the including of IFTTT which allows the EZVIZ Mini 360 Plus to talk to other smart devices and platforms such as Nest, WeMo Switch and Alexa from Amazon.
There are a range of cost-effective cloud storage options or you can use a 128GB Micro SD. The camera can connect either through an Ethernet cable or wirelessly. The latter option will give you more freedom as well as a quick setup. The updated app is intuitive and powerful while still being easy to use. Control and viewing from the app is simple. The video history timeline makes retrieving footage from a specific time fast and painless.
Pros:
IFTTT allows it to work with other smart systems and devices.

Records to the cloud as well on the Micro SD
Cons:
92-degree field of vision in order to detect movement might be a bit limiting

No audio detection
Amcrest UltraHD 2K (3MP/2304TVL) WiFi Video Security IP Camera
This HD 3 Megapixel camera records at 30 fps and offers 10 meters of night vision as well as a 90-degree view. Wireless connectivity is superb with Dual-Band Wi-Fi offering 5ghz and 2.4ghz.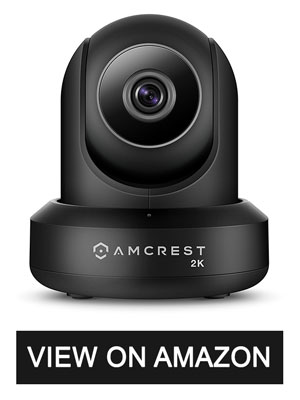 There are a number of storage options for video footage including onboard with a Micro SD card, a range of affordable Amcrest Cloud options and Amcrest ONVIF NVR. It works perfectly with Alexa on Echo Show. It will also work with a number of NAS or Network Attached Storage devices such as Synology, LiveCams, TinyCam, Zoneminder, iSpy, QNAP and Blue Iris.
The Amcrest View App could not be easier to use and provides many options. It will allow you to stream live video and audio to a smart mobile device or a PC/Laptop. Storage is to an SD Card or a number of cloud options. These start with a free 4-hour option to larger, reasonably priced options providing greater storage.
The state of the art Ambarella Processor combined with the 3-Megapixel camera and the 2K Sony Image Sensor ensure the system captures all relevant footage with great clarity and detail. The video is captured in 1296P Video at 20fps. The digital zoom will provide fine details for easier identification. It also features two-way talk and 10-meter night vision.
The camera comes with 10-foot power supplies. Amcrest offers a 1-Year US Warranty as well as Lifetime Support. The system comes with a user guide and instructional videos are also available.
This is a top selling product that received a large amount of positive feedback from people that have used it. It is a quality, feature rich camera that is ideal for home or business use.
Pros:
Quality wireless connectivity

Good compatibility with third-party applications

3 Megapixel HD camera

Fast easy setup

Two-way audio and night vision

Sleek, compact design
Cons:
Some people found the app lacking in some respects
Final thoughts
Security cameras are no longer just for big business and rich homes, everybody should have one or more. They have a wide range of uses from security for peace of mind when you are away to pet, baby or nanny monitors.
We reviewed only the best options available that are good quality and perform well. All have been highly rated by consumers and are very popular.
All of the cameras featured have the essential elements you need to look for in a quality indoor security camera:
Quality camera and video quality

Powerful app for mobile viewing

Good field of vision

Decent zoom functionality

Two-way voice communication

Night vision

Easy to install and use

Good storage options

Push alerts

Quick video retrieval

Decent build quality

Warranty and aftersales support
While all the cameras we looked at shared these important features, many offer additional options and features that might be important to your application or needs. Give some thought to where, how and why you will be using an indoor camera to decide on the best option for your needs.
That will help you select from these 5 great options. Do not leave security to chance. These solutions are extremely cost-effective and will ensure you have peace of mind when you are away from your home or business.