Best Budget Outdoor PTZ IP Cameras of 2018

,

PTZ IP cameras are commonly used for surveillance in large home compounds and public areas such as commercial car parks, stadiums and conference halls. PTZ stands for Pan Tilt Zoom, and that means you can use the IP software for cameras through the internet or your network to manipulate what the IP camera displays.
Different IP camera brands sport different kinds of zooms, and lower end cameras will simply feature the digital zoom. Proper optical zoom is the recommendable zoom type and this, together with the price, will always be specified in the product description.
Basically, a PTZ IP camera lets the user view real time images of the protected areas over the internet. You can simply monitor your office, home, building, yard or anywhere from miles away using a PC or a high end smartphone, tablet or PDA. Some network cameras even feature built-in Web server functions such that the IP camera doesn't necessarily need to be connected to a computer.

IP PTZ cameras are traditionally spherical in shape, and this is mainly because they are meant to be completely mobile. Either the network camera itself (the sensor and camera mechanism) has been designed to take the shape of a sphere, and held so that it can pivot accordingly, or the camera is structured more traditionally and cased in a spherical protective bubble where it can tilt, pan and zoom and take images from within the shield.

IP cameras with night vision capabilities come with built-in LED lighting to enable object visibility in dark settings, or at night. For outdoor surveillance, specifically in places without artificial lighting, night vision cameras may come in handy.

Some IP cameras can only pan and tilt but not zoom. The two functions will usually be enough if the area you want to cover is small, like, say, your living room. However, if you want to cover a large area such as a shopping mall, an IP camera with the zoom function will be more effective.

PTZ IP cameras are typically controlled using remote systems. Users can do an initial configuration to have the camera moving and rotating in a certain predetermined pattern, or do it manually using a keyboard or mouse controlled interface. The angle of the lens can also be manually controlled, and this facilitates automatic position adjustment of the camera.

User does not need to be close to the camera to operate it.
Requires little maintenance after it has been installed (except for regular cleaning of course).
Has 360-degree mobility. This way, it can detect and track objects as they move in the covered area as long as the target object is within lens range.
Factors to Consider When Purchasing a PTZ IP Camera

If you're looking for a PTZ IP camera for outdoor surveillance, you need one with night vision, weatherproof enclosure, miniature architecture for "outsider" visibility reasons, and vandal-proof capability for fortification in high crime areas.

Each form factor has its own benefits, and the brand you opt for should cover all your surveillance requirements. Would you prefer a dome-shaped or an inconspicuous mini-dome camera? A wireless option or just an ordinary corded PTZ IP camera? You know your place and specifications best.

When weighing different camera alternatives, you need to be sure of the detail level you want to see in your images. For wide area surveillance, you need a higher resolution, of course, as this will allow you to view even the furthest of images in relatively great detail.
Another factor that affects a camera's resolution is its field of view (FOV). This is the viewable expanse of a given scene taken by the camera, and is sometimes referred as the angle of coverage or angle of view. A small FOV generally leads to the target object appearing smaller than it would in a fairly larger FOV.
The type of lens featured in the camera will also have an impact on resolution and field of view alike. A lens with low focal length number will bring about a wide field of view but less magnification while a higher focal length number will provide more magnification.
PTZ IP cameras, just like ordinary cameras, come with different resolution capabilities, and if you choose a high-resolution one, you also need to choose a high resolution megapixel lens so that the resolution required to produce a clear and detailed image can be maintained. If you combine a high resolution camera sensor with a less powerful lens, then your images will not be as detailed and crisp as you may desire.
Below we have listed 5 affordable outdoor PTZ IP cameras of 2018 that we recommend you take a closer look at.

Reolink RLC-423 POE PTZ Security IP Camera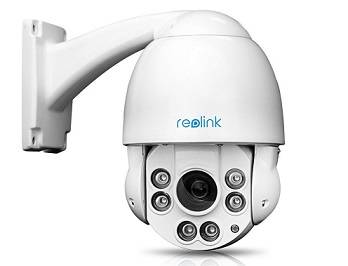 The Reolink RLC-423 is one of the cheapest yet high quality cameras there is on the market at the moment. It's a  PTZ IP camera that boasts a very high quality aesthetic and architecture, 360-degree endless rotation and a waterproof aluminum casing. It has a 4 megapixel (2560 × 1440) resolution system. Its viewing angle is 105 degrees at 2.8mm and 26 degrees at 12mm, the camera has a night vision capacity that enables it to view objects up to 190 feet away.

For remote and local camera configuration, and live view, snapshot and video recording, the camera comes with the easy-to-use Reolink Mobile App, which is also compatible with both MAC and Windows systems.
On the downside, access to camera settings is not available through any other browser other than IE. Its power connection assembly is also heavier than normal, and that makes it hard to fish the Lan connection through the 1" hole when installing the camera.

Dahua SD59430U-HNI PTZ IP Security Camera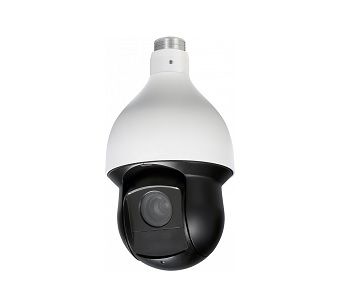 The Dahua SD59430U-HNI is not really a budget camera with its price tag at around $700. This camera offers excellence on almost every front; right from the simple but cool semi-dome design to the 360-degree rotation to the unmatched long range IR. Basically it can capture images from up to 300 feet away in night vision mode, something most other surveillance cameras can't.
Video is of excellent quality and you can watch recordings and even live video locally without necessarily connecting to the internet. For recording and storage the camera has an SD slot somewhere deep inside, and though inserting and removing the card can be irking due to the slot's poor positioning, the whole memory card idea facilitates 24-hour recording.
The camera comes with an app called IP Cam Viewer Pro by Robert Chou, which works great with an android phone or tablet. Unlike the Reolink RLC-423 which doesn't support some mainstream browsers such as Chrome and Firefox, the Dahua SD59430U-HNI works with the aforementioned two and IE Explorer alike, in a process where you only need to type your external IP address together with port 8080.
Perhaps the biggest and only shortcoming about this otherwise excellent camera, as mentioned above, is the positioning of the SD slot. You technically have to dismantle half the housing to insert a card and that makes the camera more prone to physical damage.

Foscam FI9928P Wireless Outdoor PTZ IP Camera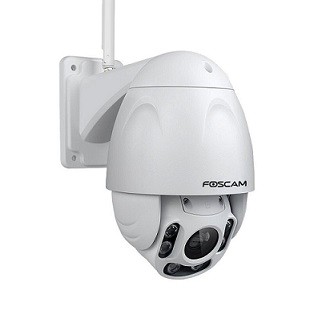 One thing that sets the Foscam FI9928P apart from the rest of the cameras in this list is the ease of assembling and installation, which is an exclusive pro to all Foscam models.
The wireless unit is equipped with a 1920 × 1080p display resolution, 4× optical zoom, 20 meter night vision range and H.264 image and video compression for smaller and storable file sizes. Its strong weatherproof aluminum body makes it perfect for outdoor surveillance in any kind of climatic settings and the relatively tiny body acts as a safety measure in high crime areas.
Just like every other camera on this list, Foscam FI9928P comes with its own smartphone app, which is compatible with both iOS and Android devices.
Amongst the few downsides that this camera bears is the tininess of its base which cannot house all its cables. Though you can get an external cable manager for as little $12, a built-in one would still be more efficient.

Q-See QCN8025Z PTZ Network Camera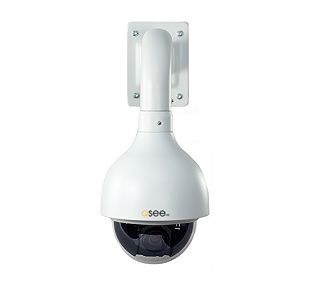 If you're looking for an all-round PTZ IP surveillance camera to keep an eye on your property while you're away, you have the Q-See Monochrome which features everything you could be looking in a camera. Coming with IP rating 66, the dome shaped camera is perfect for both indoor and outdoor surveillance.
It is weather-proof and its aluminum casing has been engineered perfectly to match all kinds of décor (for indoor purposes) and offer enough space to house the power cable at the back. One outstanding feature about this camera is the 64GB micro SD card slot – larger than any of its competitors in the list – which facilitates all day recording and storage of video files.
Image quality is excellent regardless of the surrounding light conditions, and the 25-meter night vision range makes the camera especially ideal for outdoor surveillance.
360-degree endless rotation, though common in all models in this list, is another feature we cannot go without mentioning, and together with wireless connectivity, cloud-based storage and easy setup procedure, the camera merits consideration next time you're looking to replace your old surveillance system.

Hikvision DS-2DE4220-AE MINI PTZ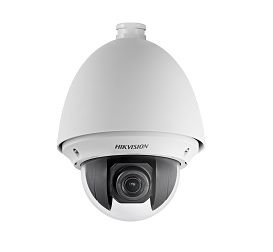 The Hikvision DS-2DE4220-AE is a new model on the market, but its hype and design are already earning it a spot among the industry's crème de la crème. Just as the name suggests, this PTZ IP camera has been designed and built with outdoor surveillance in mind.

Its sports a dome shape and an all-metal body – good for all kinds of climatic settings – and 360-degree endless rotation, as some of its positive features. Thanks to its strong night vision, the camera delivers super-fine image and video quality regardless of the surroundings' lighting conditions.
One thing that may count against this model, though, is its newness in the market, but as time goes and more customers place their feedback on the internet, more strengths and bugs will be exposed for you as a potential buyer to base your judgment on.

In conclusion
Installing a PTZ IP surveillance camera system is the 21st century way of watching over your precious assets and ensuring your family is safe from ill-minded intruders whenever you're away from home. There are numerous brands out there, and while all of them may sport similar ads, only a few will perfectly meet your unique specifications.
Before you decide on a model, study your house or yard first and know what you really need from a surveillance camera. Outdoor cameras will always be more sophisticated than their indoor counterparts, and will consequently command higher costs.
Similarly, cameras for large spaces will cost differently from those designed for smaller areas. The bottom line here is to avoid paying for the extra unnecessary functionalities featured in different PTZ IP surveillance camera models by knowing your space, and purchasing a system that gives no less or more than you need.
In case you're not really sure about your needs, above are five of the best PTZ IP cameras the industry has to offer in 2018. Some of them may lay claim to more features and less price per unit compared to other mainstream alternatives out there, but that's actually why they are on the list. Make a deep scrutiny of the features, weigh between their prices and choose the one that will give you maximum utility.