Axis 214 Ptz Network Camera Review

,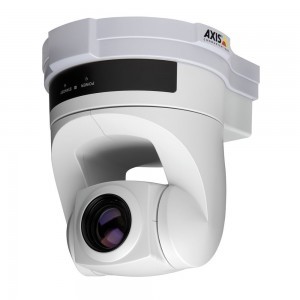 Main Features and Benefits
If you have been looking for a high performance camera that has a powerful resolution, the Axis 214 Ptz Network Camera Pan Tilt Zoom Day/night 2 Way Audio could just be that machine. The pan/tilt/zoom functionalities give it an incredible sense of flexibility. The color quality that comes with the AXIS 214 PTZ Network Camera is incredible which translates to very high quality images.
Click Here for customer reviews…
The 18x optical motorized lens coupled with auto focus functionality enables the user to have a clear shot of distant and small images by zooming in. This attribute comes into play if you are either doing surveillance or remote monitoring. It can be a perfect machine for capturing images in game reserves where proximity can mean distraction or danger. The camera is also movable which means that you have an opportunity to get a wide view.
With the AXIS 214 PTZ Network Camera, you don't need to worry about the quality of the lighting because it comes with day/night functionality. When combined with the light sensitive CCD component, this camera can deliver clear and amazing color images even in low and poorly lit conditions. For the fans of black and white photography, this camera is just the perfect choice for them.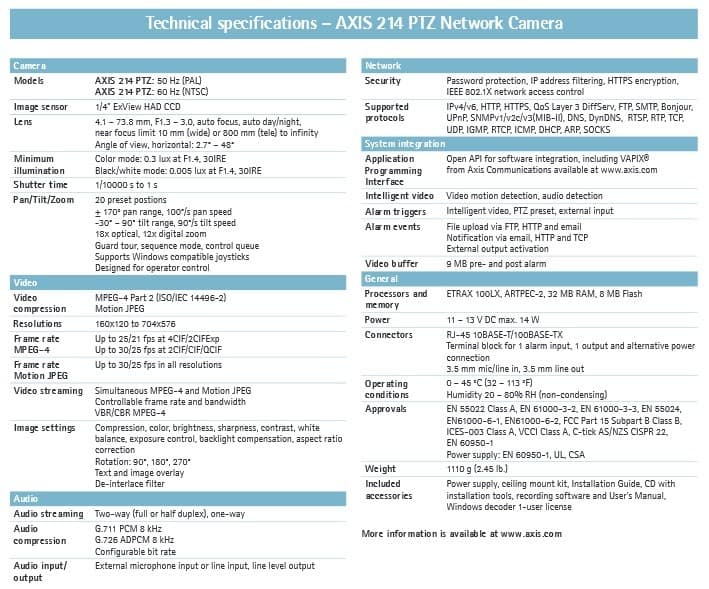 For events that take place at night, the AXIS 214 PTZ Network Camera can avail the same quality of photos as those taken during broad day light. In addition to the surveillance functionalities, this camera also comes with an in-built audio support. This feature enhances monitoring of distant events and activities by giving you the ability to listen in on a particular area while at the same time enabling you to communicate and relay orders to a targeted audience.
AXIS 214 PTZ Network Camera has additional features that make it a perfect surveillance tool for supermarkets and retail stores. Through video motion detection, store owners can be able to have a clear view of movements within their stores. It also comes with an image buffering capability which when combined with two-way audio and alarm notification can make an excellent monitoring and security tool.
If you want to integrate the camera with some other software such as AXIS Media Control SDK and AXIS VAPIX, you can comfortably do so through the Application Programming Interface (API). It also has an incredible flash memory that aids in the upload of embedded applications. The camera has network security enhanced through IP address filtering, multi-level password protection and HTTPS encryption. This is important in fighting off cyber crimes and hacking attempts.
The Main Target GroupThe AXIS 214 PTZ Network Camera best suits retail stores owners, security surveillance officers, game rangers, tourists, professional photographers and nature enthusiasts.
Get the latest price here!

Good PTZ Camera From Axis