Amcrest WLD895US Review

,
The Amcrest WLD895US has the capacity to support up to a total of 4 cameras within a range of 300m over a 2.4GHz frequency. It is also possible to connect remotely with your tablet or smartphone through the new Amcrest app which can be downloaded. You simply connect a Micro-SD card in order to store the videos and photographs triggered by the PIR sensor which signals motion detection.
The camera supports 720p and also has an IP66 Weather Resistance rating making it incredibly robust. Even on the rainiest of nights your surveillance will be clear and the camera should withstand cold temperatures. The package includes one wireless camera and it's very own monitor.
Click Here for customer reviews…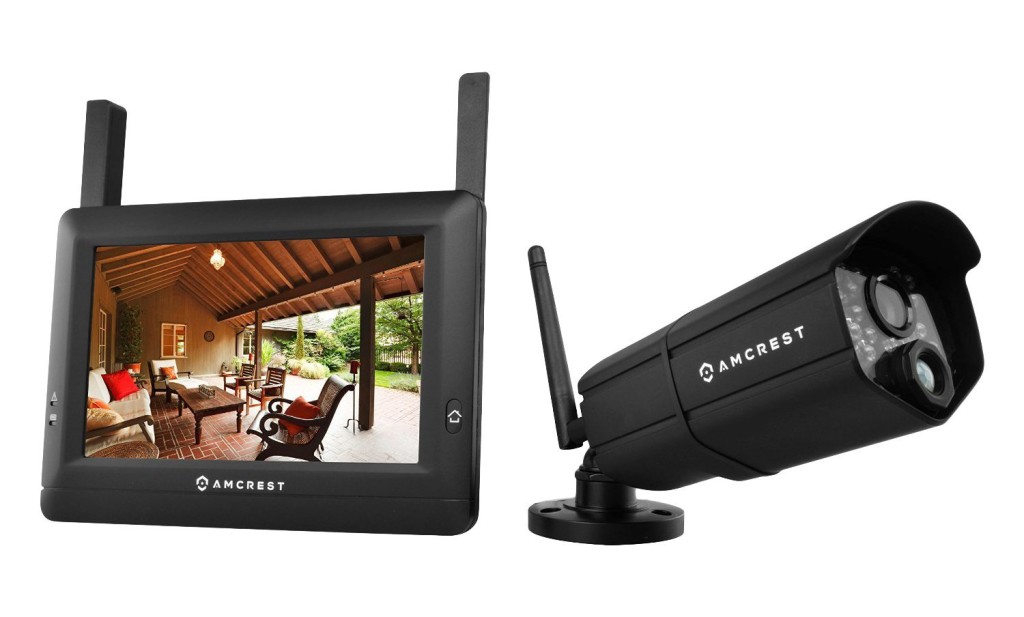 Main Features:
– 720p Wireless High Definition Camera
– Motion detection
– PIR Sensor
– App for remote viewing
– Wireless range of 300m
– Micro SD Card
– Supports up to a total of 4 cameras
– IP66 weather resistant
With the Amcrest WLD895US there is a 4-channel system which allows you to live stream and playback and recorded video. One camera is included when you purchase the product, however you can buy three others separate and they will be supported. The surveillance system is fairly easy to set up and is secure with 2.4GHz wireless FHSS.
When you buy the surveillance system you will have a 7 inch touch screen monitor which is dedicated to the cameras. All of the cameras will be able to connect via wireless connection to the monitor. The screen is relatively responsive and all of the settings can be manually selected through the touch screen monitor.
One camera is included when you make your purchase and the camera you get is a solid device which does indeed provide a vivid clear image during the day and a pretty impressive image at night. The night time picture is fantastic thanks to the infa-red night vision LEDs. You will also have in the box, two power leads, an arial for the camera, an ethernet cable allowing you to connect your router to the monitor and a full set of instructions.
To get set up you will simply need to just decide where you want the camera to sit. You have to remember that this is a fixed camera and it doesn't tilt or pan remotely. The position will be fixed so make sure you choose wisely. You have the screws provided to attach it to a wall so that shouldn't be a problem.
You will then need to screw on the antenna and uncoil the lead. After doing this all you need to do is plug in the power cord and it should display a red light to let you know it is working.
The Amcrest WLD895US is definitely good value for the price and it will definitely get the job done. The instructions clearly explain how to set up the camera so you should be fine installing it yourself.
The quality is relatively impressive compared to many other surveillance systems and the picture you get is really good. It is certainly worth having this surveillance system in your family home to ensure safety at all times. << Click here for customer reviews and latest price!