Amcrest Qcam 3-Megapixel Bullet Camera Review

,
The Amcrest Qcam 3-Megapixel Bullet IP camera is one of Amcrest's best security cameras out on the market today. Amcrest an industry leader in the world of advanced digital security equipment. The Qcam offers an impressive array of features, probably the most important of which is its 3 megapixel resolution, delivering 2048 x 1536 resolution video at 25 frames per second.
This is far better quality than the standard 1080p video that most security devices offer, enabling you unparalleled clarity in your security feeds. The extra resolution is essential when it comes to identifying individual facial features and vehicle license plates in the event of a security problem.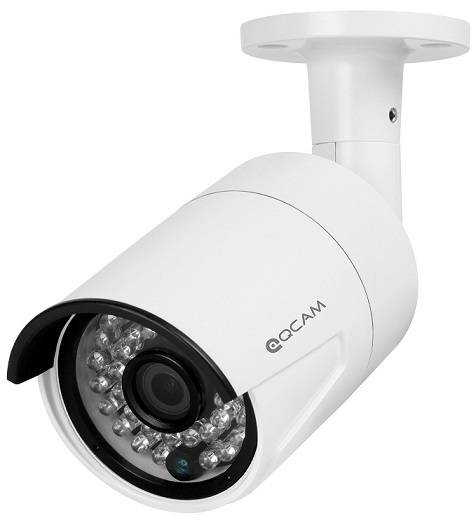 The Qcam has also been given an IP66 weatherproofing rating, allowing it to be installed either indoors or outdoors, wherever you need added visibility. The IP66 designation means that it is both completely dustproof and waterproof against water jets and waves, so rain and other extreme weather conditions should be no problem. A wide 70 degree viewing angle helps cover more area with fewer installations, helping you to save money on your security setup. 
These features aren't the only things that make the Qcam a great security camera, however. Each one comes with night vision capabilities, thanks to a set of LEDs that project infrared light for up to 65 feet. This allows for a much wider range of security applications, as it is not dependent on external lighting to ensure proper functionality. Since most security breaches happen during the night, the value of the night vision feature cannot be overstated. 
One of the best tricks the Qcam can do is to connect to your local network. This makes for extremely convenient installation of your video recording system, because the Qcam uses your ethernet connection to provide all the power it needs to operate. Your security feeds can be viewed from any web browser with internet access, and Amcrest also provides a free smartphone application named QCAM Link for both the Android and iOS operating systems, allowing you to keep a close eye on your security situation no matter where you are at the moment. 
If you're looking for a great balance of features and affordable pricing, the Amcrest Qcam 3-Megapixel Bullet IP camera is an excellent choice for almost any security solution. Each camera comes standard with a full 1-year warranty and lifetime support from Amcrest, so you can rest easy knowing that your security and surveillance situation is in good hands.>>Click here for latest price and customer reviews!