7 OF THE BEST AFFORDABLE OUTDOOR IP CAMERAS 2017 AND WHAT YOU NEED TO KNOW BEFORE BUYING THEM

,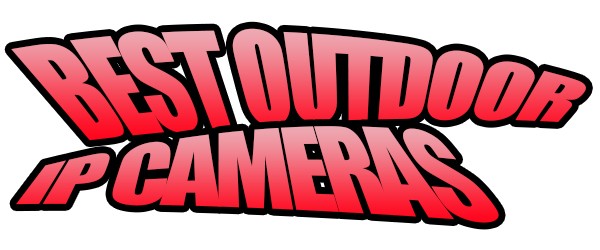 Outdoor IP cameras are utilized for a number of applications, counting private residence, shopping centers, roadways, highways, and various other locations. In fact, in order to guarantee that the complete system is dependable, many applications demand products that include certain industrial certifications such as NEMA-TS2 for highways, ATEX zone-2 process automation, and EN-50121 for railway waysides, to name a few.
Using an IP outdoor camera that incorporates the necessary certifications guarantees reliable performance even if the camera is vulnerable to high-levels of EMI/surge, tremendous shock or vibration, or when used in locations predisposed to a risk of explosion.
Below we've listed some of the most affordable high-performance IP-cameras on the market 2017.







WHAT IS AN OUTDOOR IP CAMERA?
First of all, IP cameras are network cameras. Their function is arranged to mainly send video and audio via an IP network like an LAN or "local area network" over the Internet. This enables live viewing and/or continuous recording at specific times, on demand, or when activated by an event or happening. Video can be kept both at a distant location or locally.
In most cases, an IP camera is described as a camera and computer shared in a single unit. The primary components of an IP/network camera combine a lens, an image-sensor, one or a number of processors, and memory. The processor's main purpose is for image processing, networking functionalities, video analysis, and compression. The memory is chiefly for gathering the camera's computer program along with storing video.
If you have a computer, then you have an IP address. An IP camera has its own IP address, is linked directly with a wireless or wired network, and can be situated wherever a network connection exist. Besides attaining video, some IP cameras can supply intelligence similar to "smart phone" technology, along with video functions such as audio detection, video motion detection, auto-tracking, and active tampering.
For example, auto-tracking is an intelligent video utility that can automatically sense motion of a moving entity or vehicle and track it inside the camera's range of coverage.

WHAT TO LOOK FOR IN AN OUTDOOR IP CAMERA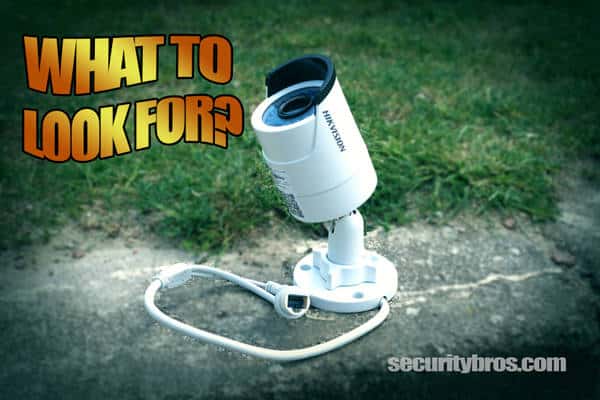 -Check the Recording Capacity
IP cameras operate either as a Network Video Recorder NVR, or as a live-video camera with a restricted quantity of internal storage. This category of IP camera is a combination connection and recording component.
If you are a homeowner and want to monitor a live feed, there is no need to preserve hours of stored recordings; therefore, you may not require a complete NVR system; however, a business might, in order to review and store security recordings at any time.
-Indoor or Outdoor Setup
Indoor and outdoor IP cameras are different in design. Outdoor IP cameras are usually, more multifaceted, and include additional features like automatic sensors, night vision, and weather resistance. An interior IP camera is normally more basic, wired, and easier to setup in most instances.
Formulating the security requirements for your space and deciding whether an outdoor system is needed is an important step when selecting an IP camera.
-What about Mobile Support?
The majority of IP cameras operate via mobile support. This means that you as businesses, homeowner, or both, can check your system by using mobile gadgets such as a smart phone or tablet. If you desire mobile monitoring, make sure you verify that the IP camera you have selected supports a mobile device operating system before purchasing it.
However, most cameras provide support for common mobile operating systems such as Android or iOS.
-Check for Upgradeable Firmware
Because an IP camera can stream data online, you receive advantages from devices with upgradeable firmware. Businesses that propose these kinds of IP cameras check for security defects in their designs and provide upgrades each time they encounter any danger.
By purchasing an IP camera and maintaining consistent upgrades, you can thwart any risky intrusion into your system.
-Consider Security Matters
If you have a small to medium sized business, want to setup remote viewing and sharing of security footage, and prefer to share footage online, sometimes running a security system via LAN is sufficient.
If a LAN network is suitable, you should look for an outdoor IP camera that offers an easy way to turn-off port forwarding and setup a local-only function. Whether you choose a wired or wireless IP camera will factor into your decision.
-Do you need HD?
An HD equipped IP camera captures superior quality recordings at resolutions of 1080p and higher; nonetheless, if the other components of a system are without HD capabilities, the recordings end up at a much lower-resolution by the time the systems stores or presents it.
When choosing your outdoor IP camera, decide if you want to invest in a complete HD system or a SD IP camera instead.
-Think about Energy Saving Features
Security systems can hog the energy from your home or business. Looking for IP camera systems with automatic features that turn the camera on only when required, like when it senses movement, would be an excellent energy saver.
In addition, there are IP cameras that will alert you automatically if an engagement takes place without the need to constantly monitor it. This will cut-down on draining your mobile device's battery and network operational expenses.
WHICH TYPE OF OUTDOOR IP CAMERA IS RIGHT FOR YOU?
-Wired
Wired IP cameras frequently require professional installation and must be located in situations where they have access to the necessary outlets. It may be difficult to hide wires, making surveillance easy to spot by intruders who will try to stay clear of the camera altogether.
Wired IP cameras offer better picture quality than wireless cameras, and are more reliable as far as streaming is concerned; however, outside wires may be at risk due to weather and other outdoor dangers.
-Wireless
This type of IP camera is perfect for outdoor installation. Because there are no network wires just a power-sourc, they are quite adaptable, covert, simple to install, and easy to reposition. Have a look at our list of wireless security camera systems.

-Color or Black and White?
Color and black/white IP cameras are available for outdoor use; however, color IP cameras will cost more but offer a higher degree of footage. Black and white cameras will capture light and dark hues while color cameras will offer images that are more precise. Things such as color of clothing, hair, eyes, and skin can make a world of difference when it comes to capturing a trespasser.
-Wide Angled Lens
Depending on the size of your property, choosing an IP camera with a wide-angle can decrease the number of cameras needed. For example, backyard spaces are perfect for this type of outdoor IP camera, which can sense 104-degrees of movement up to 40-feet away.
-Bullet Cameras
This type of camera, identified by its streamlined bullet shape, is ideal for a wall or ceiling mount making it the best choice for porch areas, where it functions best, aimed in one direction. However, it would be easy for an intruder to see the direction the camera is pointing; thereby, helping them to avoid it completely.
-Dome Cameras
Dome cameras are dome-shaped and manufactured to "stare the intruder in the face" so to speak. Totally apparent in their purpose, this outdoor IP camera type is well-suited to protect entryways so that they are immediately obvious to anyone approaching the area. Moreover, it is hard to tell exactly where the camera is pointing, making it the perfect deterrent.
-Discreet Cameras
Opposite to dome cameras, discreet cameras are camouflaged as average outdoor appurtenances such as planters, clocks, and electrical boxes.
-Infrared/Night Vision IP Cameras
These cameras can record images and video shady, shadowy areas in complete darkness due to infrared LEDs, which is why it is so highly sought after.
-Weatherproof IP Cameras
Every outdoor IP camera should be protected against outside environmental elements. You can find designs suited to any type of outside conditions whether rain, snow, heavy winds, or high temperatures. There are models designed with thermostatic controls as well.
-Day/Night IP Cameras
Due to outdoor light changes, be sure to select an outside camera that adjusts to degrees of glare, reflections, shadows, backlight, and total darkness.
-(Pan-Tilt-Zoom) PTZ Cameras
Perfect for coverage of large outdoor areas, a PTZ-IP camera has the capability of moving and capturing various angles giving them the ability to operate as a "one-all" camera without the need of several fixed-sight cameras. PTZ cameras can be controlled or pre-programmed by an operator in a distant location.
TIP: Be sure to look for an outdoor IP camera equipped with a very high MTBF, to decrease maintenance and replacement costs along with the ability to function in a wide-range of environments. MTBF "mean time between failures" is a gauge of how dependable a component or hardware product is.
Make sure you check out our article where we listing the top 6 best smart doorbell cameras.



LET'S TAKE A LOOK AT  7 OF THE BEST OUTDOOR IP CAMERAS ON THE MARKET TODAY
The IP camera market consistently fluctuates, and though specific camera recommendations can be made, there are always new ones popping-up. The following list is a brief review of seven of the best outdoor IP cameras on the market today.
Hikvision DS-2CD2042WD-I 4MP Network Camera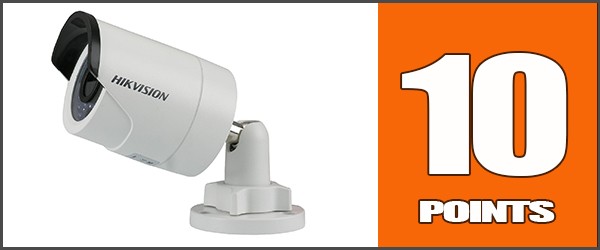 This bullet camera has a solid feel right out of the box. There's a thick metal housing, with an all-metal mount. The joint system that has a ball and socket adjuster that makes repositioning the camera simple. It's waterproof and weatherproof with IP67 certification.
You'll get excellent image quality from this camera. The camera is 4 MP, with a resolution of up to 2688 x 1520. The quality of the images is well sustained even in lower light thanks to backlight compensation and infrared illumination that kicks in automatically as needed.
The camera has built in motion detection, an 83-degree viewing angle, alarm notifications via email and an app for mobile playback. You can customize settings for rotate mode, saturation, brightness, contrast and sharpness via the client software or a web browser. Dual streaming is available, meaning you can run two simultaneous video streams, which is helpful when recording high quality video and streaming them over the internet when bandwidth is limited. Audio is available, and is enhanced by 3D digital noise reduction.
There are many great features built into the Hikvision DS-2CD2042WD-I 4MP Network Camera, and it's available at a very affordable price point. If you want high quality images, even in low light, and want something sturdy that's going to stand up to rain, snow, and other adverse weather conditions, this is a great choice. >>>>Click here for latest price and customer reviews!

Reolink RLC-410WS 4 Mega Pixels Wi-Fi Bullet IP Camera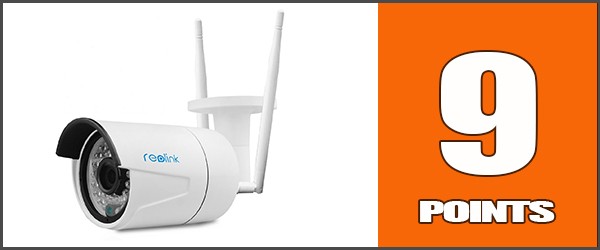 This camera features a bullet form factor, rugged assembly and a mount that's built to last. The joints of the mount mate only at certain angles, keeping the structure rigid. It's weatherproof with an IP66 certification. The 4 MP Reolink offers dual-mode Wi-Fi at 2.4 or 5.8 GHz, which virtually eliminates the risk of signal loss or interference. The camera connects to a 12-volt DC cable for powering the camera.
The resolution of 2560 x 1440 produces clear, sharp video and is more than adequate for most applications. There's an 80-degree field of vision. The camera even performs well at night, thanks to its 36 IR LEDs with a range of up to 100 feet.
There's a built-in 16 GB micro SD that allows you to record and save automatically triggered motion detected videos. Video can be streamed via the Reolink downloadable app available through Google Play or iTunes and there's Reolink software available for the computer at their website. You can set alarms and receive notifications of any triggering events.
The Reolink RLC-410WS 4 Mega Pixels Wi-Fi Bullet IP Camera is impressive, delivering high quality images day and night. Dual mode Wi-Fi offers dependability, and you'll find a number of features often only available in more high-end cameras, making this a great value camera at a low price. >>>>Click here for latest price and customer reviews!

Hikvision DS-2CD2032-I 3MP Network Camera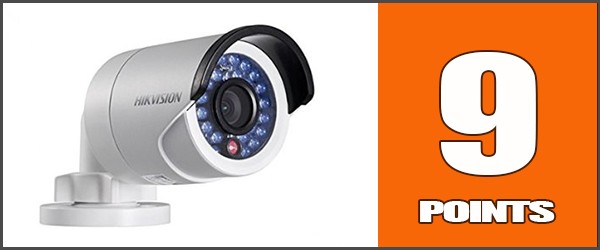 This small, compact 3 MP camera is highly durable, with a sturdy housing and mount. It is waterproof, weatherproof and dustproof with an IP66 certification.
This camera performs extremely well, producing crisp, clear images with 2048 × 1536 image resolution. It has an IR cut filter and LEDs with auto switch for high quality images even in low light. There's a viewing angle of 75.8 degrees. There's motion detection that's automatically triggered and allows you to receive notifications when detection is activated. Audio is available and enhanced by 3D digital noise reduction.
Video is accessible via client software available at the manufacturer's website and allows for customization of saturation, brightness and contrast. Alarm triggers include motion detection, dynamic analysis and a tampering alarm.
For anyone looking for a small bullet camera, the Hikvision DS-2CD2032-I 3 MP is a great camera at a low price, offering outstanding image quality from what is arguably one of the best cameras on the market in its price range. >>>>Click here for latest price and customer reviews!

Hikvision DS-2CD2132-I 3 Mega Pixel Dome Camera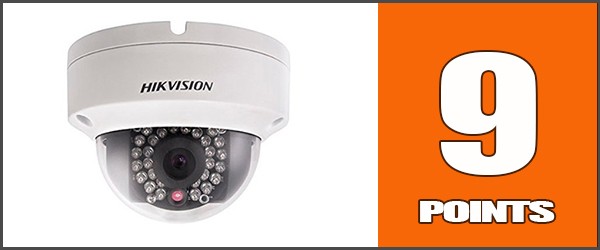 Rugged and durable, the Hikvision DS-2CD2132-I dome camera is one of the best and most effective outdoor cameras available. It is waterproof and IP66 certified. This camera features an adjustment viewing range of 0-360 degrees, tilt of 0-75 degrees, and rotation of 0-360 degrees. It has a 3 MP resolution, full HD 1080p video output and image resolution of 2048 × 1536. Images are clear and crisp even in low lighting due to built-in automatic IR cut filter and LEDs.
 Alarm triggers with notifications are available for motion detection, tampering alarm and dynamic analysis. Dual streaming is available. The device is powered with a 12-volt DC adapter that pulls 7 watts, or you can power it over the internet (plug and play). You can stream video via any browser with the Hikvision software available from their website. Audio is available with 3D digital noise reduction.
 The Hikvision DS-2CD2132 is an overall good value for money, setup is simple, and provides a reliable security system in a home or small business. >>>>Click here for latest price and customer reviews!
Amcrest QCAM 3MP Bullet Camera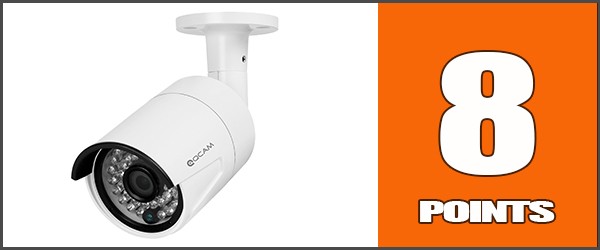 This camera stands up to whatever elements Mother Nature throws at it – heat, humidity, rain, snow and freezing temperatures. It is IP66 certified. It has a solid build, with metal housing and a sturdy mount. Sharp and clear images are achieved via a 3 MP lens and 2048 X 1536 pixel resolution. The camera has good night vision exposure adjustment due to LED placement and a true IR cut filter. There are no strong hot spots interfering with night vision, as you'll find with some cameras. The field of vision is 80 degrees.
The reboot time is fast on the QCAM, and you can establish a stream quickly. Motion detection functions well in this camera, better than in many at the same price point. You can stream video live via a web browser, and though a plug-in is required to do so you're not limited to Active X and Internet Explorer. There's also a mobile app available via Google Play or iTunes for viewing video on the go.
You can power the camera with POE or a 12-volt DC adapter. You can set up the standard alarm triggers with notifications, motion detection, tampering and dynamic analysis. Audio is available with 3D digital noise reduction.
The Amcrest QCAM 3MP Bullet Camera is a good choice for someone who needs a diverse camera capable of standing up to a variety of weather conditions with solid dependable night vision. >>>>Click here for latest price and customer reviews!

Trivision NC-336PW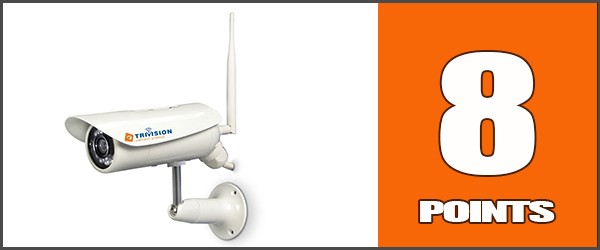 The Trivision NC-336PW is a professional security camera with a price that makes it affordable to homeowners and small business owners. It has a solid rustproof body and mount designed to survive harsh weather conditions. Its IP67 certified to be weatherproof, dustproof, and waterproof.
Truly an all-in-one 1080p HD IP CCTV camera, the Trivision features 1080p video, 1920 x 1200 resolution images and an IR cut filter and LEDs for sharp images day and night. A wide-angle lens offers a horizontal field of vision of 90 degrees and a vertical field of 50 degrees with a 4 mm focus length. You can store video on and review it from the built-in micro SD card, or view it live via web browser or an app available via Google Play or iTunes and software included with the camera.
This is a plug and play unit, meaning access to an outlet is not required, or you can power it by AC, DC or battery. Built-in sensors detect motion and you can customize the level at which notifications are triggered. Notifications can be sent via email or mobile device. You can also adjust brightness, contrast, hue, saturation, sharpness and auto exposure target through a setup menu on the software. The software also allows for two levels of security of users: regular users and administrators who control setup and functionality.
The Trivision NC-336PW is an all-around great camera. It's a little more expensive than some of the other cameras discussed here, but it's still very affordable. Given the flexibility of options, the sturdiness and ease of setup and use, you can't go wrong with this choice. >>>>Click here for latest price and customer reviews!
Dahua IPC-HFW4300S 3 Mega Pixel Network Camera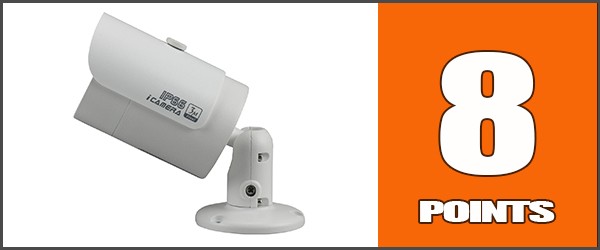 This bullet camera from Dahua with built-in sun shield will stand up to dust, rain and snow in temperatures of -22 degrees Fahrenheit to 140 degrees Fahrenheit. It is IP67 certified. The camera and wall mount are well constructed of metal, with a durable plastic sun shield.
This 3 MP camera offers an image resolution of 2048×1536. Images are crisp and clear, even at night. There is night vision via built-in IR with 30 LEDs. It features a 3.6-mm fixed lens and dual stream encoding. The available field of vision is 97.6 degrees. There's 3D digital noise reduction for an enhanced audio feed.
You can access video and images via a web browser or through a mobile app available to Google Play or iTunes. The interface is user friendly, but does require you to log in each time you use it, or you will be locked out. While at first glance this may sound like a hassle, this is an added security feature designed to prevent unauthorized access of your video feed. The software allows users to choose from three profiles – day, night and auto. Auto uses automatic settings, but day and night are customizable, allowing you to tweak the images to your preferences.
The Dahua IPC-HFW4300S is easy to install and setup, requiring very minimal user knowledge, and offers high quality images, especially during daylight. It's affordable, and offers an extra layer of security to ensure your video feed is not accessed by any unauthorized users. >>>>Click here for latest price and customer reviews!


IT'S UP TO YOU
It may seem difficult selecting the ideal outdoor IP camera; however, after reading this short guide you are more than equipped with the information you need to make a choice that will not disappoint.
By simply familiarizing yourself with outdoor IP camera types and getting an idea of the many features they incorporate, you have an idea of what brands offer what you require for your property and your family preferences to begin a thorough and informed search. The above mentioned seven brands should get you off to a pretty good start!