6 Best Smart Doorbell Cameras for your Home

,
Technology is constantly changing all aspects of our life, mostly for the better. It impacts our daily life at home, at work and even our leisure activities. One relatively simple yet powerful innovation is the wireless doorbell camera.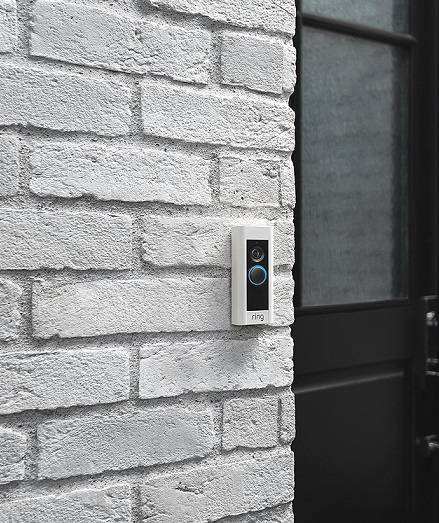 For many people, getting up to look and see who is at the door or gate is a thing of the past. The convenience of wireless doorbells cameras is hard to beat and you can view the caller from wherever you are in the house, either with multiple receivers or a portable unit.
Most of the top wireless doorbells will even push notification to your smart device and allow you to have a real-time view of what is going on, Some even allow for two-way communication.
As with most technology, the quality continues to improve over time while prices go down, even more reason to invest in the safety and convenience of this technology.
Wireless doorbells are convenient, reliable and a breeze to install. They are wireless so they look neat and cost almost nothing to install. The ringer can be positioned in such a way that it will be heard wherever you are in the house. Many allow for multiple receives if you so require.
Apart from the convenience, safety is one of the biggest advantages of wireless doorbells. With a camera attachment, you can quickly see who is at your door or gate and decide to answer or not. There is no need to approach them or even talk to them if you so wish. Safety is an important consideration irrespective of how well your house is secured or what area you live in.
If you are away from home, the live video will allow you to assess the situation in real time and alert a neighbor or the authorities. Another benefit is if you are returning home at night and want to ensure there is no activity near your hose. You can not put a price on the safety of yourself and loved ones. Fortunately, the cost of this technology is negligible.
The only small downside is most wireless systems rely on batteries which will die from time to time. Make sure you have spares on hand and check on them from time to time to avoid any inconvenience.
Pros:
Safety and security
Motion detection
Easy to fit
Convenient
Portable
Neat and good looking
Cons:
Batteries need replacing occasionally
The best of the best – Selection of the top Wireless Doorbell Cameras


With so many options on the market, it can be a daunting task selecting the right one for your home and your needs. We have made that a bit easier for you by looking at all the top options on the market and evaluating them on a number of criteria.
We looked at the features, ease of use, quality and performance. We also read countless reviews from people that have bought and used wireless doorbell cameras to get honest feedback on what people liked and disliked. This makes for honest, unbiased feedback that we will share with you now.
Before we get to our top picks, let's take a look at a few features to look out for when considering your choice. Note that not all of these will apply to all people or homes but they are worth thinking about before you invest in a wireless doorbell camera.
Easy to install

Option for multiple ringers

Low battery alert

Option for AC power

Weatherproof doorbell button

Backlight button

Motion sensor

Cost

Design

Integration with home security system or other accessories

Range

Warranty
With that in mind, let us take a look at the recommendations:
Top 6 Wireless Doorbell Cameras 2017-2018

Ring Video Doorbell Pro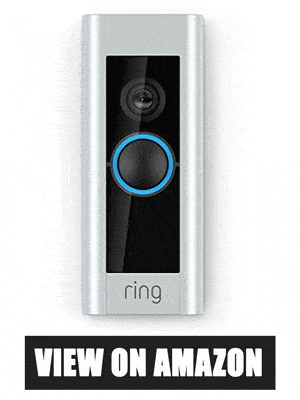 The Ring brand of wireless and video doorbells has been around for some time now and they are known for quality reliable products. The Ring Video Doorbell Pro is one of the more popular options on the market and is highly rated by consumers that have tried it.
It streams quality 1080HD video to your mobile device through a user-friendly app. The parameters are easy to set up to avoid unnecessary push notifications. It has a generous 160 degrees field of view (FOV). The doorbell is compatible with a number of other home devices for easy integration.
Another big advantage is the slim, compact design (4.7cm) which makes it ideal for narrow door frames. It looks modern and discreet and comes with a range of faceplates to suit the style of your home.
Pros:
Wi-Fi connected

Quality 1080HD video

Smart, compact design

Weather-resistant design

Customizable detection zones
Cons:
$3 monthly subscription for cloud storage

No local storage

Installation is slightly trickier than some models
Bottom line:
The Ring is a reliable, solid doorbell that looks neat and gets the job done. It is marginally more expensive than some other models but the features and performance make up for this.
Zmodo Greet Wi-Fi Doorbell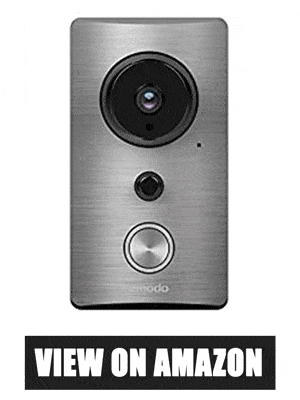 Peace of mind is easy with the night vision equipped Zmondo Wireless Doorbell. A great convenience and potential cost saver is the 8BG of local storage it gives you. This will give you 24-hours plus recording in case you miss the live feed or wish to view it later.
Another nifty feature is the option of a pre-recorded message that can be used if you are away and miss the notification or simply do not wish to talk to those at the gate or door.
A great feature that is lacking on a number of similar products is the ability to pan and zoom. This can be particularly useful depending on the positioning of the doorbell.
The app is user-friendly, intuitive and easy to setup and use. Zmodo has also been going for many years and has established a good reputation in the home security field.
Pros:
Motion detection with night vision

720 HD camera with wide-angle lens.

8GB onboard storage

Pan and zoom functionality

Value for money

Good data encryption

Recorded voice message

Integrates with other security and smart devices

Attractive modern design

Weather resistant
Cons:
No option for additional memory

Limited warranty
The Zmodo Greet has a lot going for it at a reasonable price and will make a good addition o your home security.
iseeBell Wi-Fi Enabled HD Video Doorbell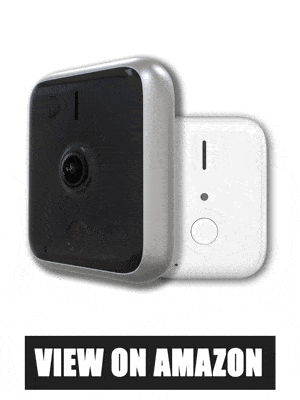 The iseeBell is a hi-tech, feature-rich wireless doorbell camera that has pretty much everything you expect from a top product.
It is relatively easy to install and setup and comes with everything you will need to do the job. It connects to existing doorbell wires so battery life is not an issue. It also comes standard with an additional indoor chime although this will require a power point.
As you would expect, it connects to Wi-Fi and will speak to other smart devices in your home. The smartphone app is practical and easy to use. Video images are sent to mobile and can be stored on the device or on iseeBell's cloud storage. The latter option will set you back $2 a month. Data security is top notch with bank-grade encryption. The app will also allow two-way communication through the device.
The 720P 185 ° ultra-wide angle lens will capture a good panoramic view from where it is situated and you can view snapshots or live footage remotely. Night vision allows you to view the surrounding 24/7 and the motion detection will alert you to any activity in the field of view.
Pros:
Good performance

Weatherproof

Motion detection and live view or remote snapshot

Storage to mobile device or cloud

Night vision

720- HD video and 185-degree wide angle lens

Top encryption
Cons:
Audio quality and volume n

ot the greatest
SkyBell HD WiFi Video Doorbell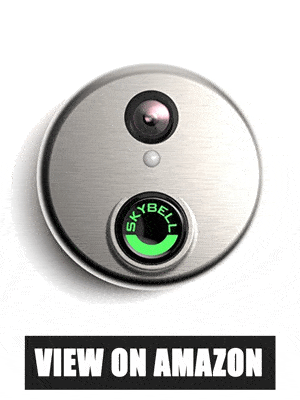 The SkyBell Video Doorbell is another top-selling and highly regarding home security device. The sleek, compact design looks good and this doorbell does a great job.
The main benefit is a 7-day storage facility at no cost. It is also compatible with many other devices including Amazon Alexa and Google Alphabet Nest.
1080P On-demand video live stream is great and works well with free internal storage.
The stylish round design is compact and looks good I bronze or brushed aluminum. The only downside is that it is not the most compact so will not always fit where you wish to place it.
Pros:
Compact and good looking

Good video and audio quality

Wide field of vision thanks to fish-eye lens

Provides comprehensive history

Motion detection even in low light

Unlimited video streaming
Cons:
Needs external power to function
VueBell WIFI HD Camera Video Doorbell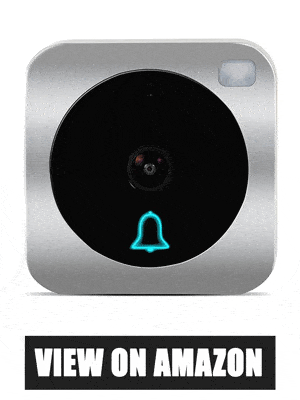 Feature-wise there are very few things lacking in the VueBell. Push notifications of stills or videos will alert you to any movement or activity in the camera range allowing you to take necessary action. The motion detectors and passive infrared sensors will pick up any movement.
The HD120 x 720P camera with 185-degree wide angle lens will give you a quality view of the surroundings. You can view and control images remotely and even engage in two-way communication. The strong Wi-Fi has a range of about 100m.
Installation is not a major challenge and you can make use of an existing AC/DC power source. The IP54 weather rating means it is tough and durable. A big selling point of the VueBell is the excellent customer support and after-sales service. They offer a generous 18-month return and replace warranty.
Other useful features include secure multi-user functionality, cloud storage and infrared night vision. Night vision is further enhanced by automatic gain control as well as white balance control. This results in good quality even when light is poor. Yet another important feature is the 8x digital zoom.
Pros:
Easy installation

Two-way communication

Snapshot push notification
Cons:
Not the greatest network stability
August Doorbell Camera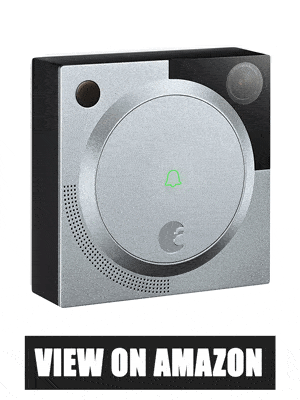 This doorbell produces high quality HD image and good video streaming but still lacks a few features one would expect from a top wireless doorbell. Having said that, it is a solid performer and does what it needs to do.
It features a 1,280 x 960 HD camera with a 120-degree view. As this stage, video cannot be recorded but this is something August is working on. It also lacks ITTT support at this stage. Another drawback is installation is a slight challenge.
The August Doorbell Camera works with August Smart Lock so you can lock or unlock the door as required.
Pros:
Great HD image quality

On-demand video streaming

Two-way communication

User-friendly app

Integration with August Smart Lock
Cons:
No IFTTT support

Installation a somewhat challenging

No video recording or motion detection at this stage

The obscure shape will not suit all doors or door frames
In this day and age, safety and security are extremely important. A wireless doorbell camera is an inexpensive way to improve the overall safety of your home. Added to that, it is a major convenience.
The features have come a long way from early models and they are easy to operate either from home or remotely with a mobile device. If you have not made the move to a wireless doorbell, know is the time to do it. It is a worthwhile investment.